If you ask a student, what he likes best about his or her school, he or she is likely to say the school canteen. The canteen happens to be the most fascinating place in the school. Each canteen has its own menu, and a separate menu card is prepared for the students. To do that, you can look up kids menu templates online. You can also see Free Menu Templates. The school menu template sample you decide upon must be attractive and appealing. Instead of hiring someone to design the menu of your school canteen, you can simply do it yourself. Just download one of these Menu Templates and customize them as you please. You may also see school templates.
220+ School Templates in PDF, Word, Excel, PSD, Google Docs, WordPress, InDesign, Apple Pages, HTML5, Google Sheets, Publisher, Apple Numbers, Illustrator - START DOWNLOADING
Simple Preschool Menu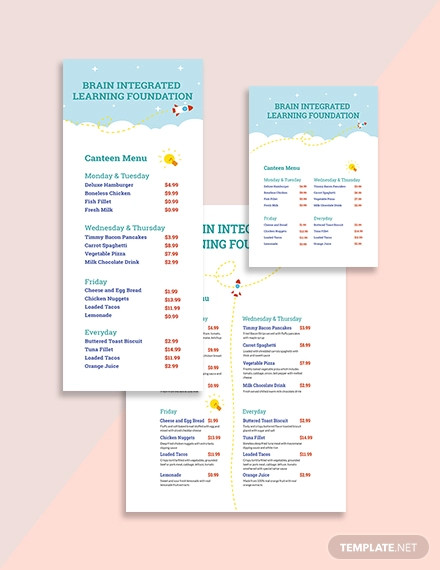 Sample Preschool Menu Template
Preschool Canteen Menu Example
Preschool Food Menu
School Canteen Menu Template in PSD
Lunch Menu Template
Kids Menu Template
Daycare Center Menu Template
Food Menu Template
Elementary School Menu Template Sample Download
clarke.k12.ga.us | In order to effectively create an elementary school menu, this sample template can be used. The template available in Excel format has the design that covers five days of the school week.
Afternoon School Menu Free PDF Format Download
schoolfoodnyc.org | If you want a beautiful and detailed school menu, this sample is what you require. It is available for free download here. Edit the content to make a great school menu.
School Meal Prices List Template Sample Download
scusd.edu | If you want to create a school meal price list, then this sample menu price template will be adequate. Download the template in the available format and customize as needed.
Elementary School Menu Free PDF Format Template Download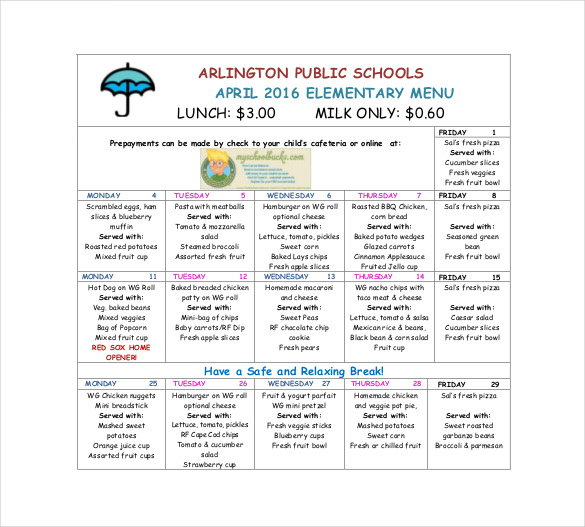 arlington.k12.ma.us | With this elementary school menu template any school can create a fully informative menu that is well organized to cover each day of the school month. The example is readily editable.
Printable School Lunch Menu Template Sample Download
This blank school menu template has a lovely design and is printable. The sample can contain nine slots to create daily menu or breakfast, snack and lunch, whichever you may prefer.
Example Old School Food and Drinks Menu Template Download
If you wish to create menu with an old school appeal then we have the right template for you. The example menu template is a bi fold made in a simple design that is easy to read.
Free PDF Format of Middle School Menu Template Download
clarke.k12.ga.us | With this PDF file format school menu template, it is now easy to create monthly menu. The example template even shows the nutritional content of the food on the menu.
Example School Lunch Menu Planner Template Download
This colorful school lunch menu template can be used to create lovely menu. The sample template covers the five school days and can be used to plan lunch, drinks and snacks.
PDF Format High School Lunch Menu Free Template Download
clarke.k12.ga.us | A great an easy way to create a fully functional school lunch menu is to use this sample menu template. It is readily available for free download from our site.
High School Graduation Menu Template Sample Download
A simpler way to quickly create a graduation menu for high school is to use this free sample template. Use the professionally designed template that is readily downloadable from our site.
Preschool Menu Template Sample Download