Worried about your event? Well, not anymore! Distribute exclusive tickets with some help from this high-quality Party Ticket Templates to the hottest party in town. This template enables your event to be extremely exclusive or provides an opportunity to have instant access to the venue to anyone invited. It comes with amazing graphics, designs, and layouts that are simple yet remarkable. You can even customize it to any styles you want using different file formats such as Adobe Illustrator, MS Word, Apple Pages, Photoshop, and Publisher. It is also available in A4 and US print sizes. Hurry up! Download our Event Party Ticket Template today to make your event more unique!
What Is a Party Ticket
A party ticket may just be a small piece of paper, but it plays an important role in every event that you are invited or you are planning to go. It stands as proof that you paid for an event and you are welcome to enter the party's premises.
How to Create a Party Ticket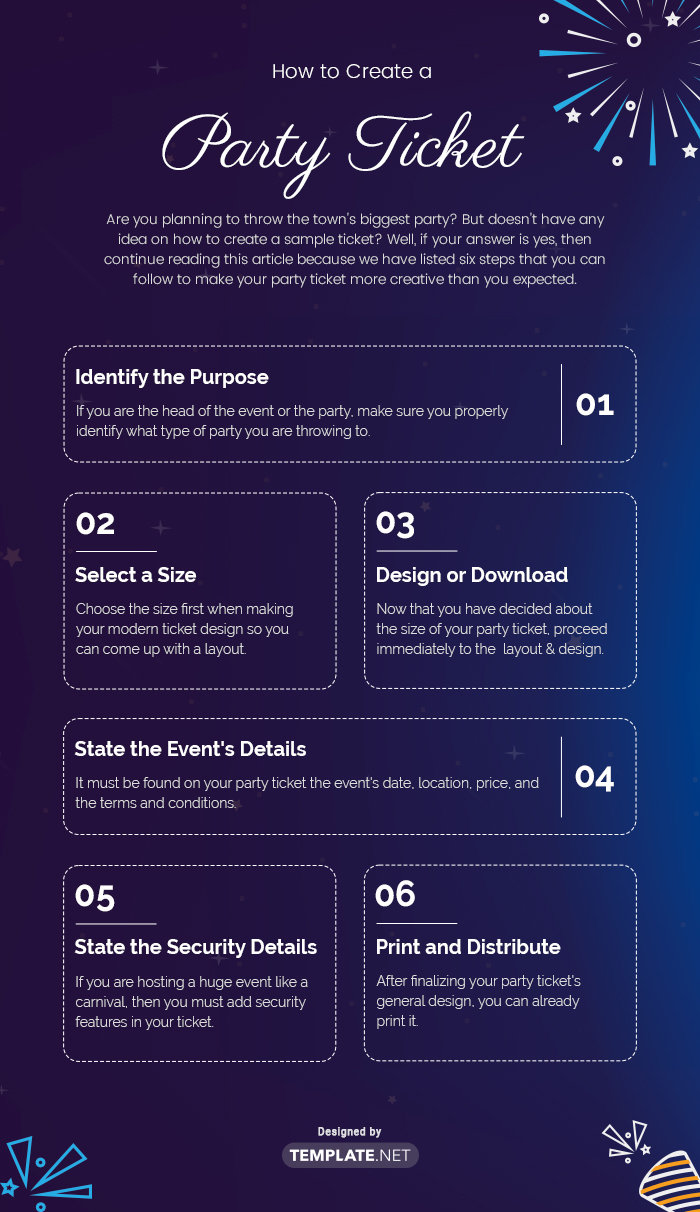 Are you planning to throw the town's biggest party? But doesn't have any idea on how to create a sample ticket? Well, if your answer is yes, then continue reading this article because we have listed six steps that you can follow to make your party ticket more creative than you expected.
1. Identify the Purpose
There are a lot of meanings when you hear the word "party ticket". If you are the head of the event or the party, make sure you properly identify what type of party you are throwing to. Is it a night party? A masquerade ball? A batch party? A pool party? Or just a Halloween or summer party? Clearly, state the purpose so that your guests will know what type of party they are attending.
2. Select a Size
Choose the size first when making your modern ticket design so you can come up with a layout that works best with the space available. The size you have selected will assist you to plan the rest of the design, such as font size, picture or positioning of design, and others. You can allocate the budget for the entire design phase with a ticket size at hand.
3. Design or Download Ready-Made Templates
Now that you have decided about the size of your party ticket, proceed immediately to the ticket's layout and design. Always think about the theme of your event in designing. For instance, if you are designing for a fashion show ticket, then make sure you include in your design some dresses or shoes that relates to your event plan. However, if you don't want to design from scratch then feel free to download our printable templates offered here in our site.
4. State the Event's Details
It must be found on your party ticket the event's date, location, price, and the terms and conditions. These details will assist you to relay information to the audiences to your event. Aside from that, make sure that your information is readable and well-written.
5. State the Security Details
If you are hosting a huge event like a carnival, then you must add security features in your ticket to guarantee the flow of the admission process. You may state in your simple ticket these following security details: serial numbers, barcodes, and quick response (QR) codes. Security characteristics can assist you to identify your audience and regulate the crowd.
6. Print and Distribute
After finalizing your party ticket's general design, you can already print it. Use the best ticket paper stock to make it more attractive and at the same time durable. You can begin selling or mailing tickets to your target clients if you have effectively printed your party tickets.
Read More
Earn 20% commission on every sale from your Share
Bloggers: Publish/Mention Template.net products on your website, blog, Social Media or Via Email & Earn affiliate commission of 20% for every sale