Letters
11+ Letter Of Authorization
At one point or another, you might find yourself needing to write an authorization letter to grant someone permission to perform a certain activity or to obtain something in your behalf. If you are a parent, you may be asked to write an authorization letter so your kids can go to a field trip. If you need your sister to claim a document that is in your name, you would need an authorization letter so the papers can be furnished to her in your place.
Thankfully, the web gives us an overwhelming number of authorization letter templates so we don't have to trouble ourselves making one. This fully stocked compilation lists authorization letters of various kinds, whether you need it for a bank, travel, or medical purposes.
Bank Authorization Letter
indiaculture.nic.in
Letter of Authorization for Passport Pick Up
ustraveldocs.com
Third Party Letter of Authorization
tc.gc.ca
Letter of Authorization for Travel
missionsministries.org
Letter of Authorization By Organization
e-mudhra.com
When You Need to Get Your Letters Notarized
Some authorization letters need to be notarized so they have legal weight and standing in a court of law when dispute issues break out. You only need to take your letter to a notary public and sign it in their presence. But exactly when do you need to get your letters notarized?
To legally give another party authorization to act on your behalf, especially in medical or financial matters
To dispute a bank transaction
To grant party rights to your property or to give a relative or guardian rights over your child
We have notarized letter templates that you can go over to give you an idea of what this looks like. We also have other letter templates for other purposes, such as marketing letter templates to help you advertise your product or service. We have termination letter templates for when you need to end a contract between yourself and another party.
These letters are all professionally written and are free to download and edit. You can simply fill in the required information in the blank spaces, print them as your own, and you're good to go!
Letter of Authorization to Release Information
dmvnv.com
Letter of Authorization for Representative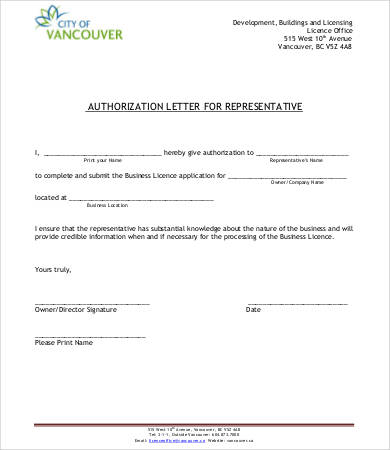 vancouver.ca
Client Authorization Letter
prod.nais.nasa.gov
How to Write an Authorization Letter
Use appropriate language or tone. Authorization letters are more often than not official and should be phrased using formal language. It best to avoid slang terms and rhetorical devices.
Be brief. Remember that the only purpose of an authorization letter is to give someone authority to do something by themselves or on your behalf. It is not a story of why you need someone to act for you or why you're giving someone permission.
Person executing on your behalf. Provide the name of the person you're giving authority to and their relationship to you If you know someone who does not know whom they should give this privilege to, a letter of recommendation on your front may be helpful.
Specify the effectivity. Provide a time period when the authorization becomes effective and when it becomes null.
You can use our free and fully editable authorization letter templates to help you get started. Simply download the template, modify the text a bit to your specific details, print, sign, and you're done!