An acknowledgement letter for a payment received will serve two purposes—informing the customer that you have received the payment and providing you with yet another chance to advertise your or service. It is written to inform an individual that the payment was made by him or her after it being past its due date has been received successfully.
If ever you are asked to create a letter of this type, our payment acknowledgment Letter Template samples are always a great option for that less hassle and less time-consuming process. See below for more samples payment letter templates. They are all downloadable and are all for free.
Free Payment Acknowledgement Letter
Rent Payment Acknowledgment Letter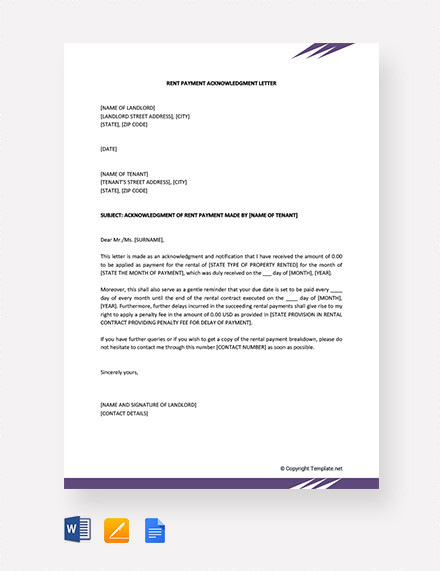 Free Letter for Acknowledgement of Receipt of Payment
Cheque Payment Acknowledgement letter Template
Cash Payment Acknowledgement Letter Template
Advance Payment Acknowledgement Letter Example
Rent Payment Acknowledgement Letter Template
Loan Payment Acknowledgement Letter Example
The Payment Acknowledgment Letter
A payment acknowledgment letter is a written letter to inform an individual that the payment was made by a certain authorized person and has been received successfully. This letter will let the person know that there has been no confusion or mix-up with the overdue payment. You may also see Company Acknowledgement Letter Templates.
When Writing Acknowledgment Letters . . .
Create a raw outline. Businesses write the acknowledgment letter for different reasons. Thus, it is better to make a draft first so that you are right on the target. The outline will also provide you points to be discussed.
Always begin with a rough letter. No one can write a perfect letter at one go. There will always be some addition and alteration before it is ready for a final making. Draft a rough letter first using the outline you have drawn in the first step. Don't mind about the spelling and grammatical lapses. You may also see Employee Acknowledgement Letter Templates.
Create in a timely manner. You need to accept or decline anything you are asked for within 48 hours of receiving the acknowledgment source. This way, the sender will not be having a hard time guessing.
When making payment acknowledgment letters, templates are always a helpful companion. More Acknowledgement Letter Templates are available for you to download for an easy letter-making process.
Final Payment Acknowledgement Letter Template
Bank Payment Acknowledgement Letter Template
Payment Received Acknowledgement Letter Example
Payment Acknowledgement Letter Format
Payment Receipt Acknowledgement Letter Template
The Basic Acknowledgment Letter
In a business connection, an acknowledgment letter is used to acknowledge a fact or a situation or any kind of action. It is a simple way of saying thanks and showing your willing reaction. In business, it works as a vitality to improve relationships between: You may also see Training Acknowledgement Letter Templates.
company and employee,
two different companies, and
two different individuals.
In order to show your thankfulness, make sure that you do not overreact. Keep in mind that it is an acknowledgment letter and so simple acknowledgment or thanks is enough.
The Essentials in an Acknowledgment Letter
A letter of acknowledgment is an evidence that you received a certain document or any form of appeal. When it comes to handling the certain legal process, such letters play an important role. In these types of letters, you need to make use of certain key phrases such as the following. You may also see Donation Acknowledgement Letter Templates.
I am acknowledging receipt of the following documents . . .
If I can assist you, do not hesitate to call. . .
I hereby acknowledge the receipt of the following forms . . .
I am writing to inform you that . . .
Thank you for sending us (documents, invoices, etc.) . . .
I am writing to confirm our phone conversation . . .
We received your return shipment of (any product) . . .
So keep in mind to use appropriate words when creating this type of letter. But if you want to have a preformatted type of letter, our sample templates can be of great use. Payment Receipt Templates are also a similar element to payment acknowledgement letter templates available for use. Download them now!