Leaving a job would more often than not entail you to discuss with your boss (and with human resources personnel) why you have decided to leave the company. In some cases, it is appropriate to hop on the topic. But in some rare cases, it is enough  to say that you resign for personal reasons and that should suffice to convince your company to let you go.
When you have made the difficult decision to leave but are not comfortable to divulge the reasons why, we have a collection of Resignation Letter for you to choose from. All these templates are easy to edit and printable and free to use as well.
Resignation Letter for Personal Reason
Resignation Letter for Personal Family Reasons
Email Resignation Letter for Personal Reasons Template
Teacher Resignation Letter for Personal Reasons Template
Employee Resignation Letter Due to Health Reasons
Resignation Letter Due to Pregnancy
Job Resignation Letter with Reason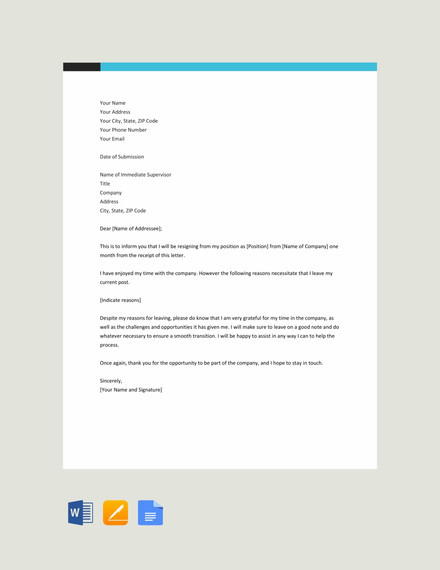 Resignation Letter Examples Due to Personal Reasons
Resignation Letter for Personal Reasons with One Month Notice
Format of Resignation Letter Due to Personal Reasons
Tips on Submitting your Resignation Letter
Sometimes, it is really enough to not say much about your reasons and let your decision speak for itself. Sometimes, saying that you are leaving for personal reasons is enough to break your ties from the company. When you are in a situation like this, here are some tips to make writing your Professional Resignation Letter as simple for you (and your employer) as possible:
Only give out information that you are comfortable to share. When your employer pressures you into giving them a reason why you have decided to leave, it is really up to you to decide how much information you want to share. If your employer refuses to understand, then consider that a greater reason why you are making a good decision in the first place. You may also see Standard Resignation Letter Templates
Be grateful about your time in the company. Your decision to not divulge why you are leaving might put your company in a limbo, but being grateful about your time spent in the organization should ease your employer even in the tiniest bit. Informing them that the professional growth you have garnered in the company has been paramount and that you appreciate them for it will hopefully diminish their apprehensions about you not giving a specific reason for leaving. You may also see Resignation Letter Word Templates
Teacher Resignation Letter Due to Personal Reasons Template
Resignation Letter Due to Personal Circumstances Template
So You're Leaving Your Job
Leaving for personal reasons may be a hard concept for your boss to grasp. Even with a Resignation Letter for Job, it is even more difficult for you to verbally explain to them why you had to resort to keeping your reasons vague. Here are some reasons to keep your final conversations with your boss light, without the pressure of getting into specifics that you would not want to further discuss: You may also see Sample Resignation letter Format Templates
Keep your conversations brief but insightful. Be sensitive about your boss's or colleagues' tactics to squeeze the information out of you and keep your answers brief and light but at the same time acknowledging of their roles in your growth while in their company.
Always keep your conversations positive. Even if you are leaving the job because of your boss or workmates and a clash of personalities, keep them to yourself at this point. You want to focus on leaving the company on a high note, and it is best to express all your positive viewpoints towards your office environment at this time. Your reasons to leave may best be kept to yourself, but your appreciation for your time spent at the office with your office mates is best expressed and known to them. You may also see Resignation Letter Templates and Examples.