Loans and credits are recoverable through various means, but spoiling someone's personal life or making them feel frustrated for no reason is against the law. Many a time, you may get calls or reminders from money launders for the debt you haven't taken. This could be a possible mistake from their end or a trap to fool you by stealing your hard-earned money. The situation is quite common amongst business as well as individuals because many of you may have applied for loans and credits from financial institutions. The cease and desist Letter Templates to former employer Templates is an ideal solution to help you while dealing with similar kinds of incidents and debt collection approaches.
Cease and Desist Letter to Former Employee Download
thompsonhall.com
Cease and Desist Letter Template Copyright Infringement Word Sample
jdsupra.com
Sample Cease and Desist Letter Template Harassment Word Download
creditinfocenter.com
Editable Collection Agency Cease and Desist Letter Template Example
thompsonhall.com | The Collection Agency Cease and Desist Letter Template is one of the best solutions to avoid receiving phone calls and reminders for collecting a debt that you legitimately do not owe. All of these readymade templates contain substantial texts and examples that can help you avoid and clear up any confusion that is enforcing the lending parties to disturb you. You can easily download these letters and customize them as per your requirements to get rid of the annoying debt collectors. Sending such letters to the debt collector and experiencing any violation of the mentioned sections may lead to serious enquiries and discussions under Fair Debt Collections Act.
Free Debt Collection Cease and Desist Letter Template Example
credit.about.com | The Debt Collection Cease and Desist Letter Template is specially designed and crafted using the amendments and inclusions of the Fair Debt Collection Practices Act. Issuing these letters by taking help of these readymade templates enables you to request the debt collectors from stop calling you. It is advisable that if you wish to make your request as a legal proof, then it will get submitted in the form of writing. Once the debt collectors receive your letter, they can make one final contact to let you know about the action he is planning to take against you. If he continues making calls and sending reminders to you, then you can present the letter and file a complaint to the Consumer Financial Protection Bureau.
Free Cease and Desist Letter Template for Slander PDF Example
http://atenlabs.com/
Download Sample Cease and Desist Letter Defamation Template
tripadvisor-warning.com
Trademark Cease and Desist Letter Sample Word Printable
thompsonhall.com
Cease and Desist Letter Format and Instructions Sample PDF
masslegalhelp.org
Sample Cease-and-Desist Letter Template Printable PDF Download
culiklaw.com
Example of a Cease and Desist Request Form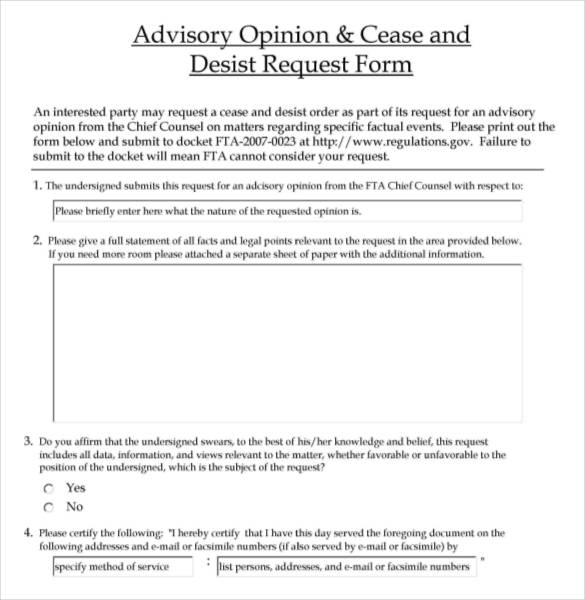 transit.dot.gov
Cease and Desist Notice Letter Template
save-albert-park.org.au
Cease and Desist Email Template
eff.org
General Collection Agency Cease and Desist Letter Download
cccssf.org
Standard Cease and Desist Order Letter
des.wa.gov
Legal Cease and Desist Letter Template
nppa.org
Why You Must Use These Templates?
If you're in an investment industry, then you may agree to the fact that time is money. It means that if you can save a little of your business hours, then surely it will end up producing or regenerating some amount of profits for your firm. Using these already made templates, you can easily roll out cease and desist letters to your clients and customers within a fraction of the time.
All these templates come with highly customizable features to suit your specific needs and references. One of the biggest advantages of using these templates is that you can get an attractive, professionally-designed, and uniform letters without spending much from your pockets. A wide variety to choose from makes these readymade florida templates a preferred choice of most of the companies engaged in financial and debt collection industry. You can also see Reference Letter Templates.
These templates are available in various formats and versions to ensure that they meet your specific requirements at large. The templates can be quite useful for financial institutions and personal lenders, who lend their money on credit basis to individuals, firms, and big business houses. Sometimes, your money launders can cross the limits of humanity and make your life more stressful by keep calling you for debt collection. Issuing such letters to them enables you to file a case against them if they're disturbing you for the debts you don't owe.
Try the best you can to clearly explain the reason why you haven't paid your debts, and make a promise that you will pay soon, or better still, ask for time extension through letter templates.