The performance of students is directly proportional tot eh output of the teachers. If students aren't performing well in a given subject, the teacher in charge of the discipline might not be doing enough. The education of a child is something a learning institution cannot compromise with, and, therefore, the best thing to do would be to replace a teacher, immediately. A primary school teacher resignation letter is the best Resignation letter Format Templates to write to the teacher.
Free Teacher Resignation Letter
Free Download
Teacher Resignation Letter due for Relocation Free PDF Format
The teacher resignation letter due for relocation template in PDF is an informative resignation letter template that requires the basic details of the employee and check box the option of relocation as the reason of resignation.
Teacher Resignation Letter due to Pregnancy Example PDF
nasuwt.org.uk | The teacher resignation letter due to pregnancy template in PDF is a small and straight forward resignation letter template that states the employee is pregnant, expected week of childbirth and the date she wants to start her maternity leave.
Free Teacher Resignation Letter to Principal PDF Format Download
iasd.cc | The free teacher resignation letter to principal template in PDF is a detailed resignation letter template that can be used by teachers who wants to resign from their job for different reasons.
Sample Teacher Resignation Letter to Families Free PDF Template
2.d46.org | The sample teacher resignation letter to families template in PDF is a comprehensive resignation letter template that explains the decision of resignation and explains the reason which has led to this decision to the student's family.
Teacher Resignation Letter for Superintendent Free PDF Sample Template
iasd.cc
Resignation Letter Format for Lecturer PDF
legallyindia.com
Resignation Letter Sample for a Secondary School Teacher
thebusinessadvantage.biz
Teacher Resignation Letter Before End of Contract
aptiea.org
Teacher Two Weeks Notice Job Resignation Letter
abss.k12.nc.us
Resignation Letter Model for Teacher in DOC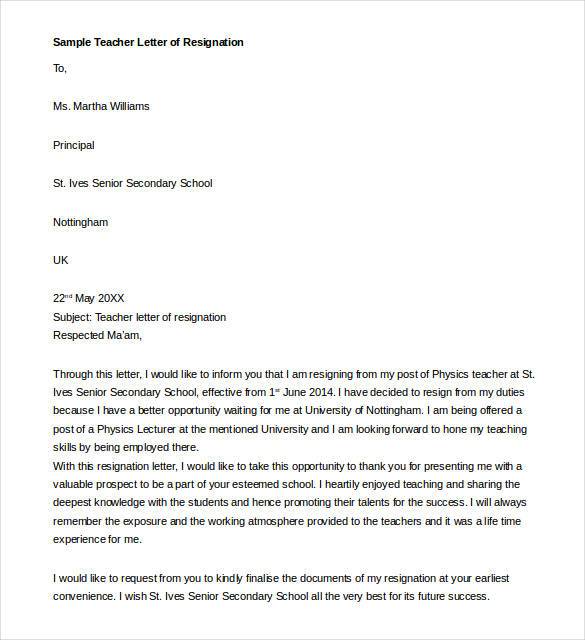 Sample Teacher Position Resignation Letter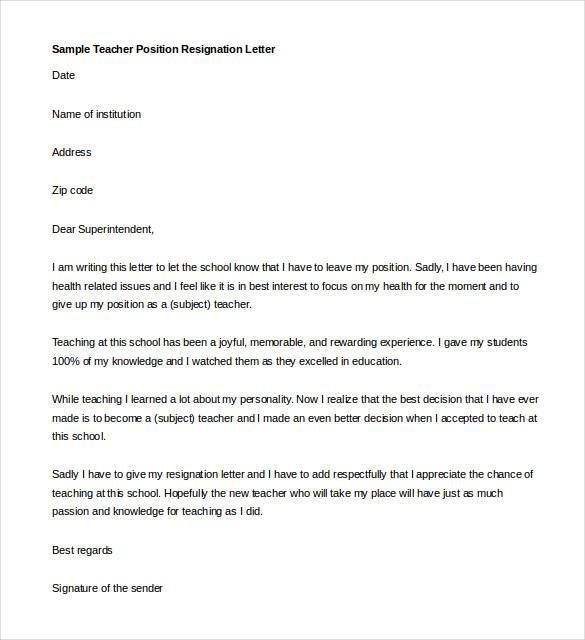 Preschool Teacher Assistant Resignation Letter Sample
coverlettersandresume.com
Standard Student Resignation Letter from School
roycemoreschool.org
Best Teacher Resign Thank You Letter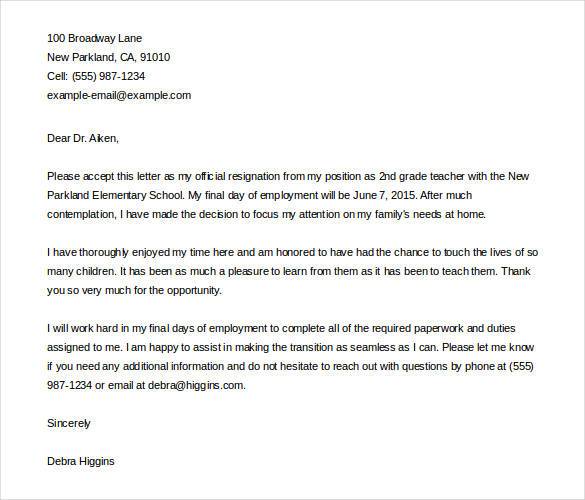 livecareer.com
How to Write a Resignation Letter Teacher Retirement?
There are a wide range of teacher resignation letter templates along with Apology Letter Templates in Word that are available online. These can be used to design the perfect resignation letter for a teacher who may be thinking of taking up early retirement. However, if a person wishes to draft such a letter without any assistance, here is how it can be written.
Start with the writer's name and contact details.
This should be followed by the date.
Next comes the name and details of the person to whom the letter is intended.
This should be followed by a proper greeting and then the body in which the person should mention the reason for resignation like some medical reason, too much stress at work or another job opportunity etc. He should also mention the amount of time he is willing to serve as notice period.
The letter should end with a proper conclusion and sign off.
It would be a good idea to add a line of appreciation for the school/college in the body of the letter.
What do you write in a Teacher's Resignation Letter?
In case you are thinking of how to go about writing a resignation letter to resign from your teaching job, you can get some help from the Sample Last Minute Resignation Letters that are readily available online. It should be noted that any resignation letter would be perfect and effective, only if all the essential segments are included in it. Here is a list of what all should be included in a teacher's resignation letter.
Name and contact details
Grades that you teach
Reason for resigning the job
Your achievements while working with the institution
Experiences of working with the school/college
Notice period that you are ready to work
Effective Teacher Resignation Letter Tips
You can write a professional looking resignation letter using the Work Resignation Letter Templates that are easy to download and customize. However, when it comes to compiling the content for the letter, you have to make sure that you write it in the most effective manner so as to leave the institution on a positive note. Here are a few tips that are sure to help you with this.
The letter should have a formal yet friendly tone.
Do not put in any lines that may give the recipient an idea that you are ready for negotiations.
A little bit appreciation of the management and the institution would be a good idea.
Make sure to keep the letter as positive as possible.
Offer enough support and give a realistic notice period.
Benefits
Writing a resignation letter is no mean task. However with a wide range of sample templates like Sample Email Resignation Letters that are available online, you can easily draft a letter without much help from others. There are a number of benefits of writing a resignation letter. Wondering what these are? Take a look.
These offer you a formal platform to inform the management about your intention to leave the job.
You can spell the reasons of leaving the job in a more comfortable fashion than doing it personally.
The letter can be recorded and used for future reference.
It acts as a proof in case of settlements and other procedures.
The content of the letter should explain the ineffectiveness of the teacher at work. It should state clearly that for the reason of being ineffective at the place, they are dismissed from the job. Excel, PDF or excel Resignation Letter Templates can help you write the best college teacher resignation letter.