A tri fold menu looks a lot like a brochure. The best part about a tri fold menu is that you can accommodate all your food items and beverages comfortably on the three pages. You will not have to worry about being cramped for space or your menu looking clumsy or cluttered. Hence you must look up tri fold brochure templates. You can also see Free Menu Templates. A tri fold menu template sample would be a great way to design your menu card. You have complete freedom to design each page of the Menu Templates as you please and add as many images as you want. As a matter of fact, you could keep a separate page for each course in your menu.

Retro Food Menu Trifold Template
Get it Now

Printable Pizza Menu Trifold Template
Get it Now

Easy to Edit Cuisine Tri-fold Menu Template
Get it Now

Editable Cafe Tri-Fold Brochure Menu Template
Get it Now

Simple Cafe Menu Tri Fold Template
Get it Now

Easy to Edit Trifold Food Menu Template
Get it Now

Mc Cafe Menu Template
Get it Now

Wedding Menu Template
Get it Now
Multi Purpose Tri Fold Menu Card Template Sample Download
This sample menu card template can be used for a variety of purposes. Its tri fold design makes it even more appealing since it can hold many items in total.
Tri Fold Menu Card Template Sample Download
With well organized categories including drinks, coffee, ice cream, this example can be used to create a very attractive menu. Download the tri fold template today and edit it to suit your needs.
Wine Restaurant Tri Fold Menu Template Sample Download
Since wine is a specialty department, the wine restaurant should appear the part with this impressive wine menu template. We have a great example designed to make this work easy for you and to give the best outcome.
Sample Tri Fold Menu Fasti Resto Template Download
With this example tri fold menu template, you can create a menu for all the items in your restaurant. It is designed to carry many items in many categories you may have.
Example Tri Fold Table Number and Menu Template Download
In order to design a restaurant menu that is tri fold and can stand on its own this example fits the bill. It is available white and can be downloaded for free from this site.
Hell Tri Fold Menu Template Sample Download
For use by this restaurant, the sample menu template is designed with a black and red background giving it the unique appeal. It can be downloaded from this site and customized in any way you would like it.
Tri Fold Menu Custom Made Template Sample Download
This kind of menu template is a wonderful design that stands in a triangular format. The sample is joined along the edges to give a complete triangle readable only on the outer side.
Example Steak House Tri Fold Menu Download
If you have a steak house and desire a professionally designed menu, this example will help. Download it from this site and edit the template to create your menu today.
Tri Fold Restaurant Menu Design Pamphlet Vector Format Download
This tri fold restaurant menu template is designed by experts to give you the best. The sample can contain many food items on the inner side while showing the restaurant details on the outer fold.
Coffee Shop Tri Fold Menu Template Sample Download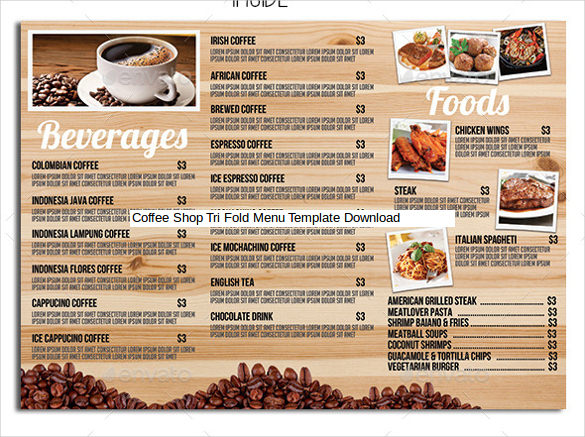 Japanese Tri fold Menu Format Download
Italian Tri Fold Menu Template Sample Download
Tri Fold Menu Vector EPS Format Download
Fairview Tri Fold Menu Free PDF Format Download
paliospizzacafe.com