Step up your marketing strategy and be ahead of your competitors by making use of our beautifully designed Minimalist Rack Card Templates. Displayed on this page are 100% customizable, printable, and high-quality templates that would certainly help your business attract attention from clients and customers. These templates are easily editable and instantly downloadable in various file formats such as Adobe Photoshop, Microsoft Word, InDesign, Illustrator, Microsoft Publisher, and Apple Pages. Here in template.net, we offer you nothing but the best!
What is a Rack Card?
Promotional materials extend from online or digital media to print media to be able to reach a wide array of potential customers. One of the most effective promotional materials used by businesses is a rack card since they are cost-efficient and simple. A rack card is a 4 by 9 inches high-quality card stock printed with a business' products, services, contact details, and other significant information that may help increase the profit of a particular business. Rack cards are usually displayed in strategic locations such as lobbies, showrooms, waiting areas, and trade shows.
How to Create a Minimalist Rack Card?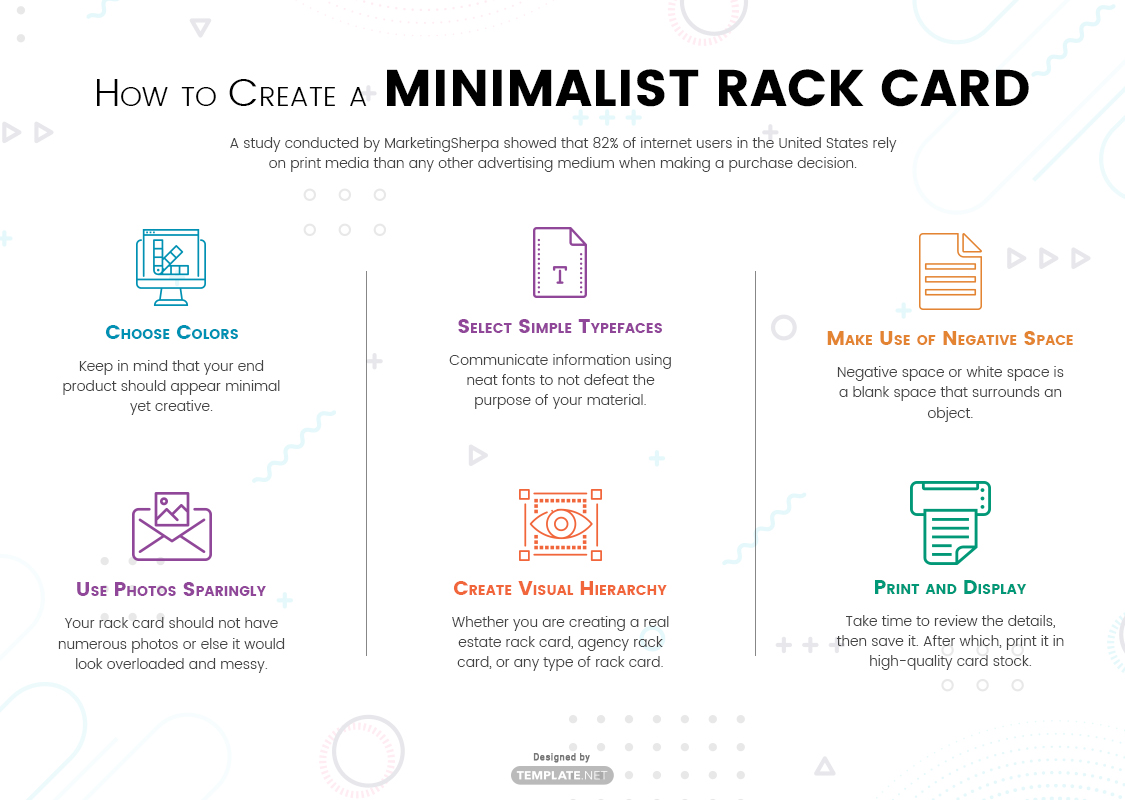 A study conducted by MarketingSherpa showed that 82% of internet users in the United States rely on print media than any other advertising medium when making a purchase decision. This means that even with the rise of technology, print marketing is still the most trusted form of advertising. So start creating a modern minimalist rack card for your business right away. You just have to follow the steps provided below.
1. Choose Colors
Keep in mind that your end product should appear minimal yet creative. One way to achieve it is by choosing the best color/s for your design. You can make use of colors that would best represent your brand or you can look for a limited color palette online. Minimalism doesn't always have to be black and white, you can select light colors like rose gold or bold colors like orange for your hotel rack card. Avoid using more than three colors though.
2. Use Photos Sparingly
Your rack card should not have numerous photos or else it would look overloaded and messy. Remember that a rack card only has a limited space you can make use of, unlike a fashion magazine or a product catalog. Make sure that you use an eye-catching photo that would effectively convey your message. Attaching photography images is highly recommended.
3. Select Simple Typefaces
Avoid using decorative typefaces like script fonts or fonts with extreme features such as swashes since it will destroy the readability of your simple rack card. Communicate information using neat fonts to not defeat the purpose of your promotional material. After selecting fonts, type in necessary details such as promotional offers, upcoming events, products and services offered, contact details, etc.
4. Create Visual Hierarchy
Whether you are creating a real estate rack card, agency rack card, or any type of rack card, arrange its content in a way that would imply importance. This means that the most significant information should be the one that is prominent in your design. If you want to highlight an event where you want customers to take part in, like a sports fest or a summer camp, make sure to communicate it clearly. Lastly, put your logo at the top.
5. Make Use of Negative Space
Negative space or white space is a blank space that surrounds an object. Although it is dubbed as white space, it is not necessarily white. Brilliant use of negative space will make a significant impact on your design—may it be minimalist, geometric, or modern rack cards.
6. Print and Display
Take time to review the details, then save it. After this, print it in high-quality card stock. Typically, the size of a sample rack card is 4 inches x 9 inches. Find a suitable cardholder for your rack cards or card flyers and have them displayed in high foot traffic areas.
Read More
Earn 20% commission on every sale from your Share
Bloggers: Publish/Mention Template.net products on your website, blog, Social Media or Via Email & Earn affiliate commission of 20% for every sale