Writing a formal letter is a necessity that one cannot do without. Such letters are usually intended for communicating formal messages to persons either we know or do not know much about. For this reasons such letters will follow along certain strict guidelines or else face rejection. You can also see Reference Letter Templates. Here is a simple guide on the format of such letters. The address of the writer comes first. This is usually placed at the top right corner of the letter templates, clearly depicting the identity of the person or institution crafting the letter. Such addresses will depict the address of the writer along with their postal address.
2540+ Letter Templates in PDF | Word | Excel | Google Docs | Apple Pages | Google Sheets | Apple Numbers - START DOWNLOADING
Printable Employment Offer Letter Template
Download
Formal Letter Format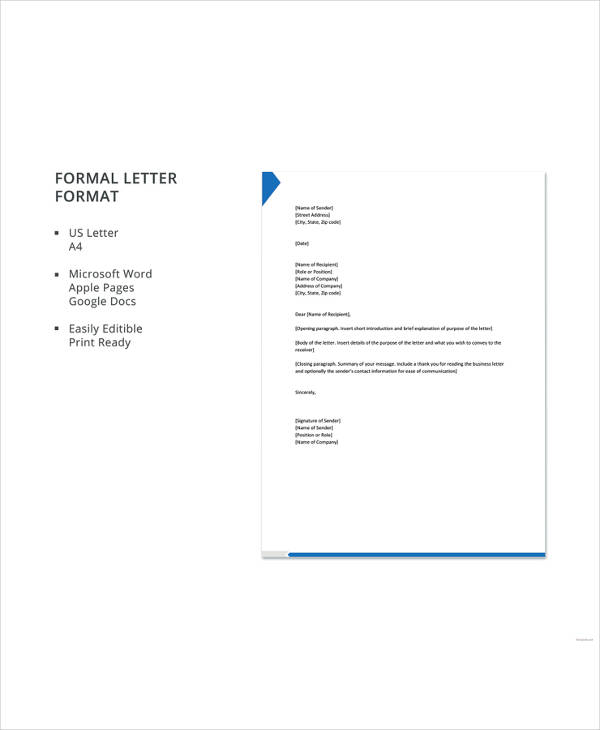 Formal Letter Example
Formal Letter of Interest
Formal Business Letter
Formal Letter of Employee Reply to Manager
 Formal Letter of Student Requesting Lecturer
Formal Appreciation Letter Template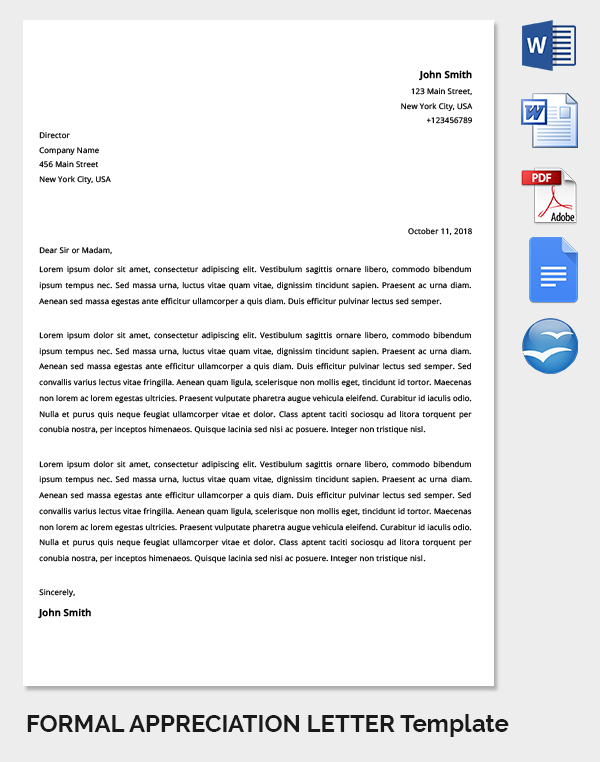 Formal Letter Template of an Employee
Company Formal Letter for Tender Application
Formal Apology Letter Template
Employer Formal Letter
HR Manager Formal Letter Template
A common format for such addresses is arranging all the sentences on a vertical line or slanting left to right. The date the letter is written is placed at the bottom of the writer's address to make reference of when such information was communicated. For a clean distinction between the address and the date a single line is normally skipped after the address of the writer before such a date is written down.
Sample Formal Congratulations Letter Template Word Editable
writinghelp-central.com
Download Formal Email Letter With Examples PDF Format
elt.oup.com
Download Formal Complaint Letter Unprofessional Behavior Sample
complaintletter.net
Sample Formal Fundraising Letter Template Free Download
fundraisingcoach.com
Sample Addressing a Formal Letter Template Free Word Doc
sampleletterz.com
Formal Acceptance Letter Template Example Word Format
sampleletterz.com
Sample Formal Announcement Letter Template Printable
sampleletterz.com
Sample Formal Apology Letter Template Editable
Formal Acceptance Letter Template Sampel MS Word
sampleletterz.com
Sample Formal Appreciation Letter Template Word Format
Free Formal Cancellation Letter Template Example Editable
Download Sample Formal Christmas Letter Template for Free
Download Formal Complaint Letter Template Example
Sample Formal Condolence Letter Template Free Download
A single line is then skipped below the date after which you turn to the left hand margin of the paper. This is the point the recipients address is pinned starting with their name or post along with an institution in which they are working. The address of the specific company or the recipient is also indicated below the designation. Once this has been done, a line is skipped below the address and a salutation written down. It is important to retain all the lines on the margin for this address.