Formal letters are the letters that are used in corporate and business transactions. There are various formats that are applied in specific formal letters, depending on the purpose of their usage and the content that needs to be relayed from the letter sender to the receiver of the document. Formal letters can be written by a representative from the business, an employee of the company, the clients and/or customers of the business, and any other entities that would like to have a formal discussion about a specific subject matter.
Formal letters are strict in nature as they need to follow a specific format, they need to be business-like, and they need to exude professionalism in terms of the word choices used in the letter and the construction of the sentences and paragraphs that can be seen in the document. Writing a Formal Letter may be intimidating at first. All you have to do though is to familiarize yourself with the formats that can be used in creating a formal letter and learn the proper usage of the structure of the letter content.
Formal Appointment Letter Format
Letter Template of Intent for Purchase
Letter Template of Intent for Job
Letter Template of Intent for Business
Free Formal Manager Recommendation Letter
Free Professional Recommendation Letter Template
Free Formal Lawyer Recommendation Letter Template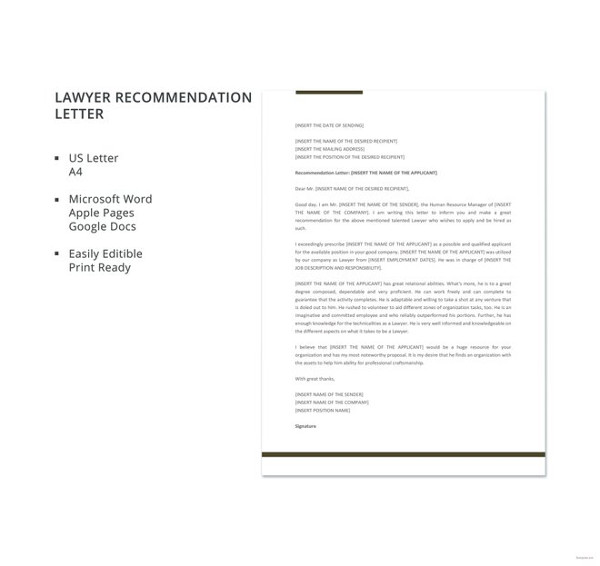 Formal Resignation Letter Template
Free Director Resignation Letter Template
Free Formal Thank You Letter Template
Business Proposal Formal Letter
Business Communication Formal Letter Format
Business Formal Apology Letter
Formal Resignation Letters
Formal Job Resignation Letter
Formal 2 Week Resignation Letter
Formal Complaint Letters
Formal Employee Complaint Letter
Formal Complaint Letter to HR
Formal Request Letters
Formal Meeting Request Letter
Formal Transfer Request Letter
Formal Vacation Request Letter
Formal Grievance Letters
Formal Grievance Response Letter
Formal Grievance Appeal Letter
Formal Grievance Decision Letter
The Formal Letter Format
There are different formats that can be applied in a Formal Letter Template. A few of these styles or formats are as follows:
A full block format is the letter format where all the letter elements are placed at the left side of the document.
Modified block is the format that is considered to be more balanced compared to a full block format. A modified block format differs with a full block format in terms of its structure or layout in a way that the date, the complementary close and the signature block of the letter is not in the left side of the document.
A semiblock style is almost the same in terms of its structure. The only difference that can be seen in these formats is the indention of the paragraphs that are present in a semi block format. In terms of its usage in business and corporate transactions, a semiblock format is deemed to be less format.
The AMS format is a simplified letter format proposed by the Administrative Management Society (AMS). This format differs from other formal letter formats due to the absence of the formal salutations and the complementary close. A subject line is included in the letter which can be compared to the subject placement in e-mails.
Inclusions of a Formal Letter
A basic Formal Letter should include the following information:
The addresses that should be present in the letter which includes:

The return address or the address of the person who wrote the formal letter
The address of the person who is expected to receive the letter

The date that the formal letter has been written
A formal salutation or greeting
The name of the person who is the receiver of the letter
The letter content
The purpose of the letter
An end note, closing, or call to action
The signature block
The name of the person who wrote the letter
Importance of Being Knowledgeable About the Usage of Formal Letters
It is very important for you to be aware of the proper usage of formal letters for the following reasons:
Being able to understand the concept in writing formal letters can help you to create formal letters easier especially if it is a part of your job functions.
Writing a formal letter can showcase your professionalism in making transactions with businesses and other entities where a written document is needed.
The ability to create a formal letter can provide you advantages in terms of applying for job positions where letter writing is an important factor. This can be applied in job functions that are related to sales, marketing, and other service industries. It can also be used by businesses who would like to extend their customer service processes and efforts through a letter.
Formal Apology Letters
Formal Business Apology Letter
Formal Apology Letter to Client
Formal Thank You Letters
Formal Business Interview Thank You Letter
Formal Email Thank You Letter
Formal Invitation Letters
Formal Meeting Invitation Letter
Formal Business Invitation Letter
Formal Invitation Decline Letter
Formal Letter Formats
Formal Business Letter Format
Formal Resignation Letter Format
Formal Acceptance Letters
Formal Job Acceptance Letter
Formal Request for Acceptance of Offer Letter
Formal Recommendation Letters
Formal Job Recommendation Letter
Formal Business Recommendation Letter
Formal Termination Letters
Formal Lease Termination Letter
Formal Contract Termination Letter
Suggestions in Writing a Formal Letter
If you want to write a formal letter or you are tasked to curate one for a particular business transaction, here are a few guidelines that you may follow:
You need to be accurate with all the details that you will put in the letter. Since it is a formal letter, it is mostly used in business transactions. hence, you need to assure that all the items that you will write in the letter are based in reality and can either be given, asked or offered to the person to whom you are writing the letter for.
In writing a formal letter, you need to be concise. Make sure that the content structure allows the receiver of the letter to know the main subject focus of the letter first before reading all the supporting details in the next paragraphs that can be seen in the letter.
Use words that are businesslike and are formal enough for the transaction that you are currently involved with. Use jargon only when appropriate. Other than that, use simple professional words that can be easily understood by the person to whom the letter is for.
Do not forget to state the purpose of the formal letter. Do not veer away from the subject that you want to discuss.
Always be straight and direct to the point. As much as possible, do not use flowery words as it can affect the perception of the individual who will receive the letter regarding the business relation of the letter content and why the matters present in the letter should be taken seriously.
Keep the letter short. Include only the information that the letter receiver needs to be aware of.
Kinds of Formal Letters
Since there are a lot of transactions where formal letters may be used, there are also variations in terms of the letter format that is applied in a specific letter and the content that can be seen in a particular one. A few samples of formal letters are as follows:
A Formal Resignation Letter is created by an employee who would like to resign from his or her post in the company where he or she is currently working. A formal resignation letter can be any of the following:

Formal job resignation letters are created if the employee will follow the suggested work rendering before the effective date of resignation.
Formal two-week job resignation letters are given by resigning employees to the management if the reason for their resignation needs a faster date of release from the company.
Formal immediate resignation letters can be created and sent by employees who need to resign right away due to uncontrolled circumstances which disables them to render additional work services to the business where they are currently involved with.

Formal Complaint Letters serve as a notice from an entity regarding the activities of the business that can cause dissatisfaction to its clients. Formal complaint letters may also be given by an employee of the company telling the management about the processes of the business which are not healthy for the work force. A few samples of formal complaint letters are as follows:

Formal employee complaint letter
Formal complaint letter to Human Resource
Formal guest complaint letter

Formal request letters are different in nature depending on the person who will write it and the kind of request being asked for approval. A formal request letter can be any of the following:

Formal meeting request letter
Formal transfer request letter
Formal vacation request letter
Formal leave application letter
Formal job application letter
The usage of these formal letters vary on the nature of their content and the purpose why they are needed to be written and sent out.
Formal Demand Letters
Formal Rent Demand Letter
Formal Demand for Payment Letter
Formal Job Letters
Formal Application for Job Letter
Formal Offer Letters
Formal Offer Rejection Letter
Formal Business Offer Letter
Formal Purchase Offer Letter
Formal Reference Letters
Formal Character Reference Letter
Formal Personal Reference Letter
Formal Employment Reference Letter
Formal Personal Letter
Formal Personal Introduction Letter
Formal Personal Reference Letter
Formal Cover Letters
Formal Proposal Cover Letter
Formal Email Cover Letter
More Kinds of Formal Letters
Aside from the above mentioned samples of formal letters, here are more kinds of formal letters that you can use in other corporate and business transactions:
Formal apology letters are used to show an entity's humbleness as they ask for forgiveness and/or understanding regarding an unfortunate event that they have been involved in.
A formal invitation letter is sent to the people who's presence is expected in a specific business gathering. It can also be sent back either as a professional way of confirming a person's attendance or declining the invitation.
Formal offer letters are given to qualified applicants who are given the chance to be a part of the company where they have applied for. A formal offer letter can also be coming from an applicant who would like to discuss his or her decision regarding the offer's acceptance or rejection.
Formal recommendation letters or reference letters are created to provide information about an applicant who would like to pursue a career either in the field of academics or any other professional undertaking.
Formal termination letters are written to terminate a contract, a business agreement, or an employee.
There are still other kinds of formal letters that you can use in more variations of business transactions. Other than our samples of formal letters, you may also be interested to browse through and download our samples of Claim Letters and Response Letter Templates for additional references.