It's not easy to find a job. When one finally finds a job that will help them out through life and goals, it's best not to take it for granted. If you're finally moving on from the current job you have and into a new one, then make sure to part with that job on good terms. After all, it wasn't easy finding it in the first place. Best to make sure your employers and you don't part with some bad blood.
A great way to do just that, is to make a good resignation letter. These 7+ sample business resignation letters will assist you in giving the best resignation letter you can to your employers. Speaking of which, if you're interested in more template designs for resignation letters, then these Business Resignation Letter Templates will give you more information.
Business Manager Resignation Letter Template
Business Director Resignation Letter Template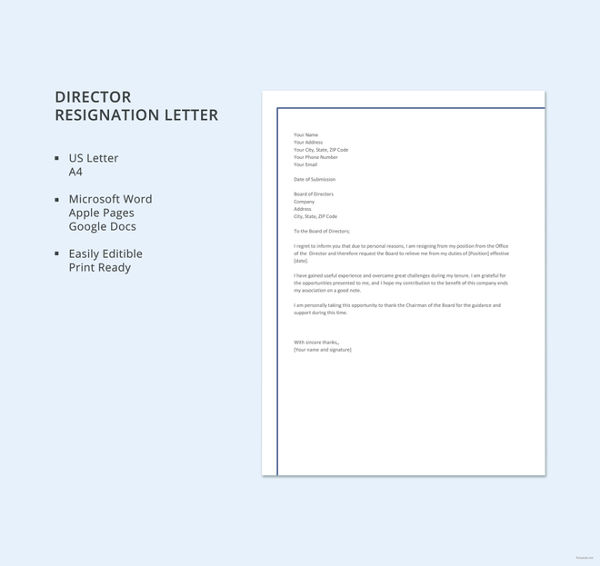 Resignation Letter to Company Template
Small Business Resignation Letter
Business Analyst Resignation Letter
How to Properly Write a Business Resignation Letter
It's important to commit to writing a well made resignation letter. A poor effort of a letter will be seen as nothing more than lip service to your employers. It's best to make your letter look professional yet sincere to better the chances of parting on good terms.
Remember the necessities. It's very essential to include your name, address, contact number, etc., to your resignation letter. Keep in mind that this is a business letter template. One way of botching your letter is to forget to include the basics of what should be placed into a formal letter in general.
Tell them how grateful you are. For first-time job seekers, it's often difficult to get the job you desire due to the fact that you lack the experience to get that job in the first place. Once you find a job that acts as a stepping stone for your future dream, it's best not to take it for granted. Telling your employers through your letter that you always valued the honor of working for them will make it easier for you to land your next job.
Be honest with why you're resigning. It'd be rather difficult to get a certification of recommendation from your employer if you haven't been very honest to them as to why you're leaving their company. It's best to tell them the truth from your Business Resignation Letters so that they'll know exactly what you need from them. Your honesty will be appreciated.

Business Partner Resignation Letter
Business Development Executive Resignation Letter
Why a Good Business Resignation Is Important
It's very essential for you to make a great resignation letter template. This is because if you don't part in good ways with your employer, it will be difficult for you to land the job you've been hoping for this entire time when they request proof of your experience from the previous job you've held. A good, sincere resignation letter will help you into getting your previous company to recommend you for the position you're applying for.
These business resignation examples will help you create a resignation letter with the proper format to deliver a professional letter to your employer. Don't take them for granted as they can play a big part into how your previous company will see you and assist you into getting another job. So, what do you think? Hopefully, this list helped you learn more about business resignation letters and why they're important for your future career.