You can't just pack up and leave your station the moment you decide to quit your job. There are a lot of formalities you have to comply with, just so you don't leave your current company hanging. Speaking of which, one formality is to pass a Simple resignation letter. This way, you get to reach out to your higher-ups and directly to the company itself of what you wish to tell them up until your last working day.
Resignation letters are crafted differently, and for beginners who might not picture it out right, we have downloadable Resignation Letter Templates that are definitely perfect for you! Check them out now.
Formal Director Resignation Letter Template
Simple Resignation Due to Lack of Promotion Letter
Formal Teacher Resignation Letter
Resignation Letter Due to Health Issues
Formal Resignation Acceptance Letter
Formal Board Resignation Letter
Formal Business Resignation Letter
Formal Corporate Resignation Letter
Formal Employee Resignation Letter
How to Write a Formal Resignation Letter
There are various writing techniques on how you go about your resignation letter. You are advised to draft and finalize a formal one so as it would be presentable and official to refer to.
Keep these tips in mind on what and how to write a formal resignation letter:
Greetings and Salutation. Given all the technicalities that should be done in any letter, you should always start off with formal greetings to whom you're going to address your letter to. This is to show courtesy and professionalism.
Intention to resign. The main gist of your letter should be about your intention to resign. Your letter will serve as a formal resignation notice letter and you are trying to inform the company through it in the most respectful way as possible.
Reason for your resignation. Though not really necessary for most employers to require of your reason as to why you're resigning, it would help your employers understand better as to why you are resigning.
Effectivity date. It is important that your employer would know when your last day of service at the office would be. It helps them track better on the current status of the number of employees on that certain date perhaps. This also helps them find a replacement for your position.
We offer you Formal Resignation Letter Templates in this page and more on our Business archives. These are easy to download and definitely convenient for you at any time.
Formal Resignation Email Letter
Formal Job Resignation Letter
Formal Teacher Resignation Letter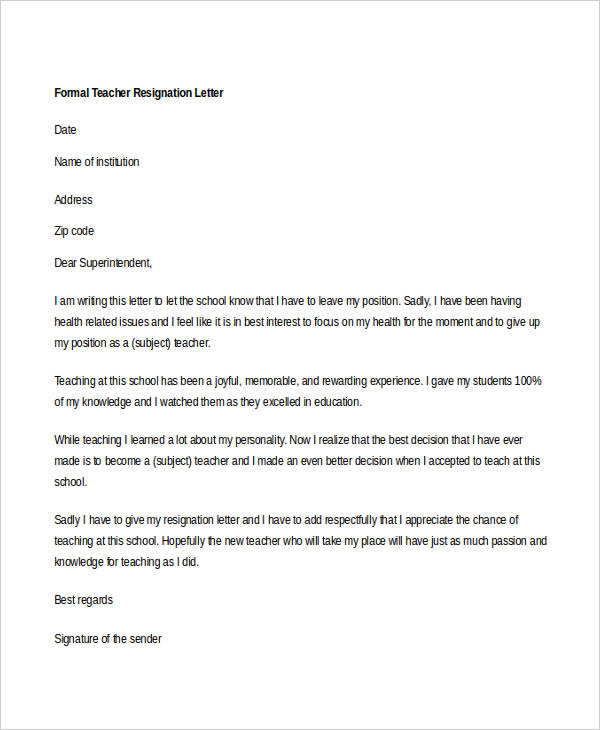 Formal Company Resignation Letter
Formal Director Resignation Letter
Sample Formal Resignation Letter Templates
Here are some more sample templates available you could check out and download:
We have easy-to-download Formal Immediate Resignation Letter Template for you. This could come in handy for you if you are planning to resign from your post immediately. This sample provides you with a layout that will surely be presentable to your employer.
If you are looking for a Formal Resignation Acceptance Letter Template, we also got you covered. It has all the complete and important information that you need in a resignation acceptance letter. Just add accurate information you need, and you're literally good to go.
This Formal Employee Resignation Letter Template is a flexible template that could be downloaded by any employee for all sorts of job positions. This template is easy to fill out and comprehend as well.
If you opt to send your resignation via email, we have a Formal Resignation Email Letter Template available for you to download. This template is already provided in a formal letter format so you would definitely save so much of your time drafting your letter.