Card Templates
17+ Free Birthday Card Templates
Birthdays are joyous occasions that call for celebrations and wishes. Greeting cards provide a great way to convey your wishes to the one who celebrates his or her birthday. There are a plethora of Greeting Card Templates of all kinds over the net. You just need to download one of your choices; customize it with your choice texts, colors, and designs; and send it. Here is an awesome collection of free birthday card templates to choose from.
Birthday Invitation Card Template
Here are 6 birthday card templates with cartoon animals, balloons, hearts, stars, and clouds. This ready-to-print and editable vector has been designed by expert graphic designers.
Cartoon Birthday Cards Vector
The multicolored Birthday Card with birthday cake, candles, balloons, gifts, candles, and wrappers is ready-to-print and editable. This exclusive graphic has been designed by an expert team.
Cartoon Style Happy Birthday Greeting Card
This cartoon style birthday card features a vector illustration graphic art of a girl holding a birthday gift. It bears wordings that say "Happy birthday to you".
Birthday Card In Chalkboard Calligraphy Style
This beautiful birthday card features chalkboard calligraphy style and a bunch of cute flowers on a black background. This vector illustration is available in JPG, EPS, and PNG files.
Happiest Birthday Card
This elegant free birthday card with monoline typography on a spearmint color background looks great. It has the wordings "Wishing you the happiest of birthdays".
Cute Train Birthday Card With Balloons
This cute birthday card has a toy train holding a bunch of colorful balloons on a fading yellow background. This vector illustration is available in JPG, EPS, and PNG files.
Bobsmade Birthday Card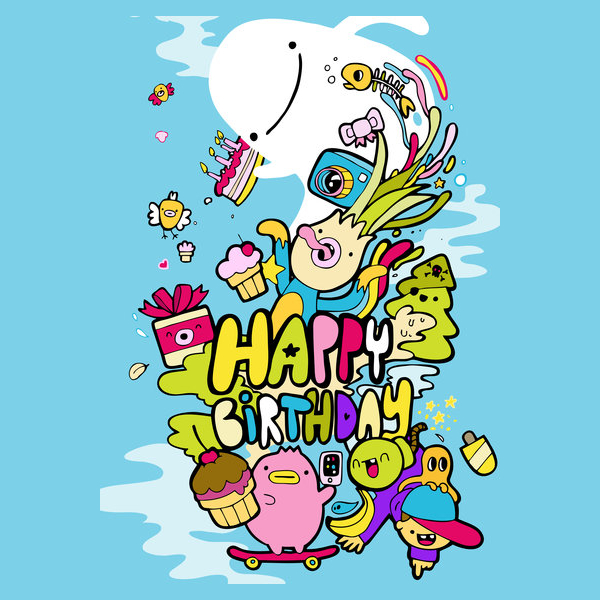 This birthday card with a splash of fun elements like cartoon characters, cupcakes, cake with candles, toy camera, fish bones, dolphin, gifts, bows, skates, etc is freaky.
Help Ink Birthday Card
This lovely soft palette birthday card with help ink print has floral illustrations and lovely typography. It is an ideal birthday card for the feminine gender.
Cupcake Birthday Card
This editable cupcake birthday card vector illustration is available in JPG, EPS, and PNG files. Its background of diagonally checked pink lines is simply lovely.
Belated Happy Birthday Card
This belated birthday card for a friend has an elegant look. It has red and blue overprint on a gray background. It comes with a nice red envelope.
Disney Princess Free Birthday Card
Birthday Invitation Card
Here is a collection of 4 seventeenth birthday invitation cards. These have decorative floral lines in different shades of pink and white. These are cool templates.
Cute Kid Happy Birthday Card
This really cute birthday card with a girl holding a watering can has floral pop-ups designed with corrugated paper. It has a green ribbon, pearls, and a cloth butterfly.
Cute Greeting Birthday Card
Masquerade Ball Birthday Invitation Card
Watercolor Free Birthday Card
This cute and clean Birthday Card has bright multicolored watercolor lettering on a white background. It has been designed by expert graphic designers. This ready-to-print vector is editable.
Birthdays are never complete without birthday cards. Our collection of Blank Birthday templates allows adding your own thoughts and feelings to convey them on your dear ones' birthdays. Make use of our free collection of birthday card templates to wish your friends and folks on their special day, in a cost-effective manner!