The least number of undergraduate students for a university amounted to 6,316. Having this big amount of students to manage must cause a lot of stress and hassle for the administration. Identification cards play a role in helping universities identify and categorize these big amount of students. In this article, we will learn how to make a student ID card in five easy steps.
5 Steps on How to Make a Student ID Card
Identification cards are very helpful most especially in identifying people as many as there is in a university. In creating a student ID card, you can either start on a blank canvass using any editing software, or you can simply download a pre-designed template. Feel free to use either method and settle with which method you are comfortable to do.
Step 1: Have the student's photo be professionally-taken
Photos are an integral part in every university ID. Unlike other types of IDs, student IDs should have formal and professional photos in it. The photo should be of the student wearing a uniform or a formal attire, taken from the bust up to the head, and should be taken with a white background.
Step 2: Put up the university's logo and information
Student identification cards can be used for legal transactions, and this ID cards can help promote the university to other people. So go ahead and put up the university's logo at the top of the ID card along with the university's name and a few contact information. Putting this at the top will make it more recognizable.
Step 3: Strategically write down the student's details for the ID Card
The student's details would include the name, their class level, contact information and address, and signature. These information are usually placed at the front of the ID Card. At the back of the card, you can put the school years, the student's emergency contact person, and maybe some brief information about the school.
Step 4: Design your ID Card template
Student ID cards ought to look professional, so avoid any artsy designs unless you want it to look like a preschool ID. Put up appropriate designs depending on the age group that the ID is for. Some ID cards have bar codes in them, which you can place at the bottom part.
Step 5: Print your Student ID Card template
ID cards are usually printed on PVC cards. This type of material will make the identification card more durable and lasting. It will also produce a glossy finish towards the ID, making it waterproof which is great! Print your templates on a professional printing shop to have the expected results.
5+ Student Id Card Template
After going through the necessary steps needed in order to make student ID card, let's take the time to look through some sample templates which are of great help. These templates are pre-designed with font types, texts, graphics, design, and layout. Some of these templates are premium, while some can be downloaded for free.
1. Student ID Card Template
Do you need a student ID card for you university's needs? Look no further and download this Student Id Card Template from our site. This premium template can be fully edited and customized. It has graphics that are layered on scalable vectors for a more convenient editing and printing.
2. University Student ID Card Template
If you want a professionally-made ID card for your students, then give them what they deserve by downloading our University Student ID Card Template. It has a neat and simple layout. The design is also very minimal as to make it look more formal. It's hassle-free, editable, and high in quality!
3. Free Student ID Card Template
We know how important it is for a school to have an appropriate and durable identification cards for their students. Try to check this Free Student ID Card Template. Aside from the fact that this well-made template can be downloaded for free, this template is also printable and fully editable. Get it today!
4. Free Modern Student ID Card Template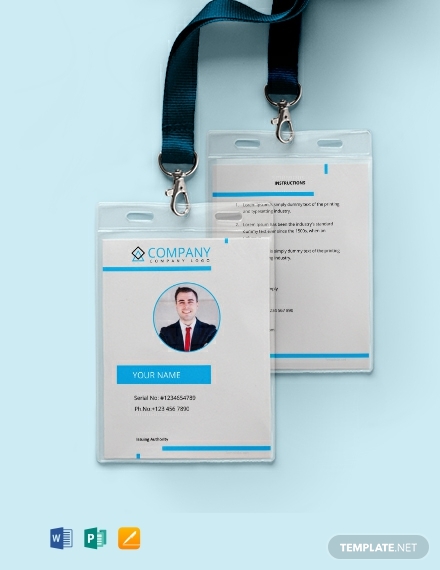 You don't have to be troubled about finding a student ID template that you can edit for your school. Check out this Free Modern Student ID Card Template. It can be downloaded for free! This high quality template uses royalty free graphics and has a well-made layout. You can edit it on Microsoft Word, Publisher, and on Apple Pages.
5. Free Blank ID Card Template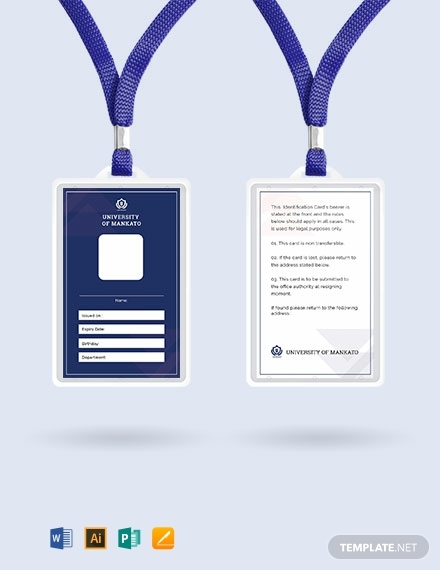 It's simple, and it's blue! Download this Free Blank ID Card Template to have that one, perfect student ID for the entire university! This template features a very neat layout and a well-made outline so that you can lay down your information well. No need for designs because this template is perfect, just the way it is.
6. Cardboard Student Identity Card Template
Download
Organize your pupils and identify them with the school they are enrolled in. Make that more possible by downloading this Cardboard Student Identity Card Template. This template can be fully edited and customized, thanks to its scalable vectors. You can easily print this template across various file formats.
7. Minimal Student ID Card
Download
Get this Minimal Student ID Card for a great deal today. This template uses royalty free graphics layered on scalable vectors so that you can easily resize, adjust, change, or edit the texts and designs. It is user-friendly and can be edited from your smart phones, laptops, or personal desktops.
8. Versatile ID Card Template
Nothing is as versatile as this Versatile ID Card Template. This template can be used for any purpose. You can also utilize this template to be able to provide a student identification card for your university. Where else would you find something as flexible as this? Click the download button now!