The term card refers to various readable materials which include greeting, identification, and rack cards. Whatever type of card you're trying to make, we've got exactly what you need and since it's almost that time of the year when we honor the patron saint of the Irish, we've got some St. Patrick's day card templates below.
5 Steps to Create a St. Patrick's Day Card
Step 1: Identify the purpose of the card
As we have mentioned earlier in the introduction, the term card can refer to a lot of things and in order for you to know what you're doing, you will need to be specific as to what type of card you're trying to create and what you plan to do with it.
Step 2: Gather the needed elements
Elements refer to the items that are featured on the design and these include but are not limited to text, images, and illustrations. Gathering all these elements beforehand can help you during the designing process since it'll allow your creative juices to flow constantly without the risk of being distracted.
Step 3: Download a St. Patrick's Day card template
Save yourself the time by using a card template and while these can be found almost anywhere on the internet, we have gathered the best ones from highly-reliable sources. There are over ten templates below and they are perfect for creating greeting cards, menu cards, or invitation cards.
Step 4: Edit the design of the downloaded template
The templates below come in multiple file formats and while they are all fully editable, you'll be able to enjoy that characteristic only if you're using a compatible editing tool. In other words, card templates in Illustrator should be edited using Adobe Illustrator, although you may also use alternatives such as Inkscape or CorelDRAW.
Step 5: Evaluate the edited design
Just before you decide on publishing or printing your cards, evaluate the design first. During this step, check every detail and see if everything is according to how you want it. You may also ask another person to evaluate it with you and you should always be open to their opinion and suggestions.
10+ St. Patrick's Day Card Templates
1. Saint Patrick's Day Greeting Card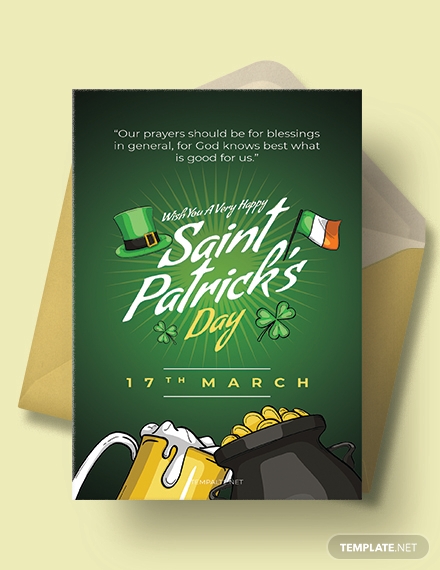 Download
A greeting card is defined as a piece of card that contains illustrations and a sentimental message written by the sender for the reader. Just like the card template above, greeting cards are often used during special occasions and if you're planning to make your own for St. Patrick's Day, this template would be perfect.
2. St. Patrick's Day Leprechaun Card Example
Download
Here's another simple greeting card template that you can use during St. Patrick's Day and this one shows an illustration of a leprechaun holding a shamrock on one hand and a mug of beer on the other. Aside from that, this template has various versions that you can check out by clicking on the download button above.
3. Saint Patrick Quote Card Sample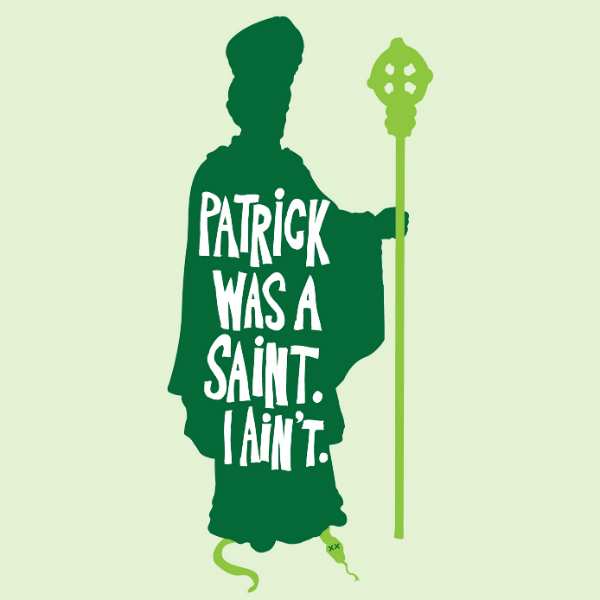 Download
St. Patrick was a fifth-century Christian bishop in Ireland who is now the patron saint of the country. As depicted on the card template above, St. Patrick is stepping on a snake and is holding a staff because he is known to have banished all snakes from Ireland and have turned his staff into a tree.
4. Flat St. Patrick's Card Template
Download
If you're looking for a card template with a simpler and less-distracting design, the one above may probably work for you because of its flat theme and soft color scheme. The best thing about using a template with flat elements is that they are easier to edit and take very little time to render.
5. Happy St. Patrick's Clover Card Layout
Download
Although the actual symbol that St. Patrick used during his teachings was the shamrock (three-leaf clover), others still associate the occasion with the four-leaf clover. According to them, the leaves stand for faith, love, hope, and luck. Aside from this, you might also be interested in our St. Patrick's invitation template.
6. Shamrock Pattern St. Patricks Card Design
Download
One of the best ways to make a design look unique and creative is by using a custom font, and the one used on the card design template above is simply perfect for the event. As mentioned earlier, St. Patrick was associated with the shamrock because he used it as an example to effectively explain the Holy Trinity.
7. Colorful St. Patrick's Gift Card Format
Download
Express how much you appreciate others by giving them a greeting or gift card on St. Patrick's Day, and make it even more special by using the card template above. The most interesting feature about this template is neither its colorful nature nor the shamrock illustration, it's actually the pun included in the content.
8. St. Patricks Leprechaun Hat Card Layout
Download
The leprechaun is widely known for its green hat and the pot of gold it has hidden at the end of the rainbow. However, the card template above combines both elements and illustrates a green hat filled with gold coins. Whether you're designing a St. Patrick's Day poster or flyer, the design above would perfectly work nonetheless.
9. St. Patrick's Baby Announcement Card Example
Download
Thinking of throwing a baby shower on the same date as St. Patrick's Day? Why not? In fact, we even have a pregnancy announcement card template above that you can use for sharing the news. As seen on the template, adding an image of the ultrasound result can complement the design and make it look more meaningful.
10. Rustic St. Patrick's Rack Card Format
Download
As mentioned in the introduction, rack cards count as part of the category and the card template above is perfect for making one that'll fit the occasion perfectly. Rack cards are effective documents for commercial advertising and if you like what you're seeing, you might want to check out our other business rack card templates.
11. Glitter Shamrock St. Patrick's Card Sample
Download
Even if you're trying to make your cards look creative and exquisite, you can still manage to keep it clean and presentable by adding a sufficient amount of white space. Check out the St. Patrick's Day card template above as an example. If that got you interested, feel free to download it right now.