Card Templates
10+ Direct Mail Postcard Templates in AI | Word | Pages | PSD | Publisher | InDesign
Technically, direct mail encompasses a vast array of marketing and business materials such as brochures, catalogs, newsletters, and postcards. This type of advertising technique has long been the most effective and profitable way to connect to a much larger audience—both existing and new ones. Postcards are thick rectangular pieces of papers intended for writing and mailing that don't need enclosing in an envelope. Therefore, direct mail postcards are the least expensive form of direct mail marketing, delivered to specific demographics and customer segments. Major corporations consider postcards as the perfect medium for a direct-mail marketer. If you're looking for direct mail postcard templates, then this article is what you need to read through. Explore the best possible options and opportunities you can get from us as you scroll down.
Table of Content
10+ Direct Mail Postcard Templates in AI | Word | Pages | PSD | Publisher | InDesign
1. Marketing Postcard Template
Generate new leads and increase sales with this Marketing Postcard Template. You can edit and personalize the template in all versions of MS Word, Pages, Photoshop, Publisher, and Illustrator file formats. Get this chance to improve and sell your marketing ideas. Download the template to get started!
2. Travel Agency Postcard Template
Make an excellent-looking travel agency postcard to advertise and promote your travel tours and offers. Travel Agency Postcard Template is a partner you need to attract travelers and backpackers. Enjoy the benefits of utilizing this sample postcard as you download and edit it on your personal computer.
3. Real Estate Postcard Template
Are you looking for a single-page real estate advertising postcard to promote and advertise your real estate projects? Why not try our ready-made Real Estate Postcard Template? Download a copy of this template and edit in the file formats available. Miss no chance on this rare opportunity!
4. Christmas Postcard Invitation Template
Christmas holiday is fast approaching, and the need to produce high-quality postcards is knocking at your door. Make use of our Christmas Postcard Invitation Template, then, to encourage people to attend any Christmas events or activities you plan to hold. The template is editable and customizable using Adobe Photoshop. Download now to get a headstart!
5. Restaurant Postcard Template
Lure local foodies by advertising and promoting your newest dinner specials. Let this Restaurant Postcard Template helps you do the marketing job. You only have to input the necessary information and change the original content to more relevant details. Need to get started? Download today!
6. Christmas Celebrations Postcard Invitation
This Christmas Celebrations Postcard Invitation provides high-quality design and photographs you need to invite friends and loved ones to participate in your Christmas celebration. Make effective direct mail postcards to help them decide on your offer. Don't stare too much on your screen! Download the template to start personalizing it!
7. Free Simple Postcard Template
On the hunt for free and simple postcards to utilize? Great! Our ready-made Free Simple Postcard Template is the perfect one to download. Make use of the original content and edit the inappropriate details in Illustrator, MS Word, Pages, Photoshop, and Publisher file formats. Don't miss this offer. Instead, download the template for free!
8. Free Blank Printable Postcard Template
People opt for blank postcard templates for easy editing. Indeed, it saves a lot of time to input the details without having to delete them first. If that's what you're looking for, then this Free Blank Printable Postcard Template is what you need to download. Secure a copy as you download and edit it for free in Illustrator, MS Word, Pages, Photoshop, and Publisher.
9. Free Construction Business Postcard Template
This Free Construction Business Postcard Template can help you create a construction business postcard with thoughtful design and format. With the aid of our template, your postcard will catch the customer's attention and make it stand out from the rest. Get to create one by downloading this template today!
10. Direct Mail Postcard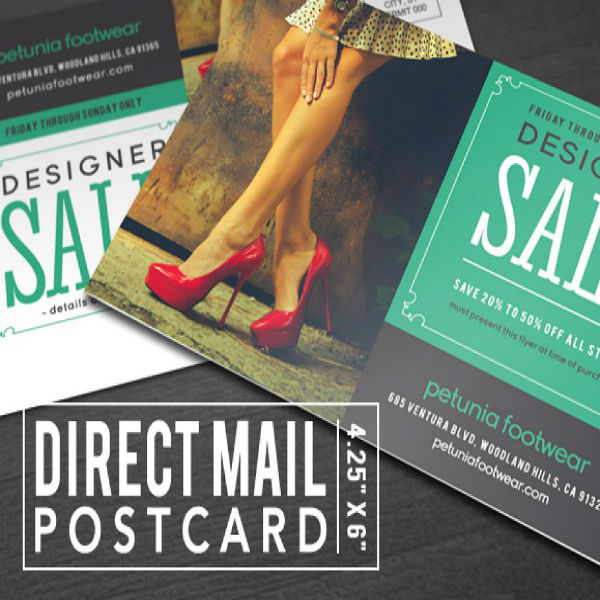 This template is simple yet elegant in look and content. Why deprive yourself of having such a Direct Mail Postcard with modern design and professional layout? Get a copy today to your advantage!
11. Creative Business Agency Postcard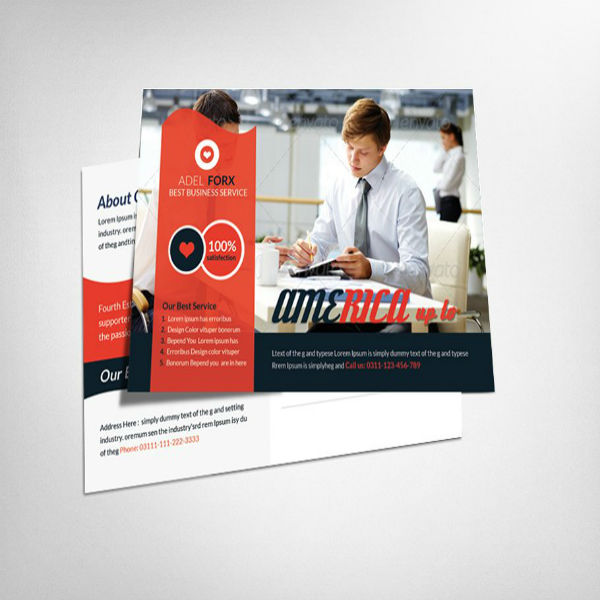 Keep calm and take a deep breath. Our Creative Business Agency Postcard can help you advertise and promote your business, products, or services to your prospective customers. Download this template and start editing on your personal computer.
5 Steps to Make a Direct Mail Postcard
Step 1: Build a List of Target Audience
In this day and age, businesses still believe in the revered 40-40-20 rule. This rule means that the first 40 percent is dependent upon a list, the other 40 comes from the offer, and the 20 is due to creativity. This old axiom is considered to be the secret to every direct mail success. As you can see, part of the rule is knowing your target audience, so it pays great to create a list of audience to target with your direct mailers. While the process can be a bit tedious, the result can help you save money and increase the return of investment.
Step 2: Choose a Template for the Medium Chosen
Postcards are just one of the many media you can use to get your message across. Since your medium here is a postcard, you need to find the right template to utilize and personalize. From our wide variety of postcard templates, choose the model that will serve your interest best.
Step 3: Follow Basic Yet Creative Design
Print materials, like postcards, are too dependent on the design to attract the attention of the prospective clients. But with a lot of letters with great design, how would you make yours stand out? Follow the basic design guidelines, but do not forget to get creative with your works. Uniqueness is the key to make it stand out from the rest. Make it yours to decide and create a stunning postcard design. You may hire a professional graphic designer if you need some help. The credibility you'll get from a professional designer will always be worth the investment.
Step 4: Test the Market
You don't want to waste your hard-earned marketing dollars just because you didn't test the market. Right? So, check the market to determine the rate of return before launching a full-blown direct mail campaign. Start with a smaller market. If you think you can make sales off a small portion of your target audience, then it's time to make it with a broader demographic.
Step 5: Add Value to Your Postcard
They said that you're wasting a lot of money if you don't include sales, bonuses, or rebates in your postcards. This value-added promotion is vital to provide your target audience the reason to avail and purchase your offers. You can make it a time-limited offer to maximize your return on investment.
More in Card Templates
| | |
| --- | --- |
| 27+ Postcard Templates - Word, Excel, PDF, PSD, Publisher ... | 10+ Postcard Templates in Word |
| 12+ Recipe Postcard Designs & Templates - PSD, AI Free ... | How to Make a Postcard [10+ Templates] |
| 34+ Blank Postcard Templates - PSD, Vector EPS, AI Free ... | 10+ Marketing Postcards Templates - AI, PSD, MS Word, Pages ... |
| 9+ Travel Postcard Designs & Templates - PSD, AI Free & Premium ... | 9+ Business Postcard Templates - Free Sample, Example, Format ... |