Card Templates
20+ Postcard Templates
There is a wide assortment of postcards in the market. Standard postcards, EDDM cards, Ultra postcards, mailing cards and offset cards are the most commonly used. They vary in size, shape and quality. Some of them are luxurious while others are basic and suitable for local events. If you are running out of time, you do not require designing one from scratch; instead, you can use Postcard Templates and watch your brand or event prosper.
Invitation Postcard Template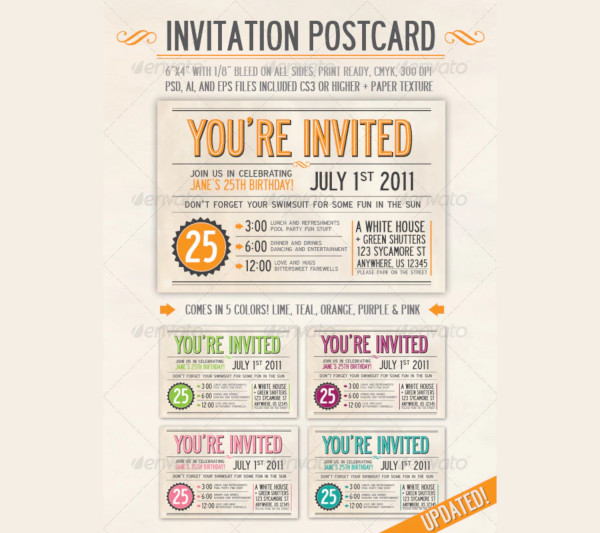 Save The Date Invitation Postcard
Business Sale Postcard Mailer
Business Marketing Postcard Template Set
Business Moving Postcard Template
Business Agency Postcard Template
Small Business Postcard Template
Construction Business Postcard Template
Event Planner Postcard Template
Free Corporate Business Postcard Template
Corporate Postcard Template
This Corporate Postcard Template contains 8 PSD files with editable texts on both sides. The print-ready creative design is layered and features four color schemes, 300 dpi and CMYK colors.
Printable Postcard Template
Christmas Postcard Template
The 4×6 Postcard Templates feature vector illustration. You can easily customize and edit its images, illustrations and vectors using Shutterstock Editor free of cost. It is print ready in a high resolution.
Dentist Postcard Template
The dental postcard templates are layered and editable with Adobe Photoshop CS5. It features replaceable smart objects, free fonts, print-ready layout, 0.25 bleeds and CMYK color modes.
Photographers Postcard Template
Summer Holiday Postcard Template
This colorfully designed 4×6 Postcard Template is easy to personalize, customize and edit with Shutterstock editor. You can modify its vector images, illustrations, and free fonts before printing it in high resolution.
These 4×6 Postcard Templates come with eight PSD files, four-color variations, and free fonts. You can easily edit its texts and CMYK colors although it is in a print-ready format without images.
Vintage Postcard Template
Real Estate Postcard
Baptism Church Postcard Template
The baptism church postcard template suits promotional events that portray a modern design. It is layered and color coded with CMYK colors, 300 dpi resolution and bleeds that come in seven color options.
Company Postcard PSD Template
This 4×6 Postcard Template for businesses is print ready with CMYK color mode featuring 300 dpi and .25 bleeds. It is organized, grouped layered and contains an instruction file, color variations and trim zone.
Branding Postcard Templates
This 4×6 Postcard Template adds fun while maintaining professionalism to your brand. It features bold CMYK colors, strong fonts and images. It is easily customizable to suit any business website.
Pool Postcard Template
The pool postcard template serves any industry because it contains editable wording, fonts, colors and images. It features a nautical design that is ideal for community pools and fitness instructors. You can use blank postcard templates to market your business or any event. You can also use them to design invitation cards for your annual events such as anniversaries. Most of them are printable and you can send them online which is much cheaper. Use them to make your wishes a reality!
Project Postcard Template
Surf Shop Postcard Template