Card Templates
16+ Holiday Postcard Templates
Having the post card that can make the arrangement you want to be read by your loved ones in the to make it one of a kind and special to send your warm messages of the season, holiday letter template can be the means in making the letter where you can add notes and liveliness all at the same time.You can also visit Holiday Stationery Template. Downloading it in example format will assure you that it can give you a hand in your task.If you are looking for a more definite Holiday Template which can adhere to its function where special post cards will be made then this is the thing you need. Any images, text and pictures can be supplemented so you can be done in just a short time.
Business Holiday Postcard Template
Free Download
Holiday Postcard Template Free Download Example Format

primaryresources.co.uk | This simple and plain postcard design template of a regular postcard is a perfect canvas for any designer. They will be completely left upon their imaginations in order to fill in the blanks and create a wonderful design. Download the PSD vector files today.
Holiday Post Card Free Sample Template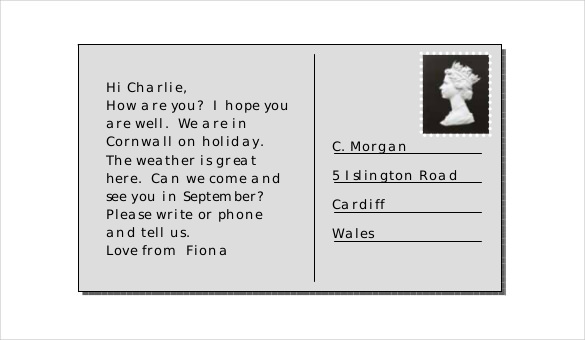 teachitelt.com | This simple and plain design template for a postcard has a very minimalistic approach to it, thus making it suitable for use by many age groups for various different purposes. One can get the PSD files from the link given right below and check these designs out.
Kids Summer Camp Postcard

Summer camp reminds all of us about our childhood days thus sending us back on a nostalgic memory trip of fun and frolic. With this vibrant and colourful design, it is perfectly suited for the purpose it has to serve and our PSD files are further editable so as to allow the designer to personalise it a bit more.
Best Travel Agenty Postcard Template

Travel agency postcards are a very good of source for getting information about various holiday packages and destinations. This travel agency postcards design template PSD files is a very attractive and eye catchy option with its use of striking colours and graphics, thus is very suitable for a successful business.
Real estate firms use postcards so as to let people know about various assets they are being offered. This design template PSD vector files are a perfect example of those. With big and bold graphics and a very eye soothing colour tone, it will sure grab many people's attention and as well as help the firm to incur more profit.
Perfect Generic Postcard Template

Generic postcard templates are the best options. They are perfectly designed for any kind of purpose with the right balance of graphics, colours and texts. Download from our collection of such free PSD vector files and use one for your project today.
Holiday Church Postcard Bundle Template

Holidays are the best days for everyone. This pack of holiday church postcard PSD vector templates is the perfectly suited option for such works. The use of bright and eye catchy colours, the glowing texts and the entire design details uplift the aura of the entire design incorporating the holiday feel with it.
Smart Object Postcard Template

Business postcards need to remain minimal, eye catchy and informative thus serving the purpose they were made for. This pack of PSD templates for business postcards has the right use of bright colours, texts and bold graphics thus ensuring to grab most attention from the people.
Holiday Festival Postcard Template

Festivals are a wonderful reunion option and a perfect time to break from the daily monotonous life. This post card template has all such fresh design elements and colours which implement the same idea in a perfected manner. Download the PSD vector files today.
Multipurpose Postcard Template

This multipurpose template pack is a safe and exciting option for every designer out there as it offers the best of the both worlds. With the right use of striking colours and bold design, these PSD templates can be used both for casual and official purposes. Download the files for photoshop in the link below.
Winter Holiday Mini Session Postcard Template

Winter holidays are wonderful time to spend some relaxing moments with the family inside your home. This postcard template design offers the chills along with the cosiness of the winter in one design itself. Download the PSD files for photoshop today.
Beautiful Fishing Postcard Template

Fishing has always been a very tempting activity during the holidays. This fishing postcard design has all the elements of a fresh and bold template without losing the actual fun and soul of the activity. Download the vector files right below.
Modern Holiday Postcard Template

A unique design alongside a thought bubble patterns, makes this postcard template design utmost unique and eye catchy. One can download this entire template pack from the link given below to access all the free PSD vector files for photoshop.
Merry Christmas Postcard Template

Christmas is perhaps the most awaited day in the entire year for all of us. This postcard template design has all those little details will which make anyone smile with contentment. Download our extensive collection of PSD vector files for photoshop today.
Holiday Wishing Joy Postcard Template
Winter Holiday Postcard Template
Beautiful Hand Lettered Holiday Postcard Template
Happy Holiday Postcard Template
Summer Cruise Vacation Holiday Postcard Template
Summer Holiday Postcard Template
1150+ FREE & Premium Holiday - Download NOW
Beautifully Designed, Easily Editable Templates to Get your Work Done Faster & Smarter.
View All Holiday Templates