Card Templates
17+ Sympathy Card Templates – PSD, AI, Google Docs, Apple Pages
It is always a good gesture to stay with your loved ones during their tumultuous time. Check for the various sympathy card formats available online. Use the simple fonts and monochromatic color to make the message more highlighted than anything else. Add a Photo Card Template in the sample to make it more personal. You can download the various examples available online.
Sympathy Card Template
Floral Sympathy Card Template
Sympathy Thank You Card Template
Sympathy Card For Loss Of Dog Template
Floral Dreams Funeral Sympathy Card

This sympathy card is ideal for funerals and it has the perfect design according to its nature. The vivid floral designs on white background and the font style along with the photo frame of the person make it the best.
With 'Deepest Sympathy' Sympathy Card

With 'Deepest Sympathy' Sympathy Card express your heartfelt sorrow in a dignified manner. The cover art, a orange fall autumn tree, symbolizes sorrow in a beautiful manner and makes it the perfect choice for times like these
Pearl Shimmer Deepest Sympathy Sympathy Card

Pear Shimmer Deepest Sympathy Sympathy Card will let you include up to 3 photos of the deceased in the cover of the card. These photos coupled with exemplary graphics and typography makes it a compulsory during bereavement
Printable Sympathy Greeting Card Editable

This sympathy card printable is one of the simplest and is best for conveying your condolences. It contains images of flowers on a matching maroon background of different shades and a sincere message at the top. You can download it from here.
Conceptual Heart Sympathy Card Download – $5

This sympathy card message contains a heart shape made by flowers of different color and leaves suitable for the occasion and a heartwarming message to covey your love and sympathy. This is becoming in the trends nowadays and you can download it from here.
I'm Sorry Sympathy Card Download

I'm Sorry Sympathy Card Download is a simple card template for commiseration. This card will communicate what you intended to directly without being too detailed. Download this example and make your apology nice
Printable Sympathy Greeting Card – With Sympathy

Printable Sympathy Greeting Card Editable is a free printable sample card-template with various available layouts to choose from. Add photos in the content or change and customize the cover photo
Sample Blank Sympathy Card Download

Sample Blank Sympathy Card Download is a available in the format of photoshop and thus making it easy to modify the card contents such as: the cover art, content, background graphics
Loss of Loved One Sympathy Card
Sample Sympathy Card Download in PDF Format for Free

This is best suited if you are looking for any sympathy card message in PDF. The simple and black and white image along with sympathy card wording is ideal for conveying the message of heartiest compassion to your loved ones.
Free Download Sympathy Card with Leaf in Word & PDF Format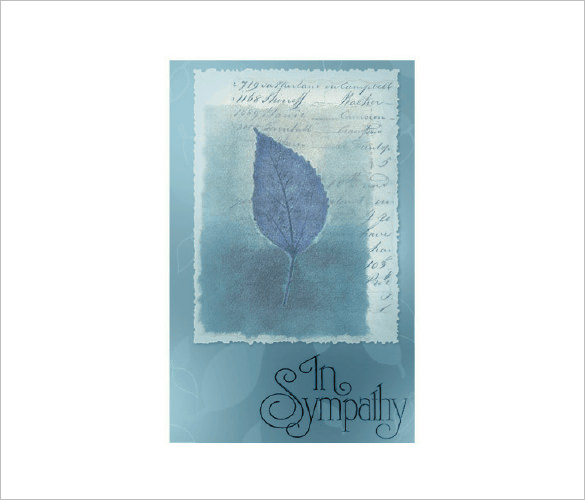 This is the simplest yet one of the most meaningful sympathy cards. It contains a simple leaf with heartiest sympathy card messages wr5itten at the background with cursive font and the cover is of the ideal color to convey your feelings.
Letterpress Sympathy Card Example

This sympathy card message example consists of a simple and small image with a meaningful sympathy card message to carry the empathetic feeling to your dear ones. It is very much in use nowadays and you can download it from here.
Gold Sympathy Card Sample – £1.49

This is one of the best sympathy card examples. As the name suggests, it is unique and everything, including the font, background, the designs and the Sympathy card words, etc. contain the message of compassion and ideal for the heartbroken ones.
Rossetti Iris Condolence & Sympathy Card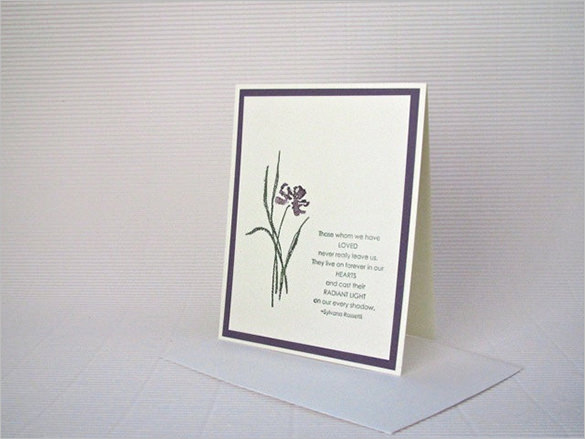 This is a simple and classy sympathy card and it contains a beautiful image of a flower along with some sympathy card verses to carry the heartwarming message of compassion and love for paying condolence to the departed soul.
Use the latest card template designs to make it look classy yet convincing. Change the background color and write you own message to convey genuine warmth though your card. Choose from the simple envelopes to make it more true to life.