There will come a point in our lives where we will need to come up with a proper request letter. The reason as to why we would even have to make them instead of just asking for what we want is because there are certain people and establishment that aren't just willing to provide what you're asking for unless they get a detailed explanation. You may also see Letter Samples.
Learning the format and tone of making an official request is a necessary skill that will help you ask what you need and hope that you get it approved. This article is going to teach you all that you need to know in order to create a proper request letter.
Simple Restaurant Rent Reduction Request Letter Template
Request Letter for Reference Check
robertsonhall.com
Request Letter to Transfer Department
howtowritealetter.net
Request for Information Template Sample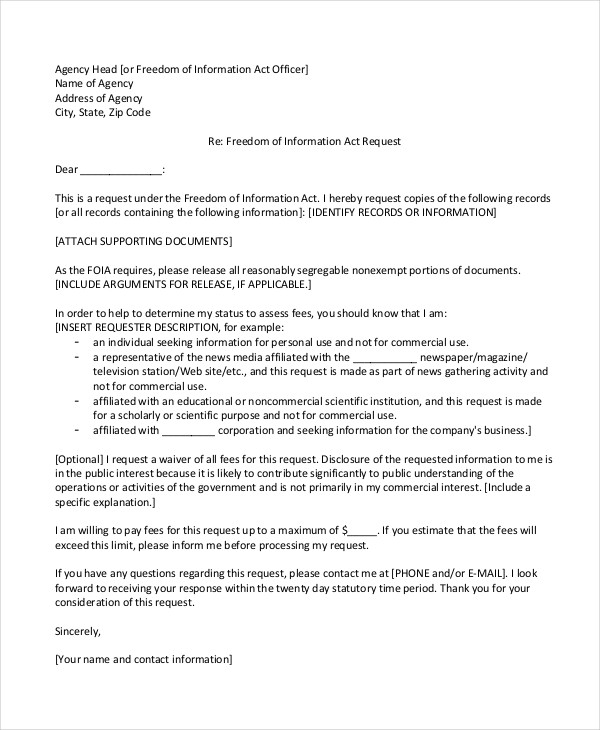 nsarchive.gwu.edu
Request For Sponsorship Letter Template
usaultimate.org
Request for Leave Letter
svce.ac.in
Request Letter Format Template
resdac.umn.edu
Request Letter for Advance Payment
dos.ny.gov
Request Letter for College Admission
georgetownisd.org
Request Letter for Doctor's Appointment
lettersfree.com
How to Create a Request Letter
Once you have an idea as to what is it you would like to ask for, you should already be coming up with a draft for your request letter. There are things that you need to think about such as who you're sending it to, how you're going to ask for what you require, what information is necessary to help get your request approved and much more.
So here are the steps that you can follow to help you create your request letter:
Identify the Proper Person You Should be Requesting From
When it comes to making a request, you need to figure out who you should be asking or who you should make contact with. Generally, you should ask the person most qualified to fulfill your request and that means you'll have to put in the time to know who that person is:
If you're making a request letter to ask something specific from a company, then you will need to call the company secretary to identify the person that you should address the request letter to. So what you'll need is the persons's complete name, address, and even contact details so that you can put them all in the request letter.
Learn the Format for a Business Letter
Your request letter should use the proper business letter format as you may be writing it for a company or someone with a high position. This applies whether you're making or sending the letter via email or a hard copy. Become familiar with the following format and be sure to use it when you're creating your professional request letter:
Make sure that you place your complete name, address, and job title or title on the top left of the letter.
Place the date right underneath your basic information.
Place the complete name, address, and contact details of the person you would like to address the letter to below.
Address the person appropriately. Start with "Dear Mr." or "Dear Mrs."
Have 1-inch margins around the paper and use single spacing. Don't indent as you can simply use double spacing in-between paragraphs.
Make sure that you use font that's easy to read such as the standard Times New Roman or Arial.
End with "Sincerely," then leave 4 lines so you can include your name and signature at the bottom of the letter.
Remember to Use a Proper Greeting
If you're going to ask for something, the the first thing you have to do when making the letter is by greeting that person respectfully. The recipient of the letter should be greeted and addressed respectfully as anything less can end up with the entire letter being completely disregarded.
"Dear" is the accepted opening as that is the standard for just about any type of request letter. If you start off with "Hi" or "Hello", then that's just going to be considered as unprofessional or even inconsiderate by the reader, especially one with a high position within an establishment.
If you're going to address someone, then you should always do it with either a "Mr." or a "Ms." as appropriate. You should never use a person's first name or last name only as that can be considered as rude.
If you're unsure of a person's gender, use the full name in the greeting instead of Mr. or Mrs. A good example would be "Dear John Goodman" or just about anything that's similar.
Introduce Yourself
If this is an unsolicited request, then the recipient of the letter is going to want to know who the letter even came from. Make a brief introduction of yourself by giving the recipient your complete name and possibly even your job title. Doing this can help ensure the reader that he or she knows who the letter is from.
When you're making an introduction, you want to do it as briefly as possible. Just about a sentence or two would do just fine as you're not trying to make biography about yourself. The main point is that the recipient knows who you are and you can do it that in a couple of sentences.
Introducing yourself has two advantages. First, it's polite. Remember, whoever you're writing to probably doesn't have to grant your request, so showing that person good manners is one of the better ways of increasing the chances of your request getting approved. Second, identifying yourself will help the recipient understand who you are and it can help speed up the process of your request.
State What You're Asking
Once you're finished with the introduction, the next thing that you will need to do is share with the recipient what it is that you need. This is basically the main point of the letter wherein you will need to go into detail in terms of what it is you are trying to ask. Just remember that you shouldn't go overboard with the details as you do not want to overwhelm the recipient with information. Just make sure that you're straight to the point and that the person reading the letter gets everything he or she needs to fulfill or at least try to get your request approved.
Tell the Recipient Why the Request Is Important
In certain cases, you might need to convince the recipient that he or she will need to approve whatever it is that you are asking for. This means that you will need to provide all the necessary reasons that will help in getting your request approved. Have all your supporting evidence ready and briefly state why this request is important, and make sure that the reason your'e providing is actually convincing enough to help guarantee that the recipient understands the urgency of your request.
Offer to Provide Assistance
Always demonstrate your willingness to work with the recipient. Even a simple statement such as "Please let me know if there is anything I can do or any information you may need." can easily show the recipient that you are willing to do whatever it takes to help with the request process. Not only will this be showing that the request is very important to you, but you're also trying to help speed up the process.
Closing the Letter Politely
When you've stated your request and provided all the necessary information the recipient may need, then you will have to close the letter on a polite note. Thank the recipient for considering your request and that you expect to hear a response as soon as he or she is able to. Then end with a proper salutation like "Sincerely." Once you're done with that, you must remember that you will need to provide your complete name and signature at the very bottom of the request letter. This way, the recipient can validate as to whether or not the letter came from the actual person who made it.
Take note that if you're going to be sending our request via email, you will also need to provide a subject line. The point of the subject line is to let the recipient understand the contents of the letter before he or she even opens it. The only thing that you have to do is guarantee that the subject line gets straight to the point with whatever it is you're asking.
Tips for Making Your Request Letter
Here are a couple of things that you can do to ensure that you are able to create a polished request letter:
Keep the Tone Professional
Remember that this is not a letter where you can just use your own language or think that being friendly is enough to get whatever it is you're asking for. You must treat this like a business letter and that means that you will have to keep the tone respectful and professional all throughout. Anything that's less will not be taken seriously by the recipient and that will just end up with them not even considering what you have written down.
Proofread Your Letter
Before you even send it to the right person, you need to go over your letter at least twice. This way, you're sure to be able to spot, grammar, spelling, or even information errors that you may have missed during your initial draft. If you happen to spot any mistakes, then you should fix them immediately before sending the letter to the right person.
If you would like to learn how to create other types of request letters, then all you have to do is go through our site. It has all the articles and information you need to help you with whatever situation you need. Just make sure that you read through the articles thoroughly so that you can use what you've gathered effectively.