Card Templates
17+ Thank You Card Templates – PSD, AI, EPS
You cannot deny the joy that comes with genuine appreciation. Everybody loves to receive gratitude for their little sacrifices. You may also want to thank your family, friends, employees or colleagues for one reason or the other. For these reasons, you want to begin using card templates to design pleasant Thank You Cards. These simple yet powerful cards are affordable and customizable to suit any event. They also vary in color, size, shape and complexity.You may also see Card Templates
Thank You Greeting Card Template
Fashion Thank You Card Template
Fashion Business Thank You Card Template
Wedding Thank You Card Template
Corporate Thank You Card
Corporate thank you card templates allow you to send personalized messages. These layered files contain 10 color options, CMYK and 300 dpi with bleeds. They are print-ready and easily editable.
Blank Corporate Thank You Card
These Blank card templates for corporate use are 6.25 by 9.25 inches in size. They come with bleeds in 300 dpi and require Adobe CS2+ for editing and customization.
Baby Boy Shower Thank You Card
These Blank Card Templates come in three JPEG files that are ready for printing on 8.5 by 11 inches papers. This handmade document available for download is perfect for personal use.
CloseupThank You Card
Close-up thank you card is professionally designed featuring grass outdoors in its background image. You can save, download or share the editable image file that has high resolution and variety of sizes.
Fancy Thank You Card
The fancy thank you card for loved ones comes in 7 by 7 cm size. It contains editable vector illustrations, EPS files and free fonts. It also features different colors.
Sweet Wedding Thank You Card
These Blank card templates allow newlyweds to appreciate guests who witnessed their wedding. You can share your photos in the 5 by 7 inches PDF and JPEG files of high resolution.
Pretty Blue Thank You Card
The Pretty Blue thank you card comes in two elegant colors as a single file. It is layered and easy to edit and customize. It is also print-ready on thick whitewash papers.
Floral Thank You Card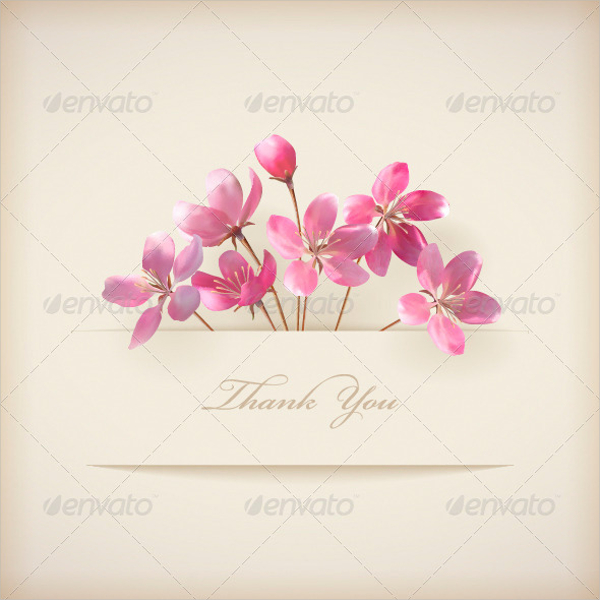 These JPG Blank card templates featuring pink flowers are ideal designs for wedding, invitation and greeting cards. It contains high-resolution vector illustrations with images displaying blending and transparency modes.
Rustic Thank You Card
These Blank card templates come as simple rustic thank you cards on Kraft paper. This set of five files feature an antique typewriter with "thank you". Its interior is editable and customizable.
Letter Press Thank You Card
Letter Press Thank You Card is beautifully designed in black and white. It features awesome fonts that are editable. You can use it to send thank you messages to anyone.
Retro Thank You Card
The retro thank you card for home press is useful for appreciating people in any occasion. Its colors are beautifully blended and they are editable and customizable along with their fonts.
Personalized Thank You Card
These Blank Card Templates contain a set of pink watercolor personalized thank you cards. These handcrafted cards and personalized cards come in thick folded paper, 6 colors and corresponding envelopes.
Forever Thankful Thank You Card
The forever-thankful thank you card comes as Blank card templates with personalized foil. It is trimmed with square corners on signature matte. You can edit photos before printing this flat card.
Christmas Thank You Card
The Christmas Thank You Card features organized layers that are easy to edit with regular license. The color-coded card is print ready in customizable CMYK colors, bleeds and 300 dpi resolutions.
Officiant Thank You Card
Finally, you should start using these Blank card templates more than thank you cards. They are useful in designing invitation, apologies and greetings to the people you treasure. All you need is to purchase one and brand it to reflect your image, then use it as many times as possible with minimal editing.