Flyers are one of the most popular printed advertising materials. If you are looking for a promotional aid for your business, product, services, company, organization, school, event, or campaign flyers are perfect for you. Get a flyer template in template.net. Explore our website and discover an endless collection of templates. We have a multitude of collections of templates that you can choose from. What else is better than a variety of templates that are compatible with different file formats such as MS Word, Adobe Photoshop, Adobe Illustrator, Microsoft Publisher, and Apple Pages. Our website offers 100% customizable, beautifully designed, professionally made, easily editable, high-quality, and printable templates. So what are you waiting for? Don't miss out on this chance. Subscribe to any of our subscription plans now and enjoy amazing member privileges!
What Is a Flyer?
One of the most common marketing materials is a flyer. A flyer is used to promote products and services from businesses and companies. This printed marketing material helps market brands to target potential markets to lift sales and profit. Though there is another advertising agent a company can use, many opt to flyers because it is cheaper and produced in bulk numbers. Moreover, individuals distribute flyers in public places because there's high foot traffic in those areas. Flyers are printed on a glossy paper so it will stay in shape for long as it lands from one reader to another.
How to Make a Flyer?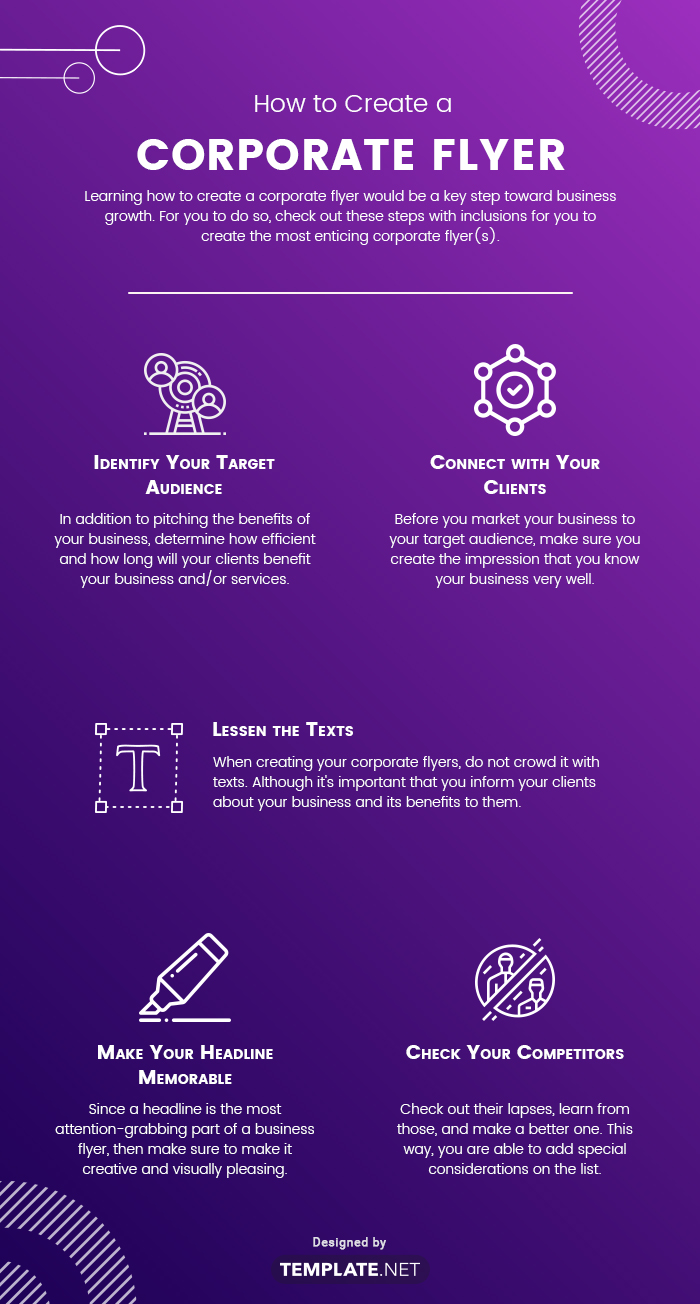 In most cases, flyers are made through good word processing applications such as Microsoft Office Word or Mac user's Apple Pages. Though you can make a flyer from scratch, having a template will be very convenient. Downloading a flyer template won't make you have a hard time starting this printed promotional material, especially if it's your first time making one. Regardless of your experience in making a flyer, it is still very helpful to come up with a plan or procedure. Here's a list of steps to help you create a corporate flyer. Stick to our list and produce a flyer that will benefit businesses or companies.
1. Make a Plan On How to Attack Your Task
Basically, before starting a project, make a procedure that you can follow as you execute the tasks. List down all of the tasks that need to done and prioritize urgent works. It is also helpful to have a checklist of the tasks so you will be on track. Your plan will guide you along the way.
2. Gather Everything That You Need
After completing your plan and a checklist, gather everything that you need for your flyer. Your priority is to get the best word processing software out there because you will be working on it as you make your simple flyer. Secondly, know the purpose of your flyer. If you are working for a client, work closely with them. Take time to discuss every single detail for the flyer. Or, if you are making a flyer for your personal use, make sure that you are decisive to your topic because it will be your first step in making the flyer.
3. Make an Outline for Your Flyer
Outline the flyer's topic. Start from the main idea and narrow it down to smaller sub-ideas. Once you completed the plan outline, look for support details. Do the research fro your flyer, support your main idea to convince your readers. A sloppily-written flyer tends to put down the attention of its audience. Write the content of the flyer as comprehensible as possible so it will come out as organized. The last thing you want for your flyer is to see it in a trash bin, crumpled and unread.
4. Download a Flyer Template Online
To help you with your task, download a flyer template. A template will make your task more convenient. Though you make your flyer from scratch, having a flyer allows you to be more creative and fast. A template comes with a suggestive content which means you can customize the flyer template however you want. Start filling in the template and refer to your outline as you make the actual flyer. Fit everything right in. Make adjustments if necessary. Also, include high-quality images. The photos in your sample flyer will engage more to your readers, and it is visually appealing.
5. Make Everything Correct; Print a Copy
Don't print your flyer without proofreading it. Proofreading your document will help you avoid misspelled words and incorrect information. Once done, save your file. And when you are ready to distribute the flyer, print it in bulk numbers or how many flyers you need.
Read More
Earn 20% commission on every sale from your Share
Bloggers: Publish/Mention Template.net products on your website, blog, Social Media or Via Email & Earn affiliate commission of 20% for every sale