There are countries in certain parts of the world wherein it's illegal for a person to have more than one job. So let's say that you've recently just left a company after many years of service and you're planning to apply for another that you're interested in. You may also see company letter templates.
However, the company you want to apply for is going to want definite and physical proof that you have completed your resignation with your previous company to make sure that if he/she hires you, the company still abides by the law. This is why it's very important that you gain a relieving letter from your previous company. This article will teach you all that you need to know regarding a relieving letter and how you're going to make one. You may also see job application letter examples.
Job Relieving Letter
Relieving Letter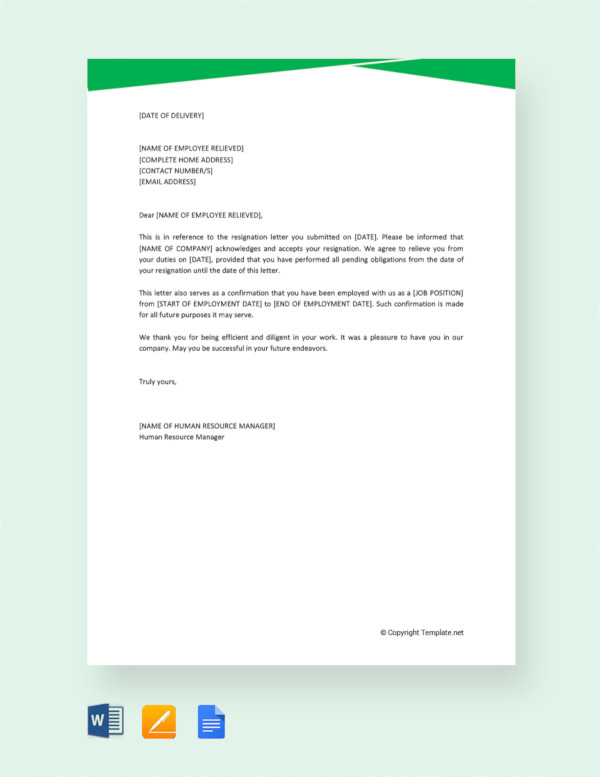 Employee Relieving Letter Format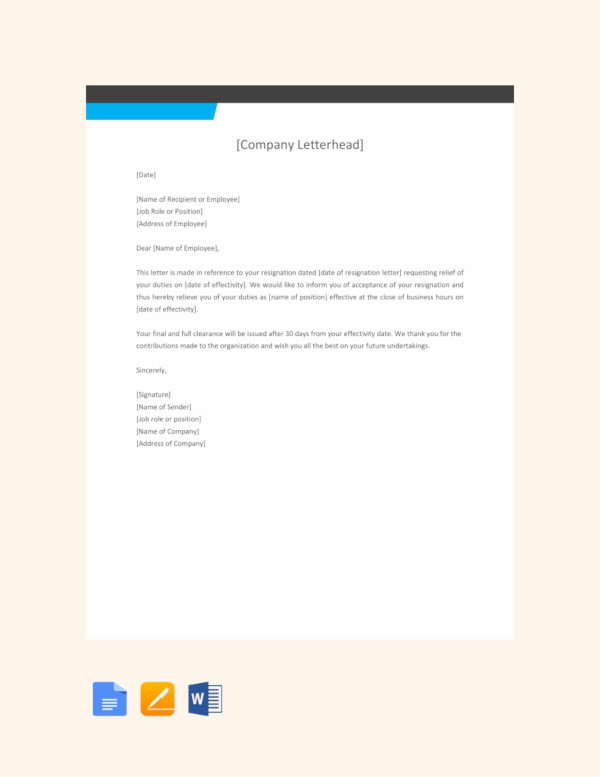 Company Relieving Letter
Relieving Letter Template

yourhrworld.com
Employee Job Relieving Letter Doc Format

yourhrworld.com
Job Relieving Letter Doc

scribd.com
What Is a Relieving Letter?
A relieving letter is issued by a company to an employee who has duly resigned from whatever positions he/she has held. Remember that the entire point of having this letter is so that you can show other companies you're applying for that you have officially resigned from your previous post, and also it's very useful document for proving certain pieces of information such as the job title that you previously held and the date in which you left your previous company. Always remember to ask for this letter right before you quit because you'll never know when you're going to need it. You may also see employee resignation letters.
When Are You Supposed to Get the Relieving Letter?
The relieving letter should be issued the same day you are going to leave the company. If the company does not issue the relieving letter, then it can only mean that the company has not accepted your resignation and that you're still an employee of that company until you are finally issued the letter. You may also see employee resignation letter templates.
Why Am I Not Receiving a Relieving Letter?
While there are multiple reasons as to why you haven't received one even after you made it clear that you intend to leave your post, they're usually all related to the fact that you may still have some unfinished business with the company that requires you to stay for a certain period of time. For example? You have been tasked by the company to take on a project and you have also signed a contract agreement stating that you will not leave until the project is complete. So let's say that you suddenly decide to quit during the middle of the project, the company will not issue you the letter as you have signed the agreement stating that you would stay until its completion. So unless you want to face the consequences that are stated in the agreement, you'll have to wait until you've finished your business with the company before you can expect the relieving letter.
What Is a Relieving Letter Used For?
Other than needing it in order for you to finally quit your current job, this is a very important document you'll need to provide whenever you're trying to get a job at a different company. Remember that there are certain countries in the world where a person is not allowed to have two jobs, so this document is a way of proving that the person is currently jobless and that he/she is qualified to take on a new position at a company. You may also see new job resignation letters.
Also, it serves as a tool that's used by a company notifying the employee that they have accepted his/her resignation and that the employee is relieved from all duties from the very moment that he/she has received the letter. So when you really think about it, it's similar to a termination letter but it's one that the employee would always want to receive should he/she decide to quit.
How to Make a Relieving Letter
Now that you have an idea as to what a relieving letter is, now is the perfect time for you to learn how you'll need to go about in making them. The only time that you're ever going to make them is if the employee that wishes to leave the company is qualified or has earned the right to do so; meaning that you'll first have to see to this before you can issue the letter. If you're sure that the employee has earned the relieving letter, then you can proceed with its creation. You may also see an example of resignation letters.
So in the event that you do have to make one, then here are the steps that you're going to have to follow:
1. Be Sure to Include Basic Information Regarding Employee That's Leaving
A letter that's as important as this will need all the basic details that one needs in order to present to another company. Which is why it's very important that you write down the basic personal information of the employee that's about to leave the company as the other employers who are going to read the letter will want to know the exact name of the person that they're going to hire alongside other important pieces of information. So when you're writing down the name of the employee into the letter, you have to be sure that you do so completely; meaning that you'll have to write down that person's first and last name. You may also see resignation letter formats.
Also, you should never forget to write down the position that the resigning employee has held in your company. Other companies will need to do a background check when trying to hire a new employee, so stating the employee's previous position is going to help speed up that process.
2. Write Down the Basic Information About the Company
If another company wishes to hire the employee that has just left yours, then they'll want all the information they'll need regarding the company that the employee previously worked for. The reason for this is because they need to verify if the company actually exists, and they're going to want to contact the previous company to learn more details regarding the employee and to verify whether the relieving letter is fake or not. So you'll need to write down the complete name of the company, the company's complete address, and the contact details (both phone number and email address). Also, remember that you're going to have to write down the date in which the letter was made as the other companies will also need to verify that.
3. Put Down Information Regarding the Employee's Resignation and When the Termination Was Accepted
If you were to hire a new employee for your company, then you would want to know all the information regarding his/her resignation from the company that he/she previously worked in. While this is all for the sake of formality, this information will still have to be verified because you'll never know if the employee actually received a relieving letter from the company he/she previously worked for, or if the employee decided to make his/her own in the hopes of not getting found out. This means that you'll need to write down the dates as to when the employee requested to resign from the company and the date in which the employee was finally let go by the company. You may also see resignation letter format templates.
Also, when you're writing these dates, be sure that you write them down completely; meaning that you'll have to include the month, day, and year. You want to make it absolutely clear as to when the employee was finally let go as companies in which the resigning employee wishes to apply for will need it. You may also see volunteer resignation letters.
4. Statement of Thanks to the Employee
Now that you have officially declared that the employee no longer has to commit his/her responsibilities and duties and is now free to join other companies, you'll still have to thank the employee for providing your company with whatever work his/her position entitled; whether it was for a short or long period of time. However, you must remember to keep an air of professionalism when writing down your appreciation of the employee as this is still a business letter. So make a statement such as "We appreciate all the contributions that you have made and we wish you the best in all your future endeavors" or anything that's similar.
5. Your Complete Name, Title, and Signature
If you're the person who's in charge of handling the creation and sending out of relieving letters, then you'll know just how important it is for you to send out these pieces of information. They're all needed for verification purposes as other companies might just want to talk to the person who was in charge of sending out the letter to confirm that the employee has officially resigned from his/her post. So what you'll need to do is write down your complete name into the document, then you'll also need to provide your job title. And lastly? You'll need to provide your signature to make the document as well as the fact that the employee is relieved of his/her position official. You may also see corporate resignation letters.
Tips for Ensuring That You Acquire Your Relieving Letter
If you're an employee that wishes to leave your company just so you can get a job at another, then you'll definitely need this letter. However, it's not as easy as you may think as there are certain reasons that can prevent you from acquiring it. You may also see retail resignation letters.
So here are the tips that should help you get what you need:
1. Always Do What's Expected Out of You
One of the best ways of getting the letter is if you don't have any qualms with the company regarding your performance. If you keep doing a good job and show that you're an employee who has done more than enough, then there's a higher chance that you'll get that relieving letter. So try to make sure that you're able to live up to the expectations of the company by providing top quality work, ensuring that you're able to meet deadlines, and be sure that you don't do anything that will negatively affect your chances of getting that important letter. It's also best that you be as kind and polite to your co-workers and supervisors as much as possible as you'll never know who can hold you back. You may also see simple resignation letters.
2. Abide by the Company Policies
Company policies are there to ensure that employees follow the proper rules, regulations, and procedures. Sometimes, an employee can get held back from leaving the company because he/she broke those policies, which results in the employee requiring to stay for a good period of time before he/she is allowed to quit. So make sure that you know everything about the company and its rules so that you can abide by them and get that relieving letter for when you decide to quit.
3. Finish Whatever Business You Have With the Company
Although we've already discussed this, it's best that you're reminded as this may be the reason as to why you have yet to receive your relieving letter even after you have already notified the company about your resignation. So go over your contract to see if you have to serve aa required period of time or be sure that you finish any company projects that you are designed to lead or are a part to ensure that you get that letter. If you still have no idea as to why you can't get that letter, then you can always go to upper management or Human Resources to help acquire the necessary information.
Remember that one day you'll need to create this letter or you may want to receive one. So be sure follow all of the steps as well as the tips above so that you'll learn everything that you need to know regarding relieving letters. You may also see resignation letter templates.
If you would like to learn more in regards to how you should go about in creating relieving letters or anything similar to the topic, then all you have to do is go through our site, find the articles that contain the information you need, and utilize what you're able to gather to help you. You may also see notice period letter templates.