You will need corporate business cards to promote your company's products or services. Corporate business cards come in handy when introducing your service or product. You can personally give out the cards and cut the small talk at business networking events like conventions, conferences, and product launches.
Corporate business cards need to have eye-catching designs and content while reflecting your brand at the same time so your prospects will remember you. They also need important details like your contact numbers, website address, and e-mail address. You can easily place these details by browsing through our collection of free printable business cards.
Free Printable Business Card
Download
Free Representative Business Card
Download
Free Bright Creative Business Card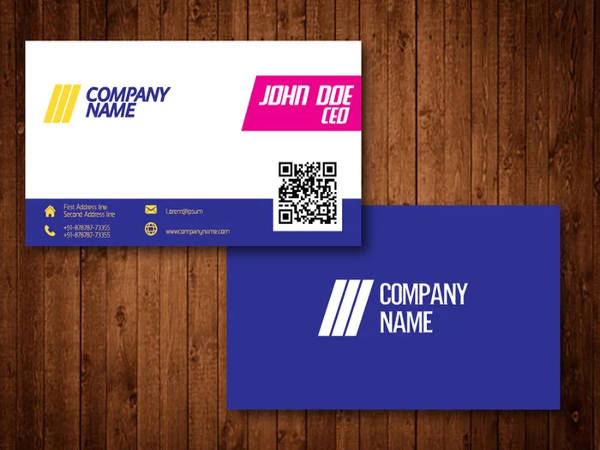 Download
Free Splash Paint Fitness Trainer Business Card
Download
Free Vector Colorful Business Card
Download
Fit for Any Business
Whatever your nature of business, our free printable business cards will offer you timeless and modern designs that'll give your business an edge and help your prospects determine the kind of business you have without having to ask a lot of questions. Some of our templates include the following:
Representative business cards. These are perfect for business associates or sales representatives who want to highlight their products or services.
Creative business cards. Creatives who want to showcase their skills in graphic design or calligraphy can use this template.
Fitness trainer business cards. This template is handy for fitness instructors or gym trainers to highlight which field in fitness training they specialize in.
Colorful business cards. If your business is more generic and you want your business card to look more colorful, then the colorful business cards template is for you
Photography business cards. We also have photography business cards for portrait, landscape, travel, fashion, and other kinds of photography.
There are still thousands of designs available here that you can download in different formats, if your nature of business does not fit any of the templates mentioned or if you prefer a more corporate look that is close to your brand identity.
Free iPhone Style Business Card
Download
Free Printable Business Card
Download
Free Personal Fitness Trainer Business Cards
Download
Free Greek Business Card Vector
Download
Free Simple Modern Business Card Design
Download
Black Horizontal Business Card PSD Mockup
Download
What Our Business Cards Say
A lot of our business card templates adapt different patterns, orientations, and styles that can add a personal touch to your corporate business cards. You might consider a few characteristics of business card templates that you want for your company, which could be any of the following:
Minimalist. Clean and concise, this is the most sought-after characteristic when finding free printable business cards.
Out of the box. Want an out of this world design? Our free printable business card templates include unique cartoon elements, polygonic shapes, blurbs, or even unconventional text placement.
Monochromatic. If you are a lover of all things black and white, then you can go for our monochromatic templates.
Fancy. Floral patterns, museum-like details, regal colors such as magenta and sky blue, or feminine elements are also present in our collection of business card templates.
Informal. This can either have humorous elements or introductory quotes that'll surprise your clients.
Why Choose Our Templates?
Our blank business card templates give you a better chance of having a good first impression at that networking event or even a higher probability of your batch of business cards being taken home and read when you display them at our store because of the convenience that the templates offer and the awesome design that you personally picked out for your brand. Stick to a hassle-free way of creating your own business card by using our free printable business cards.