Give your guests an option on what to eat when they come to your birthday celebration. You can do this by making use of a birthday menu card, and you can make one easily by using any of our beautifully-designed birthday menu samples. When you subscribe to Template.net premium templates, you'll have exclusive access to high-quality and easily editable menu templates that you can download anytime and anywhere. Our birthday menu card templates are available in MS Word, Photoshop, Illustrator, Publisher, and Apple Pages format, so feel free to choose whichever is fully compatible with your editing software.
What Is a Birthday Menu?
A birthday menu is a card or menu board that lists down the food and drinks that are offered at a birthday party. Basically, it's just like any other menu card with the exception that it is specifically used in birthday celebrations. While many birthday menu cards contain only party food, they may also contain single or multi-course meals depending on the time and venue of the party.
How to Create a Birthday Menu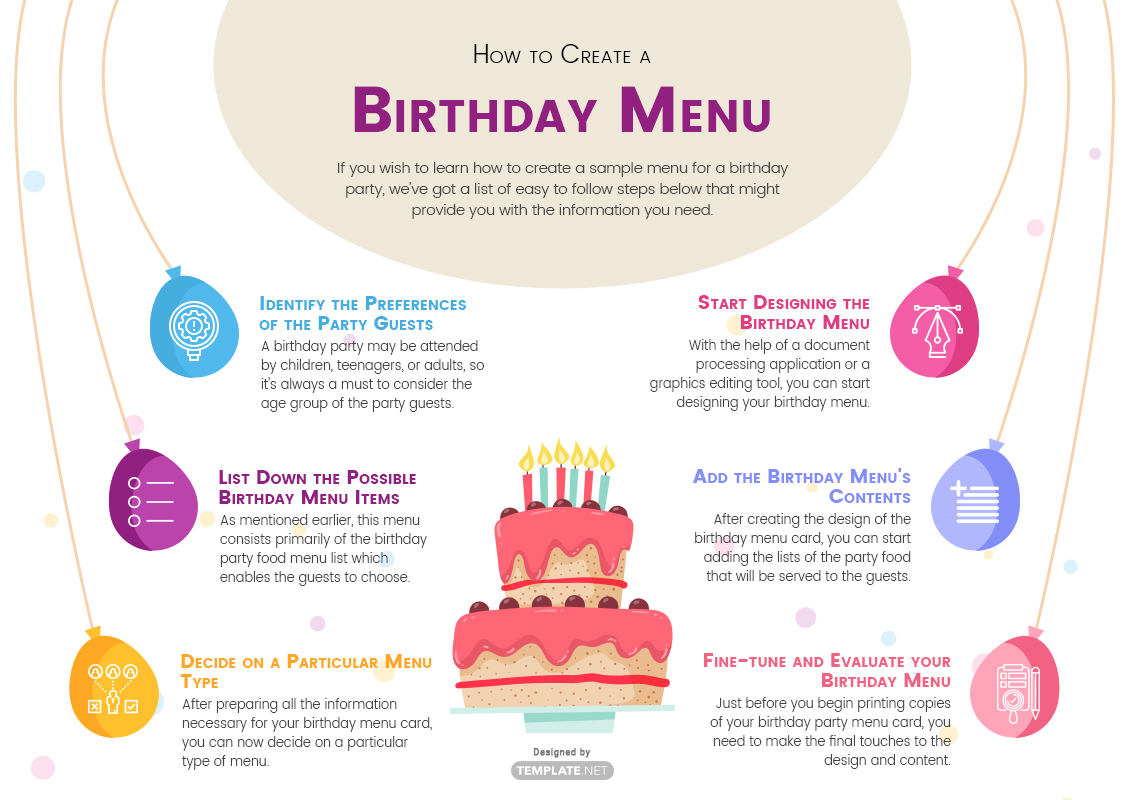 If you wish to learn how to create a sample menu for a birthday party, we've got a list of easy to follow steps below that might provide you with the information you need. Feel free to check the guide and see if it might work for you.
1. Identify the Preferences of the Party Guests
A birthday party may be attended by children, teenagers, or adults, so it's always a must to consider the age group of the party guests. Aside from that, you should always take into consideration what your guests want to eat and drink. If possible, you can get this information by actually asking for it, but there are other ways of doing it as well.
2. List Down the Possible Birthday Menu Items
As mentioned earlier, this menu consists primarily of the birthday party food menu list which enables the guests to choose what to eat during the celebration. If you have gathered the necessary details in the previous step, you can now narrow down your choices of the party food ideas. List down all the possible items that you wish to include in your birthday menu card.
3. Decide on a Particular Menu Type
After preparing all the information necessary for your birthday menu card, you can now decide on a particular type of menu. There are actually various menu types that you can choose from, and these include but are not limited to the a la carte, du jour, and table d'hote. The choice of menu type will depend on how you want to present the birthday party foods to your guests.
4. Start Designing the Birthday Menu
With the help of a document processing application or a graphics editing tool, you can start designing your birthday menu. When you open a new project, it will offer you the option of starting from blank or using a pre-designed project plan template. Go with whichever works for you, just make sure to create a birthday menu design that's catchy and visually pleasing.
5. Add the Birthday Menu's Contents
After creating the design of the birthday menu card, you can start adding the total lists of the party food that will be served to the guests. You may refer to the party food ideas that you have prepared in the second step and narrow it down to a more practical or realistic number of choices. If you want, you can also provide a short description for each menu item.
6. Fine-tune and Evaluate your Birthday Menu
Just before you begin printing copies of your birthday party menu card, you need to make the final touches to the design and content and then evaluate it. In addition, you can also ask for other people's opinions if possible. After this, you can start printing your birthday party invitation menu cards and prepare it for the upcoming birthday celebration.
Read More
Earn 20% commission on every sale from your Share
Bloggers: Publish/Mention Template.net products on your website, blog, Social Media or Via Email & Earn affiliate commission of 20% for every sale