Letters
17+ Letter of Employment Templates – DOC, PDF
One of the biggest risks every company must deal with is the employee workforce. Finding the right employee and being certain that you have hired the right skills might take plenty of your time. As a business executive, you have to be smart enough to know the difference between an experienced individual and fresh talent. Once you find the best skills, pick a letter of employment template, and use it to send a message about your job offer.
Letter Template of Intent for Employment
A letter of intent for you to use when applying for work is mentioned above. This template is perfect for signifying what your prospective client can expect from you if you are hired. There are many offer letter templates that are available online that can be of great help to you in making the right letter you need. These letters can be downloaded on any electronic device with ease. Try it out now!
Employment Confirmation Letter Design
Make a professional-looking confirmation letter for a previous employee in need of confirmation for a new job. With the help of this above-mentioned simple template, you can make one of the best employment confirmation letter you need, regardless of which industry you work for. You can also download this sample template on any electronic device. Grab this template now!
Professional Employment Offer Letter Template
A formal offer letter template your company can use to save time during the hiring process is mentioned above. Use this template to make a basic letter and get to make your best candidate for the employment details. It is easy to edit and fully customizable, so you can make it your own, as and when needed. Check it out now! You can also see more on Job Offer Letters.

Employment Reference Letter Template
Employment Application Letter Template
Employment Offer Letter Template
Part Time Employment Offer Letter Template
Formal Employment Verification Letter with Declaration
atyourbusiness.com
Business Offer of Employment Job Letter in Word Format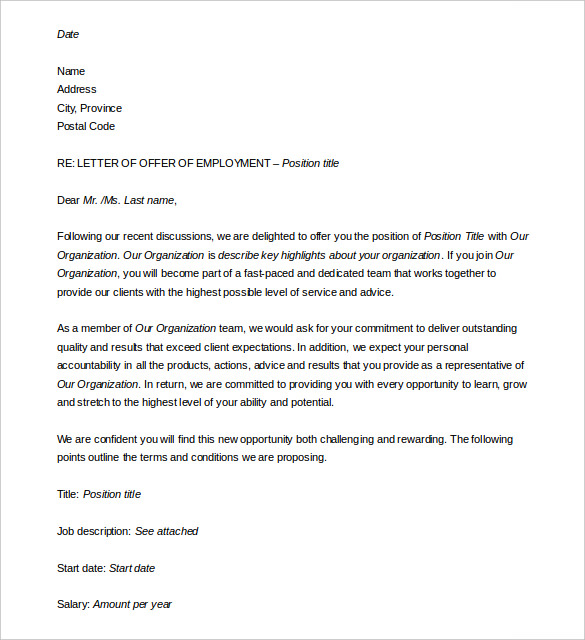 hrcouncil.ca
Making a Letter of Employment in 5 Steps:
Step 1: Proof of Employment Letter
Use your company, letterhead. If you know the name of the recipient, then you can address the letter directly to him or her. If you do not know who will be reading the letter, then you can address the letter to the organization/business. In this kind of a situation, an employee approaches the employer to ask for an employment verification letter.
Step 2: Gather the Required Information
Once you understand who your audience is and who will be addressing the letter, you will need to gather the required information needed to write the perfect employment verification letter. These kinds of Google letters can be either written by the employers on behalf of the employee or by the employee himself/herself.
Step 3: Explain Who you Are
In the first paragraph of the printable letter, you can mention who you are and what is the main reason you are writing the creative letter. You must include the title of your company is, how long you have worked there as and how long you have known the employee you are writing for. SUmmarize the employee's work in the company.
Step 4: Explain Employment Duties
You must describe the details of the employee's duties at your organization. This information is most useful when you are writing an employment verification letter format. While this kind of letter is not a letter of recommendation, but you can include any positive feedback you want to about the employee. Summarize your positives. The strengths, qualifications, and achievements.
Step 5: Sign and Send
Once you have finished your letter, you can include closing and sign the letter. You can either give it to your employee or send it to the recipient yourself. The final paragraph of your letter should include the contact information of the employer. It is necessary to include information on the case; the recipient of your layout letter has any follow-up questions or concerns that need to be cleared. Remember not to share illegal information bout the employee.
Free Employment Confirmation Letter From Employer Template
uni-kl.de
Free Printable Proof of Employment Letter in Word
sampleletters4u.org
Free Sample Letter of Employment for Landlord Template
buzzle.com
Free Editable Letter of Employment for Visa Example
immihelp.com
Free Sample Letter of Employment for Bank Template
howtowritealetter.net
Free Simple Termination Letter of Employment Template
businessballs.com
Free Reference Letter of Employment Template
best-job-interview.com
Free Welcome Request Letter of Employment Template
das.ohio.gov
Conclusion:
The formal templates mentioned above in this article can be of great help to you in making the right letter you need, of any kind. These letter templates can be downloaded with ease on any electronic device as and when required, as it is not just limited to a computer or a PC. You can also download them in any file format as you wish. You can also take a look at graphic in InDesign for more.
If your company is hiring for the first time, you may need help you understand how to write this academic letter. You can download sample letter templates for free and use them for guidance. Proof of employment letter is a formal correspondence, often written by an employee's employer. This kind of letter is usually required when a person applies for a loan that attempts to rent property, applies for a new job.
When you are writing an employment verification letter, you must explain who you are, provide a truthful summary of the duties of the employee ad verify the employment. All of this should be done on a professional letterhead, and you should be sure to provide your contact details without fail. With the help of the basic templates that are mentioned above, you can make the best letter you need. Happy Editing!
More in Letters