Label Templates
6+ Word Label Templates
Labels are a way of marking things. They tell about the owner of the material along with its contents. Labels are very useful to be put on commercial objects for consumers to know what they are buying. Designing of labels can be a hectic job. Those who do not have much skills or experience in designing can make use of Word Label Templates. By making use of these label templates, you can create a label in minutes.
CD Label Word Template
nhi.fhwa.dot.gov
This is a very useful Word label template that can be used to create labels to be put on CDs. The label contains information regarding the content of the CD.
Address Label Word Template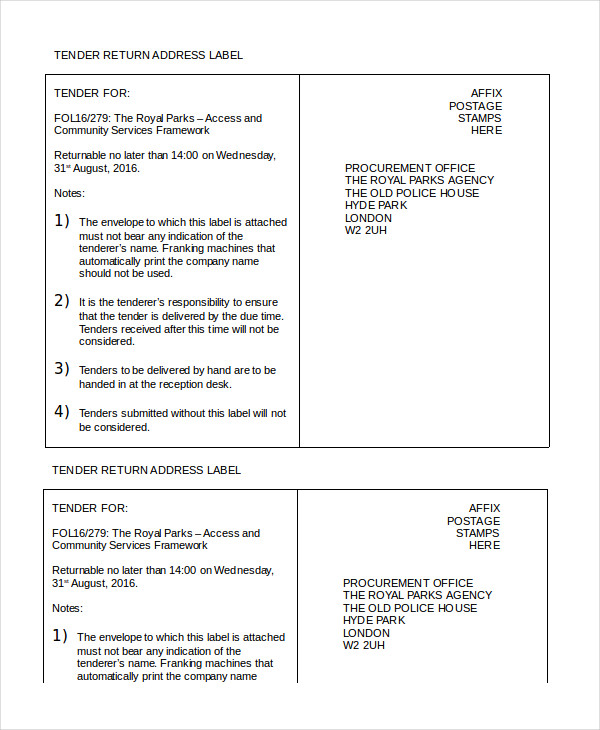 royalparks.org.uk
This Word label template can be used to make a label for a product with the address where it is to be delivered along with a return address in case the product has to be returned.
> How to use the Word Label Templates?
Word label templates are half filled and half blank. The half filled content is to give you the information and guidelines regarding how to fill the blank part of the template. The shipping label template requires you to input the shipping details like the details of the content of the shipment, address where the item is to be shipped along with a return address if needed. You can also see Microsoft Label Templates.
CD label template requires various details like the title of the CD, its content, name of the manufacturer, etc. A Mailing label template contains blank areas and check boxes wherein you have to put a tick sign wherever applicable.
Water Bottle Label Template
onlinelabels.com
MS Word Shipping Label Template
miamiboatshow.com
This is a Word label template that will be extremely useful in printing shipping labels. Details of the shipment like content and address of delivery have to be written on the label.
Box File Label Word Template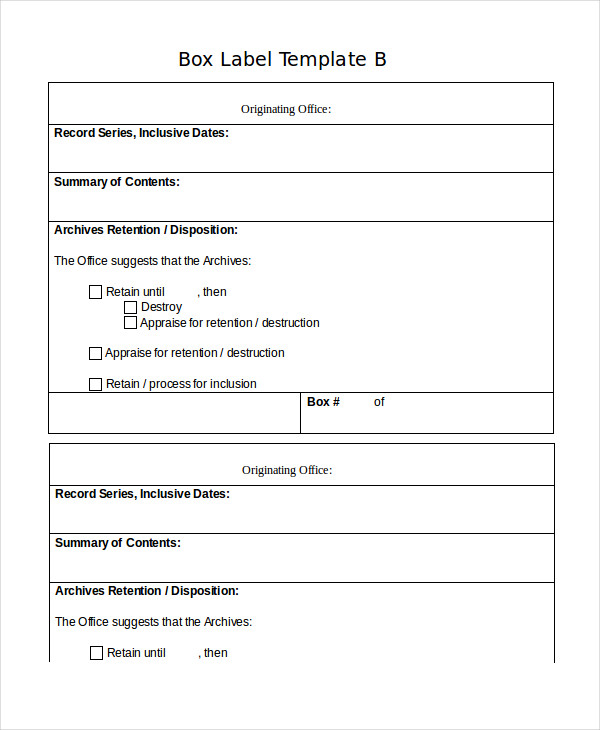 archives.nd.edu
This is a set of various Word label templates that can be used to make different kinds of box labels which can be used on boxes that contain important records which are to be transferred.
> Who can use the Word Label Templates?
Different types of Word label templates are designed for different types of situations. These label templates can be used by individuals as well as companies. CD label templates are of the greatest use for the distributers and manufacturers of CDs. You can also see Vintage Label Templates.
They can use these labels to give the customers an idea of the content of the CD. Address label templates can be used by various individuals as well as organizations that need to mail packages to others. Shipping label templates can benefit individuals but will be of greatest use for shipping and courier companies whose entire business revolves around shipments of packages.
Medical Prescription Label Template Microsoft Word
colorado4h.org
> What are the benefits of using the Word Label Templates?
Several benefits are associated with the Word label templates which you will realize for sure in case you choose to make use of these templates. A huge amount of time is saved by making use of these templates. If you try making a label on your own, you will not only require a lot of time but there will always be a possibility of you missing something out. A wrongly designed label can be very bad for business and thus using the label templates can help you with that. These label templates give you all the necessary guidelines required in making a label. You can also see Bottle Label Templates.
A blank label template is one where you have to fill specific information by following the given guidelines. Word label templates find use in various frequent activities. You will surely benefit by making use of these extremely well designed and reliable Word label templates. Check them all out and choose the ones that you think will help you the most.