For the month of June, one of the most celebrated holidays is Father's Day. This is the day where everyone has an excuse to do nice things for their fathers, in exchange for all the hard work and dedication fathers have put to meet the needs and wants of everyone in the family. To make Father's Day even more special, use labels as a small way to celebrate this special event.
5 Steps to Make a Father's Day Label
Step 1: Identify what you want to label
Before you can start creating the design of the Father's Day label, you first have to decide what are the items you want to put a label on. Once you have an idea of the item that you want to label, it should make the designing process easier. For instance, if you want to make a wine label template, you can use this Free Gift Wine Label Template. 
Step 2: Prepare the materials needed
If you plan to print out and use a significant amount of labels, we suggest that you prepare the label materials beforehand. Making labels can be costly, so it is recommended that you have a set amount of money for the materials and printing of your labels. Do not buy more materials than you need.
Step 3: Create the design of the label
Given that you are making a Father's Day label, your design should fit the theme of the holiday. If you find the task of creating your own original design too tiresome, you can always use a template. We have compiled several templates in this article for you to choose from.
Step 4: Input the content
The content of your Father's Day template depends on the type of label you are making. Remember that the template should have a festive feeling as this will be used as a way to celebrate the event. This step should be easy to do if you are using a template as the designs are usually available in easy to use programs, like MS Word.
Step 5: Print
If you have a printer, you can simply have the labels printed in the comforts of your own home. However, if you plan on printing out a huge number of labels, you should look for a good print shop that can print out quality images. Labels need to be printed well in order to be clearly understood.
1. Free Father's Day Wine Label Template
One of the best gifts anyone can give is liquor. Let Father's Day be an occasion for celebration by using this well-made wine label template. Stick this onto your father's favorite bottle of wine, and you should have a great present he will surely remember. What's better? This template is available for download for free!
2. Free Father's Day Beer Product Label Template
Nothing beats celebrating Father's Day in a warm June evening out on the porch, with a fresh bottle of beer in hand. Hand out beer bottles with this multipurpose Free Father's Day Beer Product Label Template. Apart from Father's Day, you can use this wonderful template for any occasion. This label is editable in Photoshop.
3. Father's Day Calligraphic Design Labels Template
Download
Are you looking for amazing Father's Day labels that can go well with your greeting cards? If so, we have just the Father's Day label template for you. These labels consist of heartwarming quotes and greetings set in beautiful fonts. You'll have the ideal template for this upcoming holiday.
4. Father's Day Card Label Template
Download
This great graphic label contains all elements that embody fathers everywhere. There is the newspaper you always see them with every morning, and the outdoor activities equipment that they always have stored in the basement. What are you waiting for? Purchase and download this template now, for only six dollars.
5. Superhero Father's Day Label Template
Download
For a number of people, one of their biggest influences in life would be their father. Traditionally, fathers are given the role (and the burden) of providing for their family. Recognize your father's achievements by using this loud comic-themed Superhero Father's Day Label Template. It contains bold font and colors, perfect for catching attention.
6. Father's Day Doodle Vintage Labels Template
Download
Take a look at these beautiful, vintage Father's Day label illustrations. Made by Tatianakost49, you can contact the creators of the template through: tatianis@yandex.ru. These labels are great when used on cards, like on gift cards, for instance. Why wait? Do not hesitate and click on the download button above.
7. Father's Day Celebration Label Template
Download
This Father' Day Celebration Label Template is a creative template that can both double as a poster and a label. Reminisce your childhood days with your father by using this label template. It contains a beautiful graphic of a child singing under the stars, an imagery much like the days (or nights) you once spent outdoors with your father.
8. Father's Day Labels and Signs Templates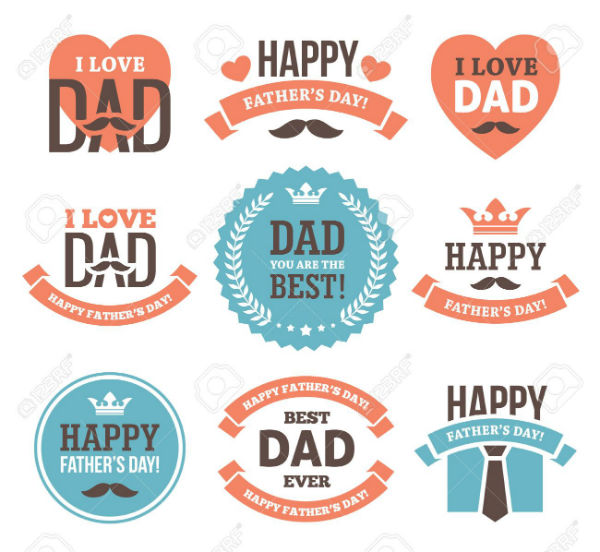 Download
What better way to show your love for your father than by using these cute Father's Day label designs. These adorable labels set in pretty pastel colors are the perfect graphics to use for this holiday. With its simple, yet modern, style, these tiny labels can spread fun and cheer all around.
9. "Best Dad Ever" Label Template
Download
Are you looking for a simple label that can be used on any surface? We have just the label for you! Use this classic Father's Day "Best Dad Ever" Label Template. It's a vector image. In purchasing the product, we recommend that you avail in the Commercial Package (which is nine dollars).  
10. Father's Day Badges & Stickers Template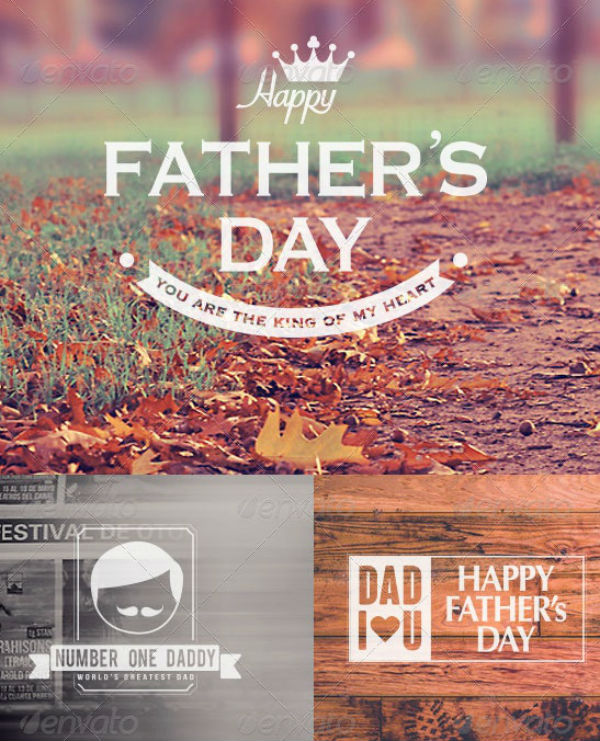 Download
This Father's Day Badges and Stickers Templates is a set of three badges that are ideal for making your very own Father's Day logo. For a cheap price of only four dollars, you can avail yourself of these high quality templates. These labels can be used for any merchandise you wish to give out on this special event.
11. Patriotic Father's Day Label Template
Download
A number of men who are serving in our armed forces are fathers—a lot of them to little children. This Father's Day, use this opportunity to honor those who are protecting the country and, at the same time, providing for their children and family. You can also use this template for Memorial Day labels. All you have to do is change the caption.