Attention to detail—this is the characteristic that makes a good wedding planner and, subsequently, also a memorable wedding event. In order to achieve this, one of the things that a wedding planner must focus on is the practical and creative use of different wedding-related items. In this article, we focus on the smallest and often overlooked among them which is the wedding address label.
202+ Wedding Templates in Word, Google Docs, Apple Pages, PSD, InDesign, Publisher, Illustrator, Google Sheets - START DOWNLOADING
Pink Wedding Address Label Template
Free Newlyweds Wedding Label Template to Print
Wedding Address Label Template
Calligraphy Wedding Address Label
The Calligraphy Wedding Address Label template follows a very minimalist design. This address label works well for those who are planning to have elaborate decorations on other aspects of their wedding but do not want to overdo it. So they can employ a minimalist design on minor wedding stationery components like their wedding address label.
Lace Wrap Wedding Address Label
Wedding Address Label Design
The Airmail Wedding Address Label template pictured above will suit those who wish to have a travel-themed wedding theme. This wedding address theme will also work well with the Airmail Wedding Invitation Template found in this list of wedding invitation templates. This cute address label design template is best printed out on thick Kraft paper or on coffee-colored card stock. To make the label template truly your own, it is best to add travel icons that will specifically relate to your own personalities as a couple.
Modern Wedding Address Label
The ampersand symbol is a recurring design theme used in different mediums like paintings, digital art, and interior design. For couples who appreciate good design aesthetics, you may find the Ampersand Wedding Address Label template useful. Use this label template if you want a simple wedding address label whose design is punctuated by an elegant ampersand symbol. As shown in the template mockup above, this template may be printed out on rustic Kraft paper, on plain white cardstock, or on a clear plastic sheet. Whatever printed media you choose, it is clear that this label template is a versatile one.
Beach Wedding Address Label
Monogram Wedding Address Label
Simple Wedding Address Label
Another wedding address label template following an uncluttered design is the Custom Wedding Address Label whose mock-up example is featured above. This label template highlights the name of the couple written in elegant calligraphy font style. You may have this address label template printed out on pieces of paper or on the envelopes that you will send out to your wedding guests. An alternative will be to have a custom rubber stamp created showing this address label. This way, you will just have to stamp the label template onto any flat surface you wish to include as part of your wedding stationery set.
Sticker Wedding Address Label
Use the Elegant Sticker Wedding Address Label template pictured above if you intend to use wedding address label stickers instead of the more common printed business card types. By using a sticker address label, it will be easier to dispatch wedding address labels on the wedding stationery sets sent to guests before a wedding. This label template is fully editable and you may incorporate additional design elements that will help distinguish your wedding papers from others.
Gold Confetti Wedding Address Label
Choose the Gold Confetti Wedding Address Label if you want the luxurious effects of using gold design elements. This wedding address label template may also be used as a personal address label if you prefer. For couples who are following a golden wedding motif, this type of wedding address label will be a good addition to it.
Reasons why you should use wedding address labels
As mentioned earlier, wedding address labels are typically used for formal wedding celebrations. Slight variations may be made on the address label design if you want to use them despite not having a formal wedding. Listed below are a few reasons why you should use wedding address label templates.
Browse through the different wedding address labels embedded below. You may choose any address label template that you like and customize them to match your own wedding motif.
Elegant Wedding Address Label
Couples who want their wedding address labels to exude a sense of professionalism should try out the Monogram Wedding Address Label embedded above. In this label template, couples can customize the template's background and font colors and also change up the typeface used. This way, they will be able to choose a label template that will best match their personalities. This kind of label template may suit those couples who are working in a professional field. This wedding address label lets them show their serious and formal sides.
Personalized Wedding Address Labels
The Personalized Wedding Address Label template set pictured above is similar to the ampersand wedding address label mentioned earlier. The defining characteristic of this address label is its ring design and the script fonts used to write the couple's name and new address. Just like the previous label template, this can also be printed on clear plastic, Kraft paper, and white cardstock.
Portrait Wedding Address Label
If you want to showcase a couple photo on your wedding address label, the Portrait Wedding Address Label template shown above may be a good fit for you. This printable label template also follows a chalkboard design so it may be used for weddings that follow a chalkboard motif. This template is available for a minimum purchase of 5 sheets. Each sheet will give you 18 individual wedding address labels. End-users may also fully customize the text and image on the address label.
Printable Wedding Address Label Template
Rustic Floral Wedding Address Label
This Rustic Floral Wedding Address Label template may best suit those who are planning a summer or spring wedding. The decorative flowers on the label help lend a cheerful feeling to the whole wedding event. If you are using this label design template, make sure to also use wedding envelope designs that feature flowers or those that have a lively color. To save time, you may print out blank label templates and only fill them out once you have stuck the wedding address labels to their corresponding envelopes.
Wooden Wedding Address Label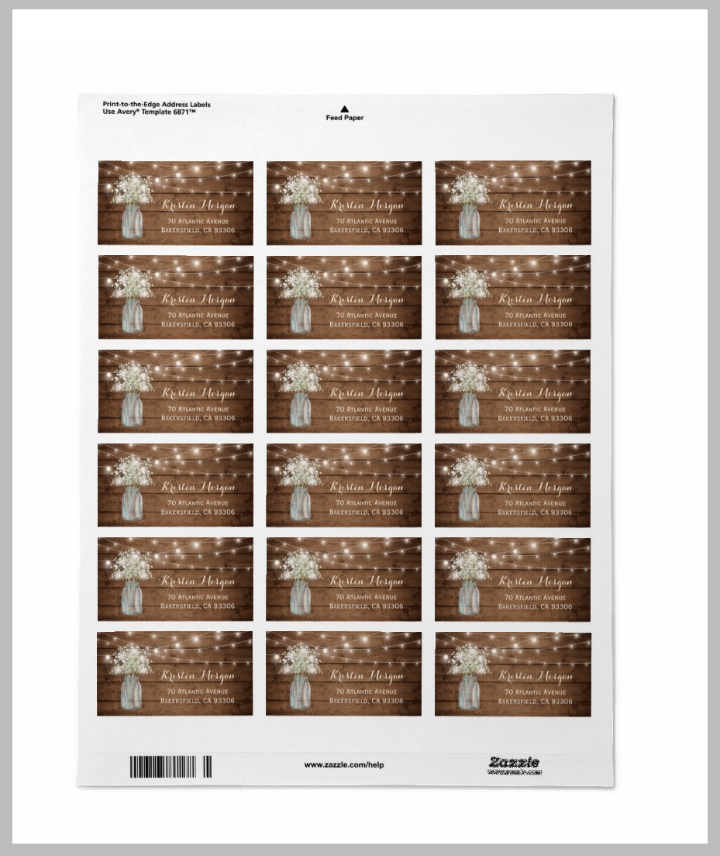 What are wedding address labels?
Traditional address labels are printed documents used in business to specify a person or entity's shipping and/or delivery information while wedding address labels are small printed documents indicating a couple's new address. These address labels are sent to the wedding guests as a way to let them know where to send gifts and/or to inform the guests of the couple's new address.
The address labels themselves are printed on a small piece of adhesive paper. This allows the labels to be easily stuck to envelopes and parcels. Wedding address labels, on the other hand, may not include an adhesive backing since these address labels are just printed like a regular printable business card.
Most modern wedding address labels will follow the design theme or motif of a wedding. This way, the address will not look out of place as part of the wedding stationery set sent out to all wedding guests.
The Wooden Wedding Address Label is another address label set that is available with a minimum order of five sheets. This label template has a rustic feel due to the wooden background and the string of decorative lights. This type of label template will also work well with other rustic wedding invitation templates. It is best to print out this address label design on plain cardstock or premium paper. This way, the brown wood and white mason jar elements will stand out more.