A termination letter is basically an official letter that is used in notifying and enforcing any form of termination. It can be used in business termination, simple contract termination, employee termination, among others. It must be noted that termination letters should always follow formal tone since it is the company who is writing it to cut off ties with the employee they had hired.
Free Contract Termination Letter Template
A contract termination letter sample shows a sample contract between two individuals or companies that are terminated due to its expiry or any other reason. The reason is mentioned in the contract. A letter template is used to provide a written notice to a person or an organization stating that the contract is being terminated, so that the parties involved can do the necessary.
Free Business Contract Termination Letter
A business free sample official termination letter is a letter that can be used to terminate business deals or any other business contracts between individuals or companies. You can download the above letter of termination for free. It is designed for use in case you wish to terminate a business agreement or contract. Not only is it completely editable and customizable, but it can also be easily downloaded on any electronic device.
Construction Contract Termination Letter
Construction plans are not easy to end. But if you are not happy with the construction company you are working with and you want to terminate the contract with them, then you can use this free construction company termination letter, which will make your job easier so that you do not have to create a contract from scratch. It can be used to end any existing contract for construction projects.
Points to Include in a Contract Termination Letter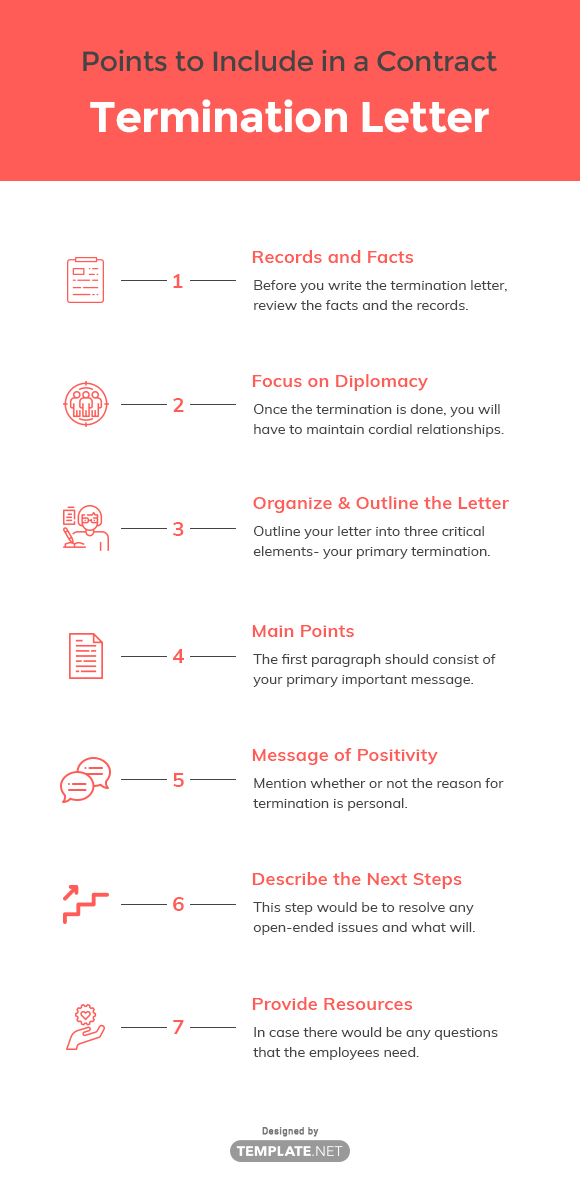 1. Records and Facts
Before you write the letter of termination, review the facts and the records fo the employee/company. Since many companies have the option that the employees can leave for almost any reason, they may not want to terminate the employees in unlawful reasons that are not agreeable in the eyes of law. So, know what your state laws are and what would most probably get you into trouble. Review the interactions you had with your employee termination and then make a wise decision.
2. Focus on Diplomacy
Once the termination is done, you will have to maintain cordial relationships with them. This way, you can protect your company's reputation. Remember if former employees speak well of you, then your company will flourish and grow for the good. If not, it would damage your public brand. Know that you have to write the right formal letter so that you face any lawsuit that might come your way.
3. Organize and Outline the Letter
Outline your letter into three critical elements- your primary termination announcement, the next steps, and the additional resources. Explain each element in a short and simple manner, so that you will know what to do when the time of termination comes. Add or remove sections wherever needed.
4. Main Points
The first paragraph should consist of your primary important message. State why the company had decided to end the relationship with the individual/company and mention the final day of work as well. You can use words like "effective immediately" and mention the date of termination. Mention the reason as to why you are letting someone off.
5. Message of Positivity
Mention whether or not the reason for termination is personal. It is not easy to write a termination letter that is not hurtful but try to do your best. Also, state that you have enjoyed their company and the relation hip you shared and appreciate the service the company/employee had given to your organization. Use free service termination letter templates in case you need to make better letters for terminating a contract.
6. Describe the Next Steps
This step would be to resolve any open-ended issues and what will the reader have to do next. Keep the instruction clear simple and to the point. Do not forget to involve your legal team, so that you do not have to face a lawsuit for treating the employee wrong in any manner. Retrieve all the information and things you need to from the employee/company you are terminating. Also, address any insurances that are to be solved with all the necessary documents.
7. Provide Resources
In case there would be any questions that the employees need to be answered for before leaving, mention the contact person he/she can contact to get the answers they need. Also, see service termination templates. Share the phone number or the email address of this contact person and finally, end your message with a brief and respectful closing.
Editable Blank Termination Letter to the Contractor
The above letter template is a simple and ready-made sample contract termination letter template. Just add the information and the letter will be ready. You can download it for free.
Termination Letter of a Service Contract Template Sample
If you have to let go of the lawnmower guy due to budget cuts, then you should definitely use the termination letter of a service contract template sample for free.
Termination Letter Due to Non Performance
Free Contract Termination Letter Without Cause Sample
The termination contract template without cause is written when the termination of the employee is done without prior notice. It has all the possible details in it, making it the best termination letter that you can use to terminate the employee.
Printable Business Contract Termination Letter Template Example
Electricity Contract Termination Letter Template Example
Sample Fixed Term Contract Termination Letter Template Download
The above template download is a well-drafted and elegantly created template. Just fill the blanks with the needed details of your employee/company you are terminating and the letter is ready.
Download Employee Contract Termination Letter Template Sample
The above template is a simple, concise and to the point letter which explains the reason for the decision of termination briefly. Termination letter templates in Word can be of great help if you are creating a contract using any word document.
Contract Termination Letter to Customer Word Doc Sample
The contract termination letter is a simple and well-written sample contract termination letter format template that can be used to let the customer know about the reason for the decision of termination.
Sample Employment Contract Termination Letter Template
This sample employment contract termination letter template is a perfect letter that will guide you when you are drafting a termination letter. Sample letters of termination will help you write the best-needed letter for terminating a contract or a deal with the concerned person.
Editable Contract Termination Letter Due to Poor Performance
Notice of Termination Contract Letter Download
Contract Employee Termination Letter Form
Sample Contract Cancellation Letter
Construction Contract Termination Letter
Real Estate Contract Termination Letter in Word Document
Standard Office Rental Contract Termination Letter Sample DOC
Basic End of Contract Thank you Letter
Any details and issues arising from the termination letter should also be adequately addressed. A language that is rude, overly emotional or foul should not be used. Termination letters are legally recognized and one should have this in mind when writing such. The sample letter templates should have a respectful approach and personal issues should not be at all included. Templates for different termination letters can be sourced online on our website.