Receipt Templates
18+ Doctor Receipt Templates – Excel, Word, Apple Pages
A receipt is an acknowledgment of payments that signifies an exchange of money for goods or services. And nowhere else is a receipt more helpful and important than in a medical institution. Whether you or your client runs a private clinic, a diagnostics center or a full-fledged hospital, a simple doctor's receipt is important.
It is even essential in cases when a patient is going to get themselves reimbursed for their medical expenses. So, forget the old-fashioned handwritten doctor's receipts and download our receipt template. Available for free or as a paid option, these professionally designed template documents are a great way to create some personalized medical receipts. You can use these premium-quality templates as a payment receipt template or a sales receipt template.
Medical Receipt Template
Are you in the business of providing pharmaceutical products and services? If yes, then you will find our medical receipt template highly useful as it helps the customers to keep track of their purchase. Luckily, our template is ready-made with content so that you can easily customize and make changes to it using any file formats of your choice.
Medical Bill Receipt Template
Check out this medical bill receipt template in Word that is well-designed so that you do not waste any time in creating one from scratch. By making use of this template, you can give your customers a proper breakdown regarding the payment of medical items such as the medical item/product name, the total price paid, patient details, the individual or manufacturer responsible for providing the receipt, etc. Download now on any of the file formats.
How to Create a Medical Receipt in 5 Simple Steps
Step 1: Open a New Document
In order to create a medical receipt, you will have to firstly open a file format such as MS Excel, MS Word, Pages, or Gooogle Docs. Once you open your preferred file format, you can proceed to open a new document and enter the heading as "medical receipt" at the topmost section of the document.
Step 2: Mention the Patient Details
Next, mention the details of the patient such as their name, address, state, phone number, email id, and age. You should also include the date as to when the receipt is generated along with the invoice number. You can also take a look at our Dental Receipt Template.
Step 3: State the Medications Prescribed
After the patient details are addressed, create a table wherein you can insert the list of medications that have been prescribed to the patient by the doctor. For a better understanding of the prescription, mention the dosage of the medicine along with the frequency at which it should be consumed.
Step 4: Display the Final Amount
Coming to the pricing details, mention the individual price of the medicine alongside its details. Towards the end of the prescription list, calculate the overall price and state it in a clear manner. Include the tax details as well in case it's applicable. You may also want to view our payment receipt samples.
Step 5: List the Terms and Conditions
Lastly, list out any terms and conditions that are applicable to the purchase that has just been made. If there are any instructions relating to exchanges, returns, queries, you can state them by supporting it with your contact information. You can now close the receipt by including your signature and a thankyou note.
Medical Receipt Template in Word
Medical Bill Receipt Template in Google Docs
General Receipt Template in Excel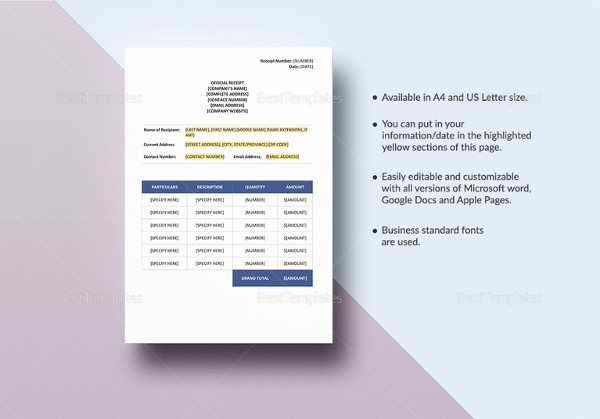 Editable Receipt Template
Simple Receipt Format Template
Doctor Receipt Template PDF Format Free Download

This is an amazing template for documenting transactions linked to medical supplies. So, if you are involved in such a job, you can make use of this template. The most appealing aspect of this template is its design, which is stylish yet sober. So, what makes you wait? Just download a Medical Supply Receipt Template and take the hassle out of medical supply transactions.
Medical Claim Receipt Free PDF Template

If you are interested in making claims for your medical expenses and are clueless about what information you might need for filling up such a form, you will benefit a lot from a Medical Claim Receipt Template. This template is easy-to-use and its content is intelligible. So, you can use it without any apprehensions.
Doctor Receipt PDF Format Free Template

If ever you have got your blood work done, you probably know how a medical test receipt looks like. For all the people who have their own medical diagnostic laboratories, Medical Test Receipt Templates work wonders.
Free Download PDF Format Doctor Receipt Template

If you are a doctor who is an avid lover of simplicity, you will be highly impressed with this Simple Doctor Receipt Template. This template is extremely catchy in spite of having a simplistic appearance. Just opt for this amazing template and create a wonderful payment receipt for your transactions.
Doctor Medical Receipt Free Download PDF Format

printablecashreceipts.com
Free Doc Format Doctor Receipt Template

printablereceipts.org
Editable Medical Receipt Template Free Word Doc Download

atyourbusiness.com
Doctor Receipt Template Doc Format Download
Doc Format Free Download Doctor Receipt Template

amavic.com.au
Doctor Medical Council Receipt Free PDF Template

healthprofessionals.gov.sg
Blank Doctor Receipt Template
Free Doc Format Doctor Receipt Template Download
Free Doctor Receipt Template

print-forms.com
Why doctor receipt templates are a must-have?
If you are a doctor then you sure can't offer your services to a patient without giving him a payment receipt against what he pays to you for the service you have provided him. While most doctors get them designed by professionals, you can go a step further by designing it on your own by using a doctor's receipt template. As the entire internet space is flooded with such templates, there is no reason why you wouldn't come across one matching your requirements. The benefit of using such a template is that you save a lot of money that would have otherwise gone into a professional receipt designer's pocket. There is no dearth of Doctor-Receipt-Templates over the internet.
All you need is some research and the knowledge of your own requirements. Once you know exactly what you want, choosing a receipt template in Google Sheets won't be difficult for you. Generally, you can choose from a variety of them including free and paid options. And because most free templates offer as good quality as offered by the paid variety, you can opt for any. All of them are appropriately designed and can be picked without apprehensions.