If you're going to buy a product from a store, then you would expect the cashier to hand over a receipt once the purchase is complete. The point of having a receipt is so that you'll know all about the details regarding whatever transaction you've just made. You may also like receipt formats in a word.
Having a receipt isn't just for learning about what went down during a transaction, it can also be very helpful during certain situations. A good example? For when you need to prove that you bought something on a specific day. This article is going to focus on how you can create your own sales receipt and help you learn more about its importance.
318+ Sales Templates in PDF, Word, Excel, PSD, Google Docs, PowerPoint, InDesign, Apple Pages, Google Sheets, Publisher, Apple Numbers, Illustrator, Apple Keynote, Google Slides, HTML5 - START DOWNLOADING
Sales Receipt Template
Simple Sales Receipt Template
Free Simple Sales Receipt Template
Free Sample Sales Receipt Template
Printable Sales Receipt Template in PDF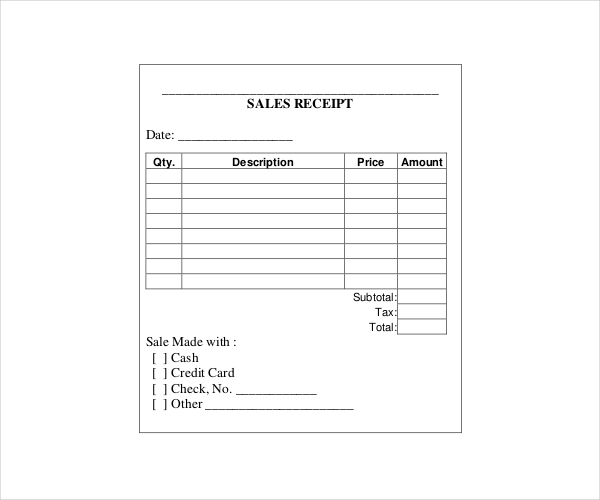 hooverwebdesign.com
Sample Sales Receipt Template in Word

ws.org
Cash Sales Receipt Template

bestcardealer.in
What Your Sales Receipt Should Have
As mentioned earlier, the point of having a receipt is so that you can learn the details regarding a specific transaction. Naturally, a receipt would have to contain certain information so that people will be able to know what these details are. You may also like tax receipt templates.
So here are the things that any sales receipt should contain:
1. The Amount of Money That was Paid
When you look at a receipt, one of the first things that your eyes go immediately towards is the total price of the items that you've bought. If you're the seller in a transaction, then it's your responsibility to come up with a receipt as not only will the buyer need one, but you stand to benefit from it as well. By having a copy of the receipts you've made and keeping them on record, you'll be able to easily keep track of just how much your small business was able to gain within a specific period. Very handy for when you need to learn about the success of your own business.
For the buyer, it's just as useful. By giving the buyer a receipt, the two of you have basically come to a sample agreement and have finalized the transaction, therefore ensuring that both parties are able to obtain something from one another (the buyer obtaining the product or service in exchange for money that will be handed over to the seller).
If the receipts help the seller know about his/her current revenue, then it will allow the buyer to know more on just how much he/she has spent. This piece of information is critical as buyers, as well as the sellers, want to keep track of their personal expenses so that they can make future decisions regarding purchases. You may also like medical receipt templates.
Also, if there's more than one item that's being purchased, then it's your job to list down the different prices of each. This will help the buyer better understand the total price.
2. The Method of Payment
While you've already placed the amount of money on the receipt, you're also going to need to put in how the buyer was able to pay for whatever it is that he/she purchased. The reason as to why you need to place the payment method is because it will verify how the buyer intends to pay for the product, and the additional information will be very useful for when the seller needs to obtain the money for installment plans. So let's say that the buyer pays for the product or service through cash. You want to write down "cash" as the method of payment within the receipt. If the buyer pays via check, then you're going to have to write down "check" on the receipt and the check number. If the buyer pays through credit card? Then put in the type of credit card that was used (Mastercard, Visa, etc.) and the last four digits of the card. Don't skip out on any of the details as you're going to need them.
Business Sales Receipt Template

wikidownload.com
Used Car Sales Receipt Template

wikidownload.com
3. Details Regarding the Product and Service Being Sold/Purchased
It can't be called a receipt if it doesn't specify what was bought. If you're the seller in the transaction, then every sales receipt that you create will need to contain the details regarding whatever product or service a customer purchased from your simple business.
The reason for this is because the buyer wants to know exactly where his/her money went to, and it's also really helpful for whenever the buyer needs to list down all of his/her personal expenses. You also stand to gain from writing down the goods sold within the receipt as it'll help you know what items were sold the most once you've compiled all the receipts within a specific period. You may also like free receipt templates.
So when you're writing down the details of a specific good, then you need to include important information such as the manufacturer, the brand of the product, the color of the object, etc.
If you're creating a payment receipt for a service that you have provided, then you'll have to be accurate when writing down the specific type of service that was purchased. Although this doesn't have as much as details as for when you have to write down one for a product, it's still very important that you don't miss out in writing down what kind of service it is.
4. The Date of When the Payment Was Made
If you aren't looking at the price first, the most likely you're looking at the date in which you bought those goods. The date in which the buyer paid for the product or service is just as important as the amount in which they were bought. By writing down the date, you're able to verify that on that day, both you and the buyer have come to an agreement in regards to finalizing the transaction. Another good reason for having the date is so that you'll know if the buyer has been able to pay you the exact amount of specific dates if he/she is paying in installments. You may also see sales receipt samples.
So it's somewhat similar to rent receipts where you get to see if the buyer was able to pay within the agreed upon time; thus giving you information as to whether or not the buyer can keep up with the payments, or if you might just have to notify that he/she has yet to pay you what you're owed.
If you're going to write down the date of payment, then it's best that you take a good look at how other businesses do it. There's always a specific format that every country follows, so it's best that you learn the format on your own as you don't want to end up confusing your buyers. While you could always go with the year, month, date format, it's still better than you go with the one your country uses. You may also like blank receipt templates.
5. The Complete Names of Both Parties
Having the names within the receipt verifies which of the parties involved in the transaction is the buyer and the seller. These are especially important for when you're selling products that are of extremely high in terms of price. You may also like restaurant receipt templates.
If you're going to write down the names on the receipt, then you have to make sure that you write them down completely. Also, it's very important that there are no mistakes in regards to the names of both the buyer and the seller. If you're working for a company, then just write down your company's name. You may also like word receipt templates.
There's always going to be that possibility that you could end up writing down the wrong name or misspelling one of the names within the receipt. Doing this will just make the receipt invalid and it can come with repercussions. You may also see printable receipt templates.
Let's say that you've brought the issue of payment up to court as the buyer has failed to pay you what you're owed on numerous occasions. You pull out the receipt, but then it shows that you've misspelled the buyer's name. You can't exactly use it as people might think that this is another person, therefore making the receipt invalid for use in court. You may also like sales receipt templates.
So always make sure that you double check the names that are on the receipt as you don't want a situation like that to happen.
6. Signatures of Both the Buyer and the Seller
When you're creating the sales receipt, just think of it as similar to a contract agreement where the signatures of both parties show that the parties involved understand and accept whatever agreements were made. The signature is basically proof that both the buyer and seller have finalized the transaction through terms that they have both agreed on.
Also, the signatures of either one will come in very handy whenever the receipt needs to be used as evidence in court. You'll never know when a situation is going to come up where you need to have these receipts, so it's very important that you obtain the buyer's signature as well as your own to ensure that you have proof that can be used whenever you need to bring up an issue regarding a specific transaction. You may also see car sale receipt templates.
If you know what a receipt contains, then you should have little to no trouble in knowing just how much you spent when you spent your money, and where your money went to. So be sure to utilize all of the information above as you might just have to create a sales receipt for a customer, or you might want to make sure that you're obtaining a sales receipt that has everything you need to know in regards to the transaction.
If you would like to learn more on how to create your very own sales receipt or anything related to this particular topic, then go through our site, find the articles that contain the information that you need, and utilize whatever you have been able to find to help you and your business out.