Farewell marks end of schooling, college and even leaving the place and settling somewhere else. You could also be leaving your job and seeking other opportunities. With Report Card Templates you can search for new avenues and send in farewell message. Message can be written on the farewell cards as per your wish and can even be customized by searching from the template section.
12 Farewell Card Templates Bundle
Farewell Card for Friend
Farewell Card Invitation Template
Classical Farewell Card Template
Funeral Farewell Card Template
Farewell Day Invitation Card Template
Bachelor Farewell Party Invitation Card
Student Farewell Card Template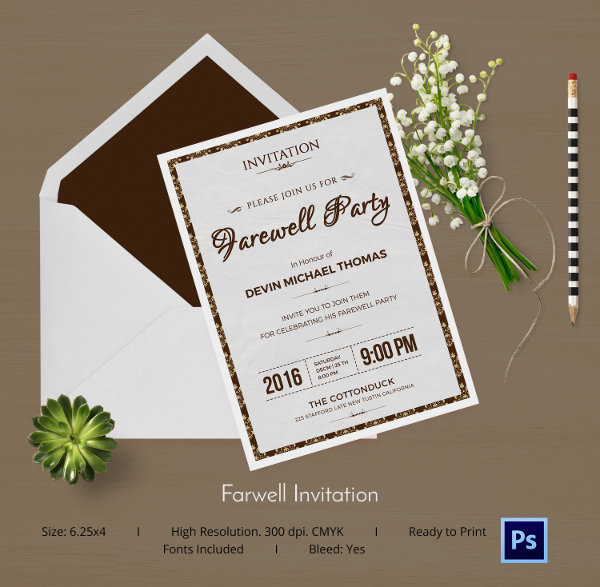 Farewell Card Template Premium Download
Elegant Farewell Card Invitation
GOODBYE Farewell Card Template
Happy Farewell Party Card Template
Farewell Card Invite Template Free Download
Take a look at this Farewell Card Invite template. It is a two-fold greeting card sample which comprises of a selection of the best-suited light colors in the right places in the design. The text featured in the sample is short, crisp and concise, in tandem with the minimalist look and feel of the template.
Graphic Design Farewell Card Card Poster Illustration
Graphic Design Farewell Card Poster Illustration is available in a range of awesome colors that stand out among the other cards and grab attention. The text is in multiple fonts giving it a unique touch
Wild and Free Farewell Card Template – $4
If you would like a farewell card which has a wild feel, this specimen nails the description to the T. As you can, this sample has got a subtle spread of the feathers, the antlers, the colors used are a perfect match with the overall artwork elements, and the text given is short and sweet!
Orange Stripe Farewell Party Invite Download
Orange Stripe Farewell Party Invite will certainly impress the invitees with the round look and the bold upfront fonts. Download this template as a word document
Print Design Farewell Card Template Illustration Free
Print Design Farewell Card Template Illustration is free and for once its true even though it sounds too good. The design and color scheme is in par with most of the premium paid templates out there. Download it now for free
Yellow Confetti Farewell Greeting Card
Group Farewell Card Template Free
Military Farewell Party Invitation Card Template
Biology Nerd Graduation Farewell Card Template
Colette Paperie Farewell Greeting Card – $4
World Travels Farewell Party Invitation Template
Free Download Crafts Farewell Card Template
Hard To Say Goodbye Farewell Card Template
Online Editable Farewell from the Group Card Template
The choice of words, design and structure can be carefully thought of and put it in the template. Templates are a way to express your love and gratitude towards those whom you are close to. School students are fond of the card templates to a large extent.