Life is all about moving on and letting the bad memories go. Resignation letter is a way to embrace the new and let go the old ideas and options. Corporate setups are great to move into but the tricky proposition is how to let the old employer go and make a move towards the new one. One must look to keep a great rapport with the previous employer and the best free Resignation letter sample come in handy for the professionals and let them achieve the same.
Two Weeks Notice Resignation Letter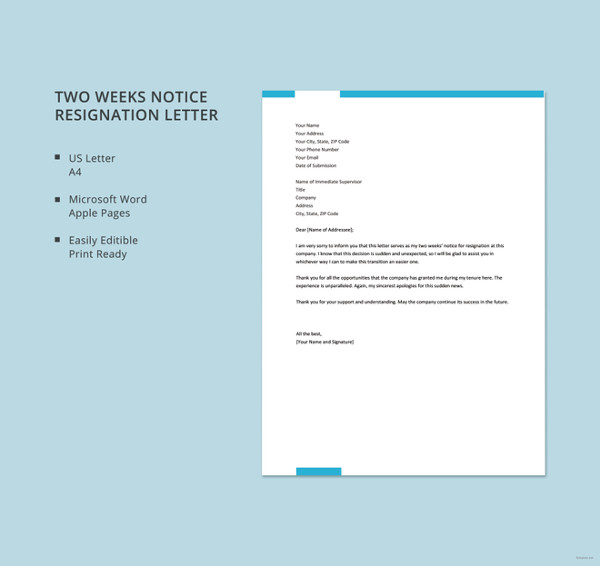 Resignation Letter to Boss
Resignation Letter for Teacher
Doctor Resignation Letter Template
Manager Resignation Letter Template
Job Resignation Letter With a Reason Template
Resignation Letter for Personal Reason Template
Accountant Resignation Letter Template
Immediate Resignation Letter Template
Board Resignation Letter Template
Simple Email Resignation Letter PDF Free Download
The simple email resignation letter template is a perfect template for a resignation letter. Just write down the name, address, phone number and email address, title, information of the employer and the signature and send it to the employer.
Part Time Job Resignation Letter Simple Template
The part time job resignation letter template is a simple resignation letter template that conveys the message to the employer in the best way possible. It explains the reason of resigning and thanks the employer to give the opportunity.
Simple Union Resignation Letter Free PDF Download
The simple union resignation letter template is a simple and comprehensive union resignation letter that states that the employee is resigning with immediate effect and if the resignation is not accepted, then it should be promptly informed.
New Job Resignation Simple Letter Free Word Download
The New job resignation simple letter template is a perfect and simple resignation letter that can be used by anybody who wants to resign. Just add the employer and employee details and the resignation letter is ready.
2 Weeks Resignation Letter Simple PDF Free Download
The 2 weeks resignation letter simple template is a well detailed resignation letter that conveys the reason of resignations and asks for a 2 week notice. By adding the employee and employer details, the resignation letter is ready to be used.
Simple Relocation Resignation Letter Free PDF Download
Director Resignation Letter Simple PDF Free Download
Job Dissatisfaction Resignation Simple Letter in MS Word
Simple Resignation Letter for Personal Reason Free Word Download
Acceptance of Resignation Simple Letter Free Word Download
Teacher Resignation Simple Letter for Superintendent Free PDF
Basic Resignation Letter Format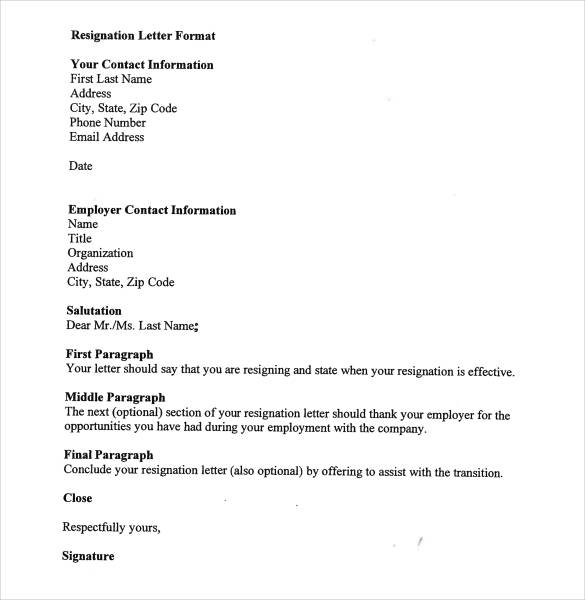 padon.wikispaces.com
Sample Resignation Letter 1 Month Notice Period
youthcentral.vic.gov.au
Resignation Letter Due To Hostile Work Environment Sample
livecareer.com
Example of Email Resignation Letter
sloaneassociates.com
Polite Trainee Resignation Letter Easy
ntarestore.org
Formal Resignation Letter Template
usafservices.com
Sample Model Resignation Letter in PDF
bypass.net.au
Sample Official Resignation Letter Printable
rrcc.edu
Standard Personal Response Resignation Letter Simple
iauk.co.uk
Friendly Sample Resignation Letter
cf.ltkcdn.net
Downloadable Resignation Letter Text
hlrn.org
Immediate Resignation Letter Due to Relocation
livecareer.com
Medical Assistant Resignation Letter
livecareer.com
Being polite and kind is in no way discouraged by these resignation letter templates as exceptional texts and wrap up lines are up for grabs. Free resignation templates provide the needed professional boost and allow you to secure your future without being too fussy about it. Friendly but formal approaches are skilfully integrated with these exceptional templates which also make room for a well-aligned approach.
How do you Write a Short Resignation Letter from a Job?
Mostly, the employees have to provide a notice period letter of at least a month before resignation but there are cases when it is possible to resign on the spot and for those instances, an employee needs to write a professional resignation letter. This is mostly applicable for medical emergencies and in such a case, the person needs to write a basic medical resignation letter. There are several templates of Medical Resignation Template available online and these usually includes the information of the person to whom it is addressed and the information about the medical condition. It is also necessary to attach required documents with the letter template.
How to Type a Letter of Resignation
You can write a quick resignation letter moving to the HR department and there are several work resignation letter templates available on the web. The letter contains your information on the right top corner which is followed by the information about the manager. This is then followed by the salutation and then the reason for resigning is also mentioned. The employee also needs to provide the handover details to the manager and at the bottom, the employee needs to sign the letter. This letter is then submitted to the manager and it is usually forwarded to the HR for the final approval of resignation.
What to Include in a Resignation Letter?
There are many samples of proposal letter on the web and you may also use short-notice resignation letter to write your own resignation letter. As mentioned previously, the letter has a very simple letter and it is written like any other letter. In a resignation letter, it is mandatory to include your details as well as your manager's details. Once you have added all this information, you can proceed with writing your experience with the company and the reason for resignation. There are high chances that the organization will try to retain you in the case of any grievance.
Uses
The resignation letter is only used when an employee wants to exit the company. In such a case, it becomes mandatory to write a resignation letter and there are many of the employees who would have never written a resignation letter in past so they can easily browse through resignation letter writing tips and samples over the web. The tips can help them in framing a good letter and the samples would also help them in giving them an idea of what to include in the sample letter. They form a mandatory part of the exit management system and hence the letter should be drafted carefully.
If a reason is not automatically surfacing up in the mind, these templates come to the rescue with the most believable and well laid out causes. Certain premium templates are also available online which can be customized depending upon the notice period. Be it a one month notice or the brief retail resignation letter templates, these top rated templates deal with every single aspect with utmost readiness, thus smoothening out the modus operandi.