Looking for stylish and well-designed communication icons? You're on the right site. We have here an array of communication icons that you can use to streamline your processes, especially in the aspect of business correspondence. Since the beginning of time, human beings are social in nature. We tend to associate and interact with our fellow beings in different means.
Communication is indeed vital in every aspect of the society. Without it, a society can fall apart, particularly in a world where diversity reigns. Effective and right communication channels are a must in every social aggregate. To escape from the hassles of making your own communication icons, you can just refer to and download our high-quality templates. Aside from that, we also offer media icons you could also use and incorporate in your own communication icons design. 
61+ Designer Templates in Word, Excel, PSD, Google Docs, InDesign, Apple Pages, HTML5, WordPress, Publisher, Apple Numbers, Illustrator - START DOWNLOADING
Free Communications Vector Icons
Communication Icons Set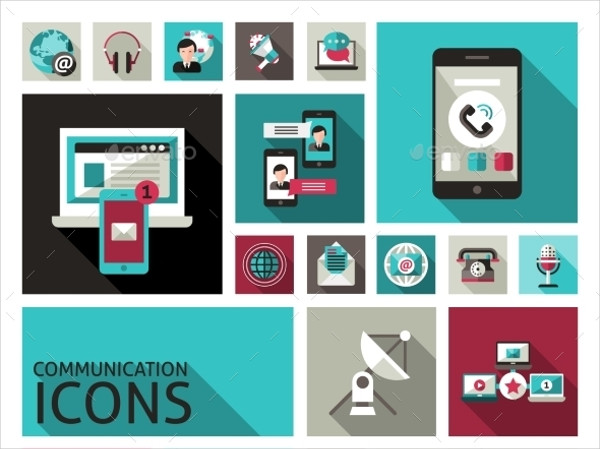 Media and Communication Icons
Vector Set of Communication Icons
Communication Web Icons Set
Two Major Types of Communication
Like any other icons, communication icons also come in various modes and methods. Communication is defined as "the process of exchanging information, ideas, insights, feelings, and emotions." Communication is a two-way process wherein there is a sender and a receiver of the information. Here are the two major types of communication:
Verbal communication. This is the most common way of transmitting information in an effective manner. Communication is achieved through word of mouth. Verbal communication, in order for it to be effective, must be clear, short, and simple. Always take into account the receiver of the information.
Nonverbal communication. This type of communication is basically grounded on body signals and gestures. There are tendencies that we disregard this type of communication. We are not that conscious about them, but you have to be careful because sometimes body language is more powerful than words.
These are just some of the types communication. By knowing them, you'll understand more the dynamics of our icons. Aside from them, we also have network icons, which are also of great quality. 
Set of 12 Communication Icons
Set of 20 Communication Icons
Modern Mobile Communication Flat Icon Illustration
168 Flat Digital Communication Marketing Icons
Flat Retro Communications Icon Set
Purpose of Communication Icons
Communication is a vital ingredient of a harmonious and progressive society. In line with this, our icons can truly help you streamline and spread its importance. Mostly, this type of icon is used for marketing purposes, website designs, and application programs. In choosing the correct communication icon, one must first be acquainted of the target audience and overall purpose of their icon. Here are the two types of communication basing on purpose:
Formal. This communication is observed among government meetings, corporate transactions, and other professional dealings. In line with this, always make use of icons that are professional. It must be in consonance to the nature of the event. Always respect the formality of the institution.
Informal. This is sometimes considered as casual talk. This is the day-to-day conversations and exchange of ideas that transpire among us. With this, you are given the freedom to become more artistic in terms of choosing your icon design.
Indeed, communication is everywhere. To save your precious time and energy, feel free to try and download our communication icons. You can also check out our web icons. Feel free to check out our pages and enjoy your stay here at Template.net!