Icons are a great way of communicating to others without the use of words. There are many Free Icons that you can find out there that can help you deliver a clear and concise message at the mere use of an image alone. On this list, you will find an icon that will help you tell others that something is locked.
Nothing says "You're not allowed" or "You're secure" than a big, fat lock icon. This list contains 9+ lock icons that you can use for yourself. Each lock icon differs from each other, and there are plenty of varieties for a lock icon in itself that you will find. If you're looking for a lock icon for any reason whatsoever, you've come to the right place.
Lock Icons Vector
Download
Lock Button Icons
Download
PNG Lock Icons
Download
Laptop Lock Icon
Download
Lock and Unlock Icons
Download
Ways to Use Lock Icons
Lock icons have many uses. The most basic of it is usually to tell someone that something is locked—which is why the image is in the shape of a lock. However, it can also tell someone that something is unlocked if the lock icon's image is open. It can even tell where the key is as this list contains images of keys as well.
There are multiple ways to use lock icons.
Lock icons can be used digitally and physically. If you want to place it on a digital file, these icons provided can be edited on a file's image to show that that file is locked or restricted. You can also print these lock icons physically and display them over a room to show that that room is locked or generally restricted as well.
Lock icons can also be used for art purposes. If you think that a lock icon would fit your artwork rather well, then there's nothing stopping you from using it. Using even the most basic of photo-editing software, you can use these lock icons as designs for your artwork to make it more aesthetic.
The key icon—another icon you can find on this list—will also help you display a file that holds a "key" to unlocking another file. That being said, the key icon can also be used for artwork as related to the above. You can also print these and plaster them on a surface of doors and cabinets to tell somebody who sees it where they can find keys to unlock something.
There are many more other uses for keys out there. If you can think up of one, feel free to use it for that. In relation to lock icons, there are also other icons out there that you might find useful for yourself. Take a look at these Security Icons if you're interested in more.
Flat Lock Icons
Download
Security Lock Icons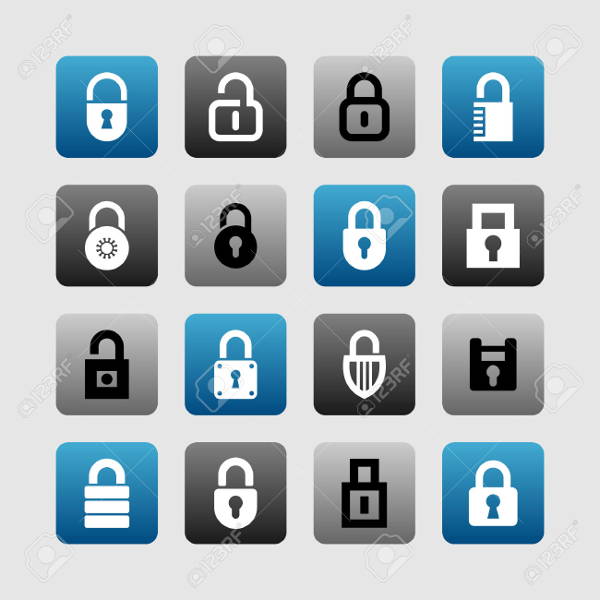 Download
Simple Lock Icons
Download
Folder Lock Icons
Download
Lock Key Icons
Download
Why Use These Lock Icons?
These lock icons can provide you with the image to help you with your needs. Whatever it is that you need help from an image with the shape of a lock, you will find it here. You can use these to tell people that you don't want just anybody snooping around a place or entering your files. They may seem like such a small thing, yet they can really help you deliver a message.
So, what do you think? Hopefully, this list helped you learn more about lock icons and their uses. Speaking of icons, there are so many more icons out there that you can use to deliver messages without the use of words. Check out this link to Information Icons for more.