Icons can be surprisingly useful nowadays. There's just something about images that can be used to tell other people of something without the use of words—you'll always find a use for those. Lucky for you, if you're on the lookout, we have just what you need.
On this list, you will find 9+ contact icons that can help you portray an image in regards to contacting. Speaking of icons, there are many more usable icons out there for you on our website. If you'd like to see some more, then check out these set of icons for yourself.
61+ Designer Templates in Word, Excel, PSD, Google Docs, InDesign, Apple Pages, HTML5, WordPress, Publisher, Apple Numbers, Illustrator - START DOWNLOADING
Business Contact Icons
Download
Contact Us Icons Set
Download
Outline Contact Icons
Download
Web Contact Icons
Download
Vector Contact Icons
Download
Uses for Contact Icons
These contact icons can be surprisingly useful for a lot of things. We have so much contact icons each differing in variety that you will no doubt find a use for them. Contact icons can both have virtual uses and physical uses.
Designing. If you want to add designs to something you are advertising, then these contact icons can help you in regards to anything that need contacting.
Instructions. You can use these contact icons along with words as well to provide instruction manuals to make things much more simpler with imagery. For example, you can use the phone icon to refer to an instruction for the a person to call a certain number.
Artwork. If you think that these contact icons can really make your artwork look pretty, then feel free to use them for yourself. Icons can also make any artwork look much more aesthetic.
There are actually many more uses for the contact icons that we offer to you. If you can think up of one, don't hesitate to use them for that. Speaking of which, we also have these Web icons for you to expand your choices.
Flat Contact Icons
Download
Minimal Contact Icons
Download
Social Media Contact Icons Set
Download
Round Contact Icons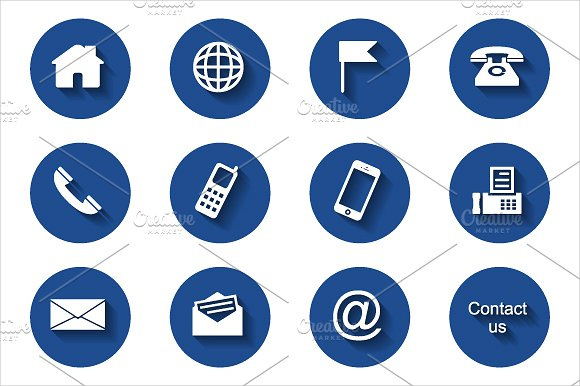 Download
Vintage Contact Icons
Download
Why You Should Use These Contact Icons
These contact icons can help you in a variety of ways. They are versatile and easy for you to use.
If you want to use them virtually, you can simply use Photoshop or any other raster graphics editor software out there to help you edit any images so that you can use these contact icons. The same can be said for using them physically, only needing to print them out after editing them on a computer.
Icons, in general, can have a lot of uses. It all depends on your creativity and imagination on how to use them. You can help make something look much more pleasant with just icons. Just take a look at how many business process outsourcing companies out there use the headphone icon on their hiring posters to indicate that they are in need of agents to provide services for them.
Now you to can use these icons for your own convenience. If you are making any advertisement or any instruction manual, these icons can help you make something look much prettier in comparison to without.
So, what do you think? Hopefully, this list helped you learn more about the uses of icons and why they can be important to you. Speaking of which, if you are looking for more icons for your choices, then you can pick from these communication icons for yourself.