An icon is a sign or representation that stands for its thing of interest by correspondence or similarity to it. They are images or other likeness. Icons are efficient in a sense that they provide brief information or direct details towards a certain thing, people, or other representations. With just one look, you already know what it is and what is its purpose.
Talking about icons, if you are planning to create one for your business or for whatever purpose and you can't find any design that suits your interest, then we've got your back. We've created set of icons, especially for SEO and marketing purposes. Check them below.
Free SEO and Marketing Icons
Download
Vector SEO and Marketing Icons
Download
SEO Line Art Icons
Download
Free SEO and Online Marketing Icons
Download
Free Vector SEO and Marketing Icons
Download
SEO Online Marketing Icons
Download
What Is SEO?
SEO (Search Engine Optimization) is a marketing development focused on growing visibility in organic (nonpaid) search engine results. SEO uplifts both the creative and technical aspects required to improve rankings, drive traffic, and increase awareness in search engines. There are numerous elements regarding SEO, from the words on your page to the way other sites link to you on the Web. Making sure your site is systematic in a way that search engines understand.
As an Internet marketing strategy, SEO grants how search engines work, what people search for, the actual search terms or keywords typed in, and which search engines are favored by their targeted audience. Enhancing a website may include modifying the content, HTML, and related coding to both boost its relevance to certain keywords and to remove blockades to the indexing activities of search engines.
Short History
System administrators, webmasters, and other content providers began optimizing sites for search engines in the mid-1990's as the first search engines were recognizing the early Web. Originally, the essential thing that webmasters needed to do was to submit the address of a certain page or URL to different engines which would send a "spider" to "crawl" that page, excerpt links to other pages from it, and return information found on the page to be indexed.
---
Related content: marketing icons
---
Flat SEO and Marketing Icons
Download
50 SEO Marketing Flat Color Icon Set
Download
Set of SEO and Internet Service Icons
Download
100 Flat SEO and Marketing Icons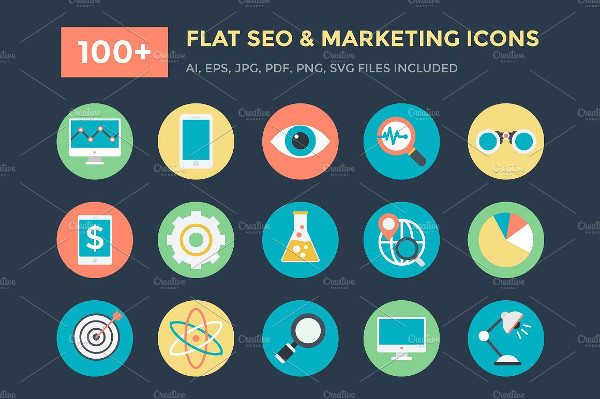 Download
SEO Services and Marketing Icons
Download
A Great Strategy
When it comes to business, the so-called digital marketing is what most businessmen preferred as a good business strategy to reach out potential clients. It is a term for the marketing of products or services utilizing digital technologies, mainly on the Internet, but also including mobile phones, display advertising, and any other digital elements. The manner in which digital marketing has developed since the 1990s and 2000s changed the way brands and businesses make use of technology and digital marketing for their business.
Digital marketing uses techniques such as SEO ( Search Engine Optimization), SEM (Search Engine Marketing), content marketing, influencer marketing, campaign marketing, e-commerce marketing, social media, and a lot more are becoming more and more frequent in our modern-day technology. It even uses non-Internet mediums that provide digital media, like mobile phones (MMS and SMS), and mobile on-hold tones.
Using SEO in a business in today's modern era is already a huge trend. So we've incorporated SEO and marketing into our list of icon design. Each icon contains modern and edgy layouts. Each also has a good image quality. You can make use of these in any way that you want. Absolutely a great choice, and if you want more option, visit our website for more business icons page.