Icons are symbols added to an interface design or any type of presentation design. They are used for certain purposes designed to either deliver its function or to add to the beauty of the design. The following free icons are designed differently from other icons as these icon styles are more of a transparent nature than a colorful one. These icons are perfect for simple but edgy interface or presentation designs. Interface designs not only cover the ones presented on the web but also the mobile applications you use everyday on your smartphone. Try out these transparent icons in customizing your interface designs.
61+ Designer Templates in Word, Excel, PSD, Google Docs, InDesign, Apple Pages, HTML5, WordPress, Publisher, Apple Numbers, Illustrator - START DOWNLOADING
Transparent Spherical Icons
Download
Vector Flat Transparent Icons Design Set
Download
Outlined Transparent Social Icons
Download
Transparent and Light Practise Icons
Download
Transparent Social Icons set
Download
Transparent Play Button Icon
Download
Transparent Icons
Download
Transparent Internet Glass Button Icons
Download
Round Transparent Social Media Icons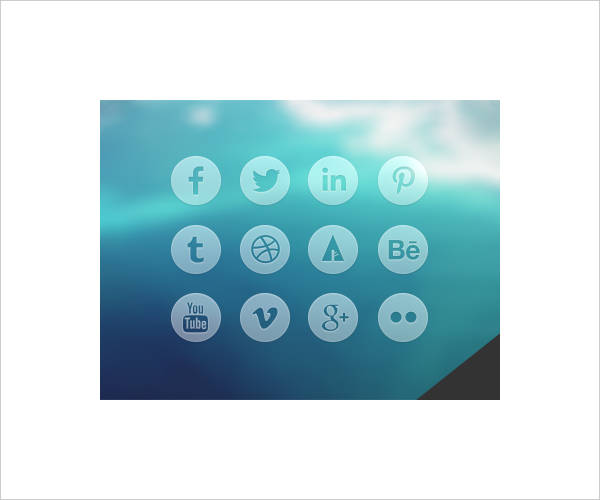 Download
Categories of Transparent Icons
There are different icons for different purposes. Transparent icons available on this website have the following icon groups:
Social Media Icons – Icons in this group represent signature brand logos of social media applications downloadable from a mobile store application. Examples of these icons are Instagram, Twitter, and Facebook icons.
Multimedia Icons – The icons represent multimedia items and their corresponding functions when applied to user interface designs. Camera, Video, and Play icons are some of examples.
Computer Interface Icons – These are icons found on the computer and represent software applications. An example would be the default folder icons found in your computer.
Mobile App Icons – These icons are seen on the user interface of built-in mobile applications. Messages, Contact, Settings, and Call Log icons are some examples of this category.
Web Icons – The icons under this category are the functional symbols that you see on the interface of Internet website browsers as designed by web designers. Icons such as the back button and the reload button are examples of this group. 
These categories of icons are available on this website with a variety of designs to choose from.
Types of Transparent Icon Designs
Transparent icons are different from colored ones because of the simplicity and the class it exudes when emphasizing the functionality of the icon. If you are a person who prefers simple and business-like designs, below is a list of designs available for your perusal.
Spherical design – These icon designs are shaped similar to a sphere. Symbols are outlined with a sphere along its perimeter; thereby encasing the icon and giving it a spherical appearance.
Vector Flat design – Icons of these designs have a minimalist design, only using polygons to form the symbol. These icons can be presented with or without color.
Outline design – Icons of this design are drawn using simple lines, which are also used to outline the symbol image within the icon.
Glass design – These icons use a glossy look for their design as seen on the Internet. Usually, the functions of these icons are much more evident than their style.
Round design – Similar to a spherical design, symbols are drawn in a round shape. Round shapes often appear smaller than the spherical ones.
Icons not only add to the aesthetic appeal of an interface design, but they also symbolize what their necessary functions are which is why there are icons labeled as information icons.