Gardening is a horticultural practice that allows a person to grow plants on a backyard or a specific area in a property where cultivating various plants can be done. It uses practices to help plants grow and serve their purpose for the aesthetic that it can provide for the place or the ways that it can be used for food consumption and medical purposes.
The act of gardening is not only limited to big spaces as even pots inside a home can be used for the process. A lot of people are doing gardening as it is believed to alleviate stress levels for various reasons. If you are in to gardening, you may use our gardening icons to help you in many different ways.
You can download and print our set of icons pack so you may use them on a lot of ways possible.
61+ Designer Templates in Word, Excel, PSD, Google Docs, InDesign, Apple Pages, HTML5, WordPress, Publisher, Apple Numbers, Illustrator - START DOWNLOADING
Vector Gardening Icons
Download
Spring Gardening Icons
Download
Gardening and Seasoning Icons
Download
Farm Garden Icons
Download
Gardening Tools Icons Set
Download
Free Gardening Icons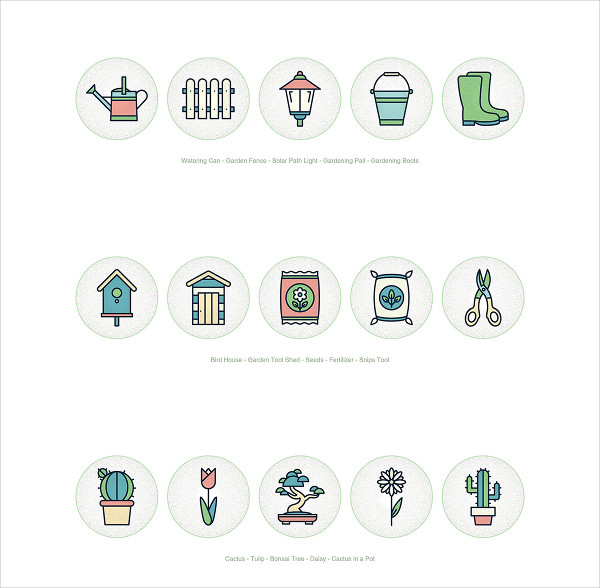 Download
Our gardening icons include a lot of gardening related tools that include
They also include the main items that you use for planting like
various vegetables,

seeds,
sprouts,
growing plants or seedlings,
flowers, a variety of them,
fruits and different harvests, and
other plants and tress that you can see on a gardening lot.
All of them are ready for download and could be utilized for your gardening website or even printed on to stickers as logos in your farmers' markets, neighborhood gardening projects, or even used in your home as labels and logos. They vary in different colors and designs so that you can select the icons that fit your aesthetic and the ways on how you are going to use them.
Flower and Gardening Icons
Download
Seed and Gardening Icons
Download
Gardening Line Icons Set
Download
Colored Gardening Icons
Download
Working Farmers and Gardening Icons
Download
Our gardening icons can be used for the following:
You can make the labels of your gardening materials through the use of our gardening icons. You can either just put the icon or you can also write the name of the specific tool. This can help you to be more organized and for the children in the family to be able to identify the names of the gardening tools that you have at home.

For a better organization of your gardening boxes so you can use our icons as references on what is inside a box. Does a specific box contain flower seeds? Or does a box have these kind of tools? What is inside a box may easily be identified if you have the icons printed outside them. 

Making school projects can also be one of the reasons why our gardening icons are useful. If there are school documents and assignments that need gardening icons or anything that has to do with nature, you can easily use the icons that are already available in the links that we have provided.
You can also use our gardening icons to know the kind of seedling that you have on a specific plot or pot. It will help you to identify what seeds or seedlings you've planted in a specific area.
Aside from gardening icons, check our website's collection of farm icons, which are also available for download.