Icons
Weather Icons – 127+ Free PSD, AI, Vector EPS Format Download
The entire earth and its atmosphere are surrounded by the weather. It is one of the most important aspects which have a huge impact on everyone's life because the lifestyle changes with the change in weather. Moreover, weather is something which is unpredictable and beyond our control. You can see also Clock icons. Every day we hear the weather forecast on television or radio and also read about it in the newspapers. The important factors which determine the weather of a particular place are heat, cold, wind, temperature, moisture and atmospheric pressure. You can see also Airplane icons.
> The Weather Icons: Useful Applications for Every Individual
Today with the advancement of technology every individual wants to stay updated especially with the unpredictable weather conditions which may change instinctively. This has provided an opportunity for the budding graphic designers to design attractive weather icons for the web pages, mobile phones and tablets as well as other businesses.
55 Weather Icons Set Download
Weather Vector Icon Set Download
Set of 15 Weather Icons Download
Hand Crafted Weather Icon Set Download
Realistic Weather Icon Download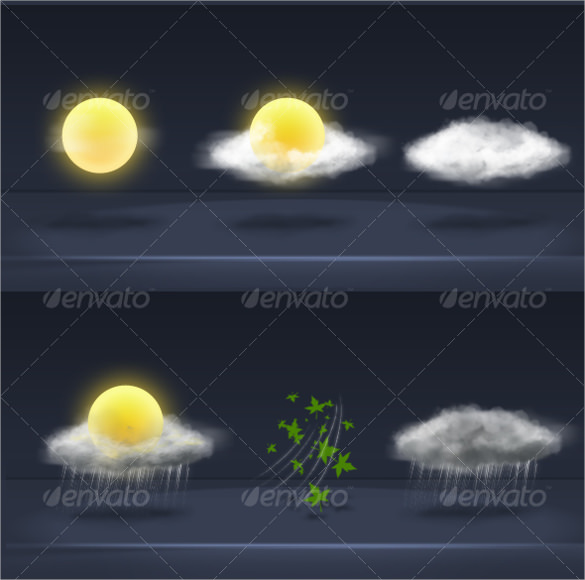 Meteorology Weather Icon Set Download
Professional Weather Icon Download
Stunning Weather Icons Download
Rainy Weather Icons Download
Weather Line Icon Set Download
Weather Icon Illustration Download
30 Weather Blue & Black Icon Sets Download
Amazing Weather Icon Design Download
Vector Weather Icon Set Download
Forecast Weather Icon Design Download
Raindrop Weather Icon Download
Flat Weather Icons Download
3D Render of Weather Icons Download
Cumulus Weather Icon Download
Cool Weather Icon Download
Black Weather Icon Set Download
Weather Icons Set Free Download
Free Amazing Weather Icon Download
Weather Icon Set Illustration Downlad
Creative Weather Icons Download
Plain Weather Icons Download
In fact, weather icons has become an important tool because a lot of activities are directly or indirectly depends on specific weather conditions. For designing the icons or applications you need to have a thorough knowledge of Photoshop, Corel Draw or Illustrator.
> Some Important Industries You Will be Offering Services to
Some of the industry may require different types of weather icons as they directly depend on the atmospheric conditions. Accordingly, you have to design the icon or the image as per their requirements. These may include-
You may be hired as a graphic designer by some media houses where you will be required to draw unique weather icons which will be used by television channels or newspapers when they telecast or print the weather forecast or present and the next day. You can see also social media icons.
The aviation industry is heavily dependent on the weather conditions to operate their flight services. The graphic designer has to create all types of weather icons for different conditions so that they can use it on their website and other places.
Like the aviation industry, the farming sector is largely depends on the condition of the weather. The farmers should have the useful weather icons to know when it is likely going to rain or when the weather would become rough.
> Use of different Symbols or Images to indicate different conditions
As you are already aware that there are different weather conditions which we all experience in our daily lives. These include sunny, partly cloudy, very cloudy, light rain or drizzle, heavy rain and thunderstorm, snowfall, hailstorm, storm, cyclone, wind, fog, haze, full noon, half moon and much more. You can see also information icons.
> Display your Variety while Creating Different Icons to show weather
This is one area where your graphic designing skills will be put to test. Whether image, symbol or icon you are making it should grab the attention of the viewer. You can accomplish your skills in the following manner-
If you are drawing the image of the sun of course you have to make use of yellow and the orange colors. However, if it is a hot sultry summer where the temperature is expected to exceed, you can make use of a red mark to indicate the uncomfortable weather. To make things more interesting you can show burning sun with annoying experiences and people perspiring profusely and begging for respite.
The symbol of party cloudy is always shown with half sun peeping out of the clouds. Here also you can use your creativity and imagination to create an unusual image. You can see also funny icons.
To show a light rain or drizzle you can make very small blue droplets close to one another.
A heavy downpour with thunderstorm can be created with dark black clouds and thick arrow to indicate the thundering of the clouds.
Snow can be indicated with the help of small to medium white or blue balls. The size should be chosen according to texture of the background. You can create different symbols and imaginative images to show snow
> Now You Need to also Combine a Few Icons Together
This is yet another area where you have to display your skills of creativity. Many a times you will be required to club two or more icons together. For instance, in the case of partly cloudy sky you have to club both the cloud as well as the sun together to show the weather condition. You can rotate the sun slightly to balance the small gaps. Your knowledge of Photoshop or Illustrator will come into play over here when you have to use different tools in order to achieve your task.
> Drawing the Weather Icons for Geography Text Books for Kids
Weather is an important topic which is taught in the schools to all kids either in Geography or science subject. Creating weather icons for the children can be both fun as well as a challenge. Of course, while designing the interesting symbols you need to keep in mind the class and age of the child. For instance, if you are designing it for a small kid who has just started reading about topic you can use cartoon characters to indicate sun, moon, rain, snow, and thunderstorm etc. However, for higher classes, you need to draw pictures which look original and also have to create more images describing each part separately.
> Create Something Unique and Extraordinary from Unusual Thought
You may think that creating weather icons is an easy task compared to creating other symbols. However, you can come up with an idea something out of the box to give these ordinary looking icons a graceful and pleasing look. You can create a number of attractive images to depict the same weather condition. The use of the colors too becomes very crucial here. You can also see star icons. It all depends on what kind of weather icon you are creating; whether it is simple, flat, cartoon based and so on. You will also have to choose the background color very intelligently so it can mix well with the icons giving a overall sophisticated look. Lastly, it is up to you whether you want to name the particular weather condition and if you do so then what font style will you be using.