Calendars
14+ Holiday Calendar Templates
The internet today has a lot to offer for you when it comes to arranging your activities for every month, at holiday schedule template you can advance the making of your plans like celebrating a special days or feast along with your important peoples in your life. With the sample format you can pick and choose the arrangement of the calendar you can use for the whole year. You may also see calendars example.
Holiday Event Calendar Template
Free Holiday Event Desk Calendar Template
You can also visit Holiday Newsletter Template. You can have it as an Holiday Template to have the basis to make your timetable, highlighting important dates that you need to rest and adding reminders that you must not forget in that particular day so you can have all run according to your plan.
Holiday calendar Sample Template Free Download

Being organized is a very good habit. Here is our sample holiday calendar template that could be of great use for you to remain organized and all set to have an exclusive year ahead. This template sample in our collection is a blank calendar that acts as a planner at the same time and gives you the opportunity to write your daily plan in it.
Holiday Calendar Template Free Download Sample Template

wincalendar.com
Holiday Vacation Calendar Template Example Free Download

calendarlabs.com
Professional Calendar With Holidays 2016 Example Template

A professional calendar with all the holidays in the year listed altogether is a very sought after one. This sample holiday calendar template is one of most useful because of its holiday listings. All national and regional holidays are listed with bold colors in this template. You may plan your daily routine and tasks according to the holidays in the country. Moreover the beautiful color combination of the template makes it more attractive to the viewers.
Sample Design 2016 Calendar Template
Unique Holiday Calendar Sample Template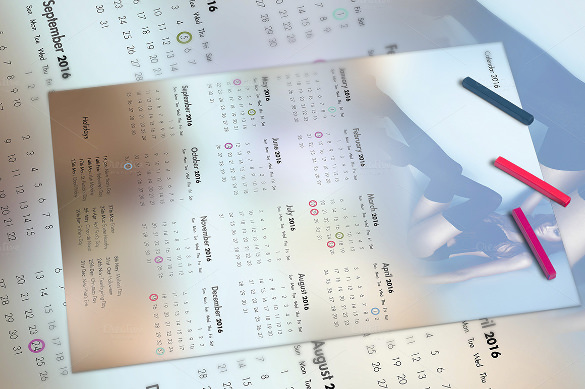 2014 Happy Holiday Calendar Template
Example Holiday Calendar Download Template

When you wish to place your holiday calendar on your table and wish to remain organized even at work, this template of holiday calendar is one very appropriate for the cause. It is so nicely designed that you may put it up in your workstation how small it may be. The boxes for each date being big provides you the scope to write and memorize any task which you need so. Moreover the color combination of the template makes it more professional.
Beautiful Wall Calendar 2016 Example Template
Sample Business Holiday Calendar Template
Holiday Desk Calendar 2016 Example Template
Cute Animals Example Holiday Calendar Template

Children are the most crucial part of a family. Thinking about them is one very important aspect. This Sample Holiday Calendar with cute little cartoon faces are the one to cheer up your kids you would love to hang this calendar in your kid's room for sure. The use of bright and bubbly colors in the calendar and cartoon pictures is sure to keep your kid happy and merry all throughout makes it more suitable for the purpose.
Sample Holiday Calendar Diary Template For 2016
A calendar plays a very important role in one's life. It keeps you organized and focused on important dates, holidays and other important tasks to perform. With the help of these calendar templates available in our list you will surely become more tension free just by keeping note of all your important reminders. The color combination and designing of each one of these templates are so apt that they can match to any occasion or environment of the user. If you have any DMCA issues on this post, please contact us!