Calendars
8+ Vacation Calendar Templates – PDF, Excel
Every company needs to give their employees vacation time as they're required by the law and to make sure that their employees extra time of rest for providing the company with work. However, you don't want your employees to all take a vacation at the same time as that can seriously affect company productivity and performance. You may also like vacation templates.
So the best way to avoid that is by coming up with a well-made vacation calendar for your business. With it, employees will know when they can take vacations without disrupting the workflow. This article is going to give you all the important information you need to be able to make one.
Employee Vacation Calendar Template
Sample Vacation Calendar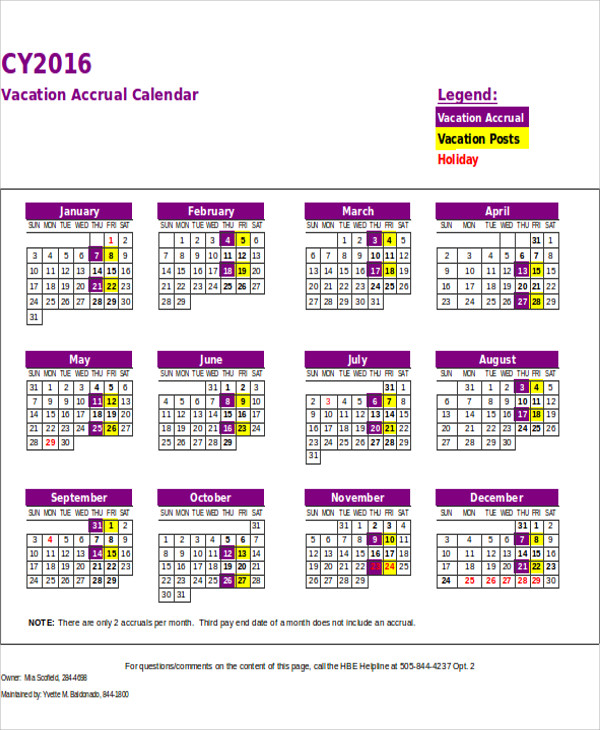 hbeupdate.custhelp.com
Employee Vacation Calendar

notebook.lausd.net
Free Vacation Calendar

treemontresorts.com
Sample School Vacation Calendar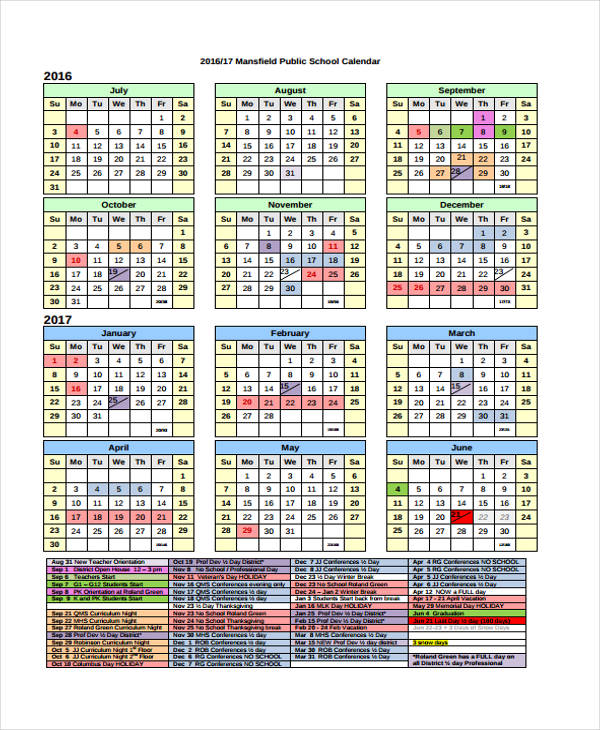 mansfieldschools.com
How to Create a Company Vacation Calendar
You want your employees to be able to take full advantage of their vacation time at their own discretion, but you also want to make sure that you have employees in every department of your company throughout the entire year so that the company can remain operational without any surfacing problems. The only way for you to make sure that all of your employees are able to coordinate their vacation time so that they won't disrupt the company's workflow is by creating a master vacation calendar.
So here are the steps you can take to create your company's own vacation calendar:
1. For Electronic Calendars
Navigate to the chosen calendar software on your computer or the Internet. There are many different types of programs that you can choose from that will allow you to create an electronic calendar. A good example would be Word Processing programs such as Microsoft Word or Microsoft Excel. If not those, then you can always use calendar software or any other type of online programs that give you the right amount of options you need to create your company's master vacation calendar. The kind your company will use will be decided on what you think is the most optimal, so find that one that best suits your company and one that you and your employees can easily make use of.
Select the option to create a new calendar and add a name for your company's master vacation calendar. You should save it in a location on your hard drive where you will easily be able to access it whenever you desire or to at a location on your network or Internet-based upon the software selection. You're going to have to block out those days or weeks in which your employees will not be allowed to file for vacation leaves and inform their managers about this. You may also see holiday calendar templates.
Create the profiles for your chosen software that determine the privileges and options everyone has. For example, you and the person you have assigned as your backup will require global administrative rights in order to make changes to the master vacation calendar, but those in the managerial department may only need to add events with start and stop times that you will have to later approve. You're going to have to add usernames to the program and attach the correct profile to them. Managers will need to create their individual passwords, or add a generic on in which they can change anytime they wish.  Finally, to make the calendar accessible to all employees, create an account and password that contains nothing but viewing option so that employees may be able to access it at any given point in time. If your company has a lot of employees, then it's best that you create many different generic users and passwords which only contain viewing options. This way, employees won't have to fight over who gets to use it and they'll have a ton of different options. You may also see sample holiday calendars.
Create a template which employees can utilize in order to request for vacation time from their managers. There will come a time where an employee will need to file for vacation leave. So when that happens, you'll want the employee to have access to a template where he/she can place in all the required information that will allow him/her to file for a vacation leave.  Add a place for their manager's approval. You can make this template from a word processing or spreadsheet program. You have to make sure that this template is accessible to all of your employees as well as their managers whenever they need to request for a vacation. You may also see attendance calendar templates.
Require that all department managers must approve any vacation requests made by employees unless there's anything that will prevent them from doing so. Whenever a manager is able to receive an employee's vacation request, you will need to dictate that he/she will be required to type out the vacation requests in the vacation calendar and have the manager forward a copy of the approved vacation request to you. Some businesses require managers to forward these requests as they come in, while there are those where they will require vacation request updates to the calendar on the specific day of the week. You have to think about which of these systems will allow you to keep better track of vacation request approvals and decide which one you want to use. Once you're done, then all you have to do is review and approve the vacation requests as necessary, unless you find that there's something that's preventing you from approving them such as an employee already using up all of his/her vacation leaves for the month.
Print out a copy of the master vacation calendar. Once you're done printing it out, you want to post it somewhere that all of your employees will be able to see it. So choose a spot where all of your employees converge or a place that they all frequent. These would be places such as the employee lounge or the break room. You may also see excel calendar templates.
Keep track of all vacation requests to ensure employees have the time on the books for vacation. You're going to have to print out all of the approved vacation requests and keep a copy of them on your personnel file. Once you're done doing that, you're going to have to forward an electronic copy of their approved vacation requests and send it payroll for their records.
University Holiday Calendar
hrnt.jhu.eduDownload
Staff Holiday and Workday Calendar
cms.k12.nc.usDownload
School Vacation Calendar
browardschools.comDownload
Fiscal Year Vacation Calendar
utoledo.eduDownload
2. For Paper Calendars
Download a free calendar from the internet or make use of a calendar template from the calendar making software you've chosen to use. Choose one that you think you and your employees can benefit from the most. Once you've made your choice, print out a copy of the calendar. If you think you'd rather get it somewhere other than online or through the program, then you can always purchase blank calendar templates from places like office supply stores. Once you have the calendar that you want to use, you're going to have to post it in a place where all of your employees will be able to view it. So that would be the break room, employee lounge or basically anywhere within the confines of your establishment where your employee usually gather.
Block out the weeks or days where your employees cannot take any vacations. You want to make sure that it's clear to your employees as to what week or day they're not allowed to file for vacation requests. You can gray them out or you can mark them with large X's so that it will be made clear to the employees as to when they can't take vacations. You may also see travel calendar examples.
Require employees to write down their time-off requests as well as submitting them to their managers for further deliberation and approval. If the manager sees that there aren't any issues with approving the vacation request, then he/she will approve it and forward a copy back to the employee to show that it has been approved. Then, check the calendar to ensure all areas of your small business have the required number of employees before you decide to approve any time-off requests. You have to make sure that every single department has the right amount of employees so that performance quality and productivity does not drop. So check before approving time-off and vacation requests.
Add the approved vacations to the company calendar as needed. Once you're done approving these requests, then the next thing that you're going to have to do is forward all of the approved ones to payroll so that these will be reflected on the employee's payslip. Also, make sure that you keep a copy for the employee's personnel file as you may need to pull it out during certain situations where it's required to prove that an employee filed for a vacation leave on a particular date. You may also see basic calendar templates.
One thing that you have to remember is that you before you start making the vacation calendar, you have to go through company policies and procedures for secure vacations. If there is no policy regarding this matter, then you'll also have to create one as well as providing the procedures regarding how your employees will be able to file for their vacation leaves. This way, you'll be able to share all the information you need with the employees regarding how they will go about in the vacation request process and you won't have to be bothered by the multitude of questions that they would have asked if there was no policy regarding that particular matter. You may also see planning calendar templates.
In the event that you would like to learn more about how to create a vacation calendar, vacation policy, or anything related to those topics, then all you have to do on your end is go through our site, find the articles that have the information that you need, and utilize all the information you're able to gather to help you and your business out.