Excel
32+ Monthly Sales Report Templates – Word, PDF, Google Docs, Apple Pages
When it comes to keeping a tab on the sales, every company needs to maintain a monthly sales report. Having a report will ensure that you are up to date with all of the sales activities. It also allows you to asses the performance of the sales team. Incase any improvement is needed, they can be achieved by following this report. If you are wondering how you can come up with an impressive and effective sales report, you can simply scroll down and check out our collection of report templates.
Monthly Sales Report Template
Be able to gather a detailed report when it comes to the monthly sales of your company by downloading our professionally designed monthly sales sample report template. You can easily enter details of the company, such as its overview, mission, objectives, products, and services. Download this template now on any of your software devices such as laptop, mobile, tablet, etc.
Monthly Sales Management Report
The above shown "Monthly Sales Management Report" template allows you to properly allocate the budget and manpower so that it is easier to manage your business. Apart from that, you can also stay informed of accompanying costs of sales. Forecast better revenues by simply downloading this editable and customizable template now!
Monthly Sales Report Templates
A sales report documents all the activities of your business for a certain period. Monthly sales report documents about the monthly sales activity of your business. The reports are beneficial in many ways. It shows how well your business is performing in the industry. If there is any downfall of sales in the business, you can show it in your sales report. You can find ways to improve your business according to your monthly sales report in pdf. You need to mention your store name, month, serial number, product code and their corresponding sales in your monthly sales report. You can also add information(s) relevant to your sales. You can check out Monthly Sales Report Templates available online for ideas.
Restaurant Monthly Sales Report Template
Are you finding it difficult to come up with a thorough monthly sales report for your restaurant business? If yes, then worry no more, our above-shown report template in Word will help you out by letting you enter the sales details of your product in an organized manner. Download and edit this template using various file formats.
Monthly Sales Activity Report Template
Why Is Sales Report Useful?
A monthly sales report template in excel is important because it gives you a complete idea of how the month has been for your company if it has been good, bad or just average. That way, you can keep a tab on the team and the market trends. If you think your team is lagging behind, you can even ask them to pull up their socks. Web analytics brings the progress of the company to the forefront, for everyone to assess. It can also act as a source of motivation.
If your company has been doing well, your sales team is likely to be motivated to keep up the good work.
Writing a sales report can be a tricky business, especially if this is your first time. There are a lot of factors that play a key role while writing the report. That is precisely why you need the help of a sales report template to guide you in your endeavor.
Simple Monthly Sales Report Template
Monthly Report Template
Monthly Expense Report Template in iPages
Editable Sales Activity Report Template
Smart Templates for Your Monthly Sales Report
If you're an entrepreneur or belong to the corporate world then you will be quite familiar with this term – sales report. A business report is submitted by the members of a company's sales team, on a regular basis – it could be daily, weekly or monthly. This allows the company executives to track the performance of the team, which forms the driving force of the whole company. It is one of the most significant documents in the field of business and covers all aspects related to the field of sales and market like changing market trends, some factors that might have affected sales and the overall performance that particular month or week.
Sales Call Report Template in Word
Monthly Marketing Report Template
Marketing Report Template in iPages
How to Create a Sales Report?
If you're planning to write a sales report, then you need to look up the format of such a report. You can try searching for a sample of sales report, that would give you a clear idea about your report. You could also download a sales report template so that you can use it to write the perfect monthly sales report. You may also see monthly report format templates.
Firstly, considering that you did a lot of things in business writing during your studies, you already have a strong base of knowledge. Taking you again through everything would be quite unnecessary and also time-consuming. What you need is a simple summary, which can be done best by exposing you to a sample of the real document. A quality monthly sales report template helps you with just that.
Secondly, the internet era has made a huge leap in the spread of information. This has done a lot of favor to the world of trade which is robustly undergoing changes- including those to do with business communications. The knowledge you acquired long ago about writing may not be relevant today and so the need to stay updated. You can make use of online monthly sales report format templates to achieve this.
Free Sales Report Template
Monthly Sales Activity Report Template
Sample Monthly Report Template
New Release Monthly Sales Report Template Sample
spil.com.tw
This sales report sample has been kept straight to the point. A small passage has also been added to support the data provided in a tabulated form below. All relevant data has been provided, in a neatly organized fashion. You may also see sales call report templates.
Sample Monota Monthly Sales Report
irpocket.com
This particular monthly sales report template is available in a PDF format; it provides all the relevant data in the form of chart templates, with comparisons to assess the progress made by the company.
Printable Monthly Sales Report Forecast Template PDF Format
businessballs.com
This ready to print and editable sales report has all of the important points highlighted in red, so as to make them stand out. It not only includes the present month's report but also includes a forecast for the next month and the upcoming year. You may also check out here sales activity report templates.
Editable Company Sales report Template Word
reportss.org
This company sales report document is available Word format, making it easy to edit. There are different categories on the left, like revenue, number of customers, unit sales, new business revenue and next to each category, you can add remarks and figures to support your statement. You may also see expense report format templates.
Business Monthly Sales Report Template Excel Format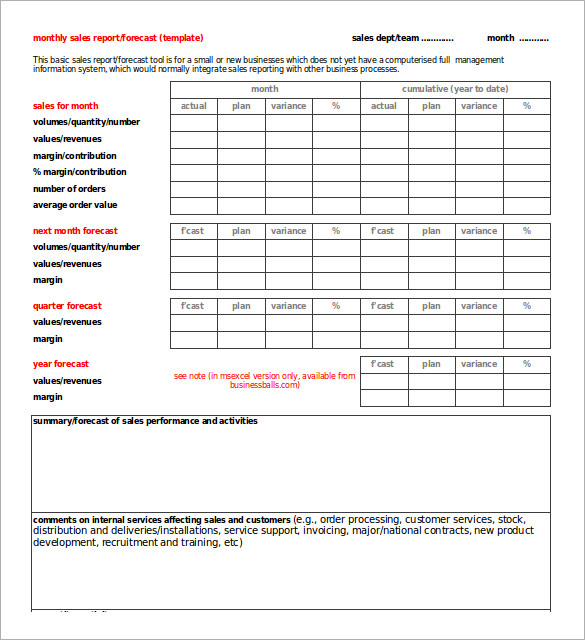 businessballs.com
This sales analysis report is available for download in excel format allows you to insert all the data of your sales team performance in the spaces provided. With a forecast for the next month and the next quarter, you would be setting targets for the whole team to match up to. You may also see monthly report samples.
Ford Motor Company Sales Report Sample PDF Download
ford.com
Here's a sample sales report of the Ford company that will help you understand what the sales report of a big company actually looks like. If you download this sales template, you can edit the details and customize it to form your very own sales report.
Download Monthly Sales Report 2016 Template for Free
citehr.com
The addition of color to this particular excel sales report template adds a distinct significance to it. Each color specifies something important, and that allows your reader to emphasize on the important facts. You can enter your dates, and five fields in your sales report. You may also see sample performance report templates.
Monthly Marketing Manager Sales Report Excel Download
citehr.com
A marketing manager has to maintain track of a lot of different things at the same time, this excel report template can help him do that. It contains all the details of the team, telecalling, cost and revenues and so on. It is comprehensive and to the point.
Monthly Financial Report Template Word Format Download
ct.gov
You can instantly download this template which would be simply perfect if you're looking for a comprehensive sales report template. It gives you the two ways of writing a report, the basic reporting system and the detailed one. If you are trying to complete your business writing and are in the same predicament, here's why a monthly sale sheet template might be the solution.
Blank Company Monthly Sales Report Template Word Download
reportsexcel.com
A blank company monthly sales report format should be appropriate because no two companies can have similar sales reports. You can download this template in a Word format, and the edit the details and customize the template as you please.
Alcohol Sales Report Template Free Editable
triggcounty.ky.gov
If you run a brewery or own a liquor business, then this sales report format in word download is perfect for you. It consists of relevant sales-related data like your details, the total alcohol sales, the total non-alcohol sales and finally the net fee due.
Monthly Sales Review Meeting Template Download
educationscotland.gov.uk
A sales meeting held monthly calls for a review. You could write down all that you concluded from the meeting and add a few pointers in the template as well. It is easily editable and can be customized as you want.
Retail Stores Monthly Sales Report Template Download
doa.state.nc.us
This monthly sales report template would be perfect for retail stores. The sales team needs to prepare a good, well organized and presentable sales report every month to show the progress made. They can do so with the help of this template. You may also check out here service report templates.
Sample Monthly Sales Report Template PDF Printable Download
formsatlas.com
This PDF format monthly sales report keeps it accurate and to the point. The dates have been included, and so has the company name. Along with that, the amount generated has been included, the target and the revenue at the end of the month have also been mentioned. You may also see sales order templates.
Monthly Sales Report for the Month of January Sample
abc-mart.co.jp
Monthly Sales Report Sample
Monthly Sales Activity Report Template
Monthly Sales Report
Monthly Sales Report Format
Tips for Writing a Good Sales Report
If you've spent hours on the internet looking for ways to write a good sales report, then you might want to take a look at these tips on the sales report format-
You can try the memorandum style, where you include all the basic information like the dates covered, department and all pertinent data. Then the most important achievement of the month is mentioned. Then add the month's sales numbers and also compare them. It would give your reader an idea of how well you're functioning as a team. You may also want to check out here our daily sales report templates.
Or, you can try the standard way where you delve into every little detail starting from the number of products sold, the number of calls and follow up calls made, etc. If some sales numbers look out of the ordinary, you get to add an explanation along with it.
Include exact and accurate data in your sales report. After all, you're submitting an official report, it has to be perfect from all sides.
Do's and Don'ts
Do's
Check and recheck all your data before submission.
Be organized in your presentation
Don'ts
Don't leave out the failures in your report.
Don't forget to add an explanation for your numbers.
We Are Here to Help!
We know how important your sales report in pages is to you. That is why we make it a point to have a vast range of report samples which you can resort to while writing your report. It can help you with the format, and make your job easier for you.