Letters
11+ Approval Letter Templates – PDF, DOC, Apple Pages, Google Docs
An approval letter can be defined as an official document that is written in response to the approval requests placed by you. It could be mortgage approval, graduate credit approval, leave approval, etc. These approval letters represent a written request for any certain request. Approval letters certify that a certain request has been approved by an individual or an organization.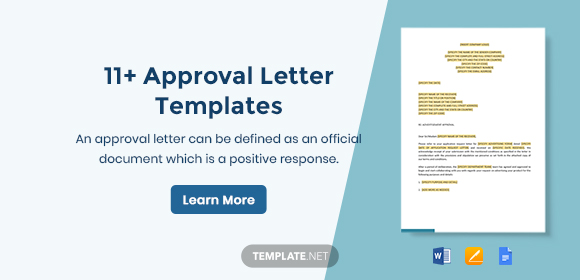 Reference letter templates will help you create the right letter if you need to refer your employee or student to another company or university. An approval letter is an important official document that bears the good news that certain permission has been granted.
Advertisement Approval Letter Template
Formally accept any requests for approval for any material to be used on an advertisement with the help of the above advertisement approval letter template. Get an easy to edit letter that you can tailor fit to any request for approval. Simply insert all needed information relating to the request and be done in a flash. There are many letter templates in Word that would be of great help to make letters in the Word document. This template is great for use on new advertisements, minor changes, variations to any existing advertisement, and others. Include any other appropriate limitations or restrictions into the template with ease.
Restaurant Advertisement Approval Letter Template
Send out a letter informing the company who is advertising your restaurant business that you approve of their advertisement and that you will be doing business with them. To help you with it and make your job easier, we got just the right thing for you. Download the above-mentioned approval letter template, that is ready-made and easy to use. This file is well-formatted and industry-compliant so that you will have no problems editing and customizing the file to produce the letter that suits your advertising needs. It is also print-ready and can be shared digitally through email effortlessly. Try it out now!
Approval Letter Template
Create a professional-looking approval letter with the help of the above template, that will be of great help to you to create one of the best approval letters for your organization. Check formal application letter templates that are available online for more detailed information. All you have to do is download this template, edit and customize it to suit your needs and preferences perfectly.
Approval Letter Format
The above template is an approval letter format designed for allowing the promotion of an outstanding employee. This template is easy to download and can be effortlessly edited and customized to suit your preferences perfectly. There are many letter sample templates available online for you to choose the best one out of the lot and create your approval letter that fulfills all your needs.
Pre Approval Letter Sample
The avive template will definitely be of great help for you to create the perfect pre-approval letter sample for your organization. It is easy to download, edit and customize to suit your requirements perfectly.
How to Write an Approval Letter?
Writing an approval letter is not easy. The format of the letter might be completely different than the normal letter you write, so you can follow these steps to make it easier for you to create the right letter needed:
1. Acknowledgment
Firstly, you should have an acknowledgment of the approval request. This means that the request sent to you should be acknowledged and an email or a letter regarding the acknowledgment of the request should be sent back to the sender. Keep it brief and concise. Environmental complaint letters can be of great help in case you need to write a complaint letter.
2. Further Actions
Remember that your letter should have a formal tone to it. This step would include what you need to do for the letter. This means that if there is anything that needs to be done by the sender to get the approval like send scanned documents, etc. then this should be mentioned in the letter without fail. This way the sender can send in the required things in time for the approval.
3. Timeline
Any information that is relevant to the approval must be mentioned without fail. This helps improve efficiency in the employees as well. Mention the timeline that is needed to finish the submission of the documents. You can also see lease termination letter templates. If the approval in stuck to a timeline, then that has to be mentioned in the letter without fail. This could be a date on which the approval started or the period of time in which to act upon the request.
4. Close your Letter
Remember to keep your approval letter as professional as you can. If it is appropriate, then congratulate the sender on the news they mentioned in the request letter. See credit letter templates for more. Combine all the principles that are required to be mentioned in the letter without fail. Close your letter on a positive note if and when required.
5. Review and Send
Before you send the letter, make sure that you have checked it for any errors. If so, then make the necessary changes. It is always better to review and recheck than make a fool out of yourself later. Student loan templates will be a great help to students who need approvals for loans for their educational needs. Once the letter is easy, send it to whomever it may concern.
Pre-Approval Letter Template
mortgagesanalyzed.com
Credit Approval Letter
robert-lawrence-94mh.squarespace.com
Loan Approval Letter Template
iles.consumerfinance.gov
The letter will also enable you to ask about the eligibility conditions for such reduced payment.
What is the Purpose of Approval Letter?
The main purpose of an approval letter is to make an official approval for the request put forth by the other party. Any request or permission granted, is not usually considered official unless it comes in a written format. Such a letter helps the sender to specify what exactly has been approved of and under what terms and conditions or parameters.
The main purpose of a leave letter is to make a formal request and legal bond between the two parties. It also helps notify the receiver of the letter what he/she can or cannot do as a part of the approval that was granted. Approval letters can be to make, so you can use any of the templates available to make them effortlessly.
Mortgage Approval Letter Template
legalaid.nsw.gov.au
Conditional Approval Letter
northshorerealtors.com
Who Needs Approval Letter Templates?
An approval letter template is mostly required by mortgage companies/banks when they are about to declare to the borrower that the loan has been approved. It could also be used by employers when he has approved certain permission requested by an employee and looking to notify the latter. Letter samples available online will be of great use to help you create the right kind of approval for the request put forth.
Approval letters for graduates and students will be a great plus point while they get a job or need to shift their educational institutes, as these letters act as references. These letter templates would be handy for those requesting a certain approval from an organization- be it a request for approval of leave from an employer or request for reducing the loan amount to the loan company.
Sample Request Loan Approval Letter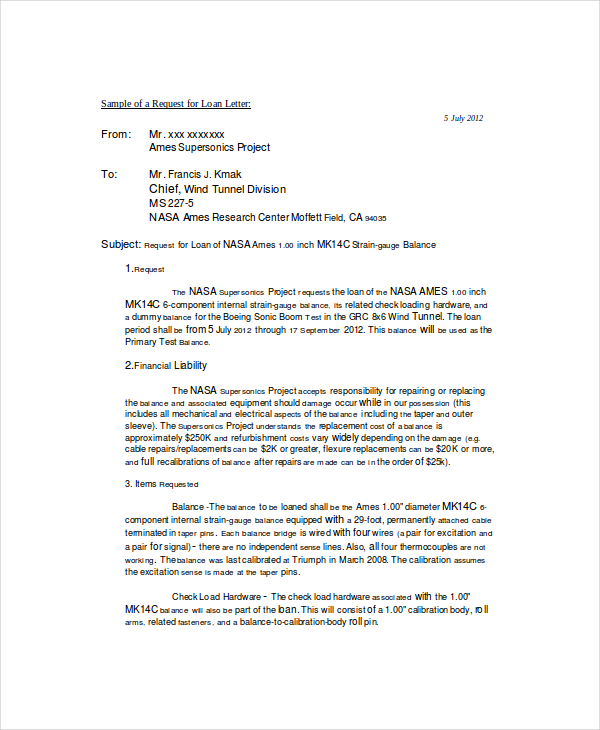 nasa.gov
Participation Approval Letter Template
respaweb.eu
What is the Benefit of Approval Letter?
An approval letter is an official certification that says that something, a loan or grant or some special permission, has been approved. Check payment plan templates for more.
It benefits both the sender and the receiver of the letter. The sender will benefit because now he or his organization will have a written record of the person and his eligibility for the loan or special permission. Financial letter templates could also be of great help to you.
There will be all the specifics related to the approval, such as relevant dates or parameters, T&C, etc. to eliminate any risk of misunderstanding between the two parties. The receiver will also have the peace of mind from the fact that his request has been officially approved and he also has written the document as proof for that.
General FAQs
1. What is an Approval Letter?
An approval letter is a letter written by an employee or individual to request a supervisor, manager, or another relevant party for the approval of a certain matter before continuing with an important task or project. It is also written in response to a request made by an employee or organization.
2. How Can You Write an Approval Letter?
You can write an approval letter by following these tips:
Choose your contact method
Address the recipient in a professional manner
Start with what you are seeking approval for
Explain your reason
Mention why it is important
Show your enthusiasm for their response
Conclude your message
3. Why is it Important to Request for an Approval Letter?
Sending a request for approval is important for the following reasons:
It provides an understanding of the project
It helps decision making quicker
It creates proof of verification
It displays professionalism and respect
4. What are Some Circumstances Under Which an Approval Letter is Written?
An approval letter can be written under the following circumstances:
To give permission at work
To approve or endorse a building project
To approve finances or a loan
5. What is the Main Difference Between a Formal and an Informal Letter?
An informal letter is written when you are familiar with the recipient and are in friendly terms with them. It is a form of casual or personal communication. Formal letters are written for professional and official correspondence.
More in Letters