Icons
158+ Emotion Icons – PSD, PNG, EPS, Vector Format Download!
Our world is gradually becoming a virtual place. Even things like emotions are expressed through virtual emotion icons through chat messengers. Our extensive and fun ranges of emotion icons are perfect for those looking to be expressive in there chat messages. These emotion icon templates are available in several crazy and fun themes. You can also see Smiley Face Icons.
6 Premium Emotion Icons Download

The emoticon icons are a great way to pep up any virtual conversation and you have a wide variety of emoticon icons here to complement your different moods- whether you are feeling elated or mischievous or sad.
Cartoon Emotions Icons For Premium

This set of cartoon emoticon icons has captured almost every form of expression to suit your varying moods- whether you are happy or sad or grumpy or awed and so on.
Flat Style Smile Emotion Icons

You are getting a versatile gallery of flat smile emoticon icons here. There is one to use when you are overjoyed, one for when you are in pain, one for sunny glorious day, one for when you are feeling naughty etc.
20 Premium Emotion Icons

These blue icons are simply fun and you have here one to choose for your every mood- whether you are feeling loved or thoughtful or happy or sad or angry or confused and so on.
18 Human Emotions Icons Set

Human emoticons make your virtual posts more realistic and you are getting here 18 different human emoticons in every mood like smiling, confused, strict, sad, wondering, irritated and many more.
30 Set of Different Emotion Smileys

You are getting a wide set of as many as 30 various emotion smileys here to match up with your different moods with each posts- like happy, sad, bored, angry & so many.
Premium Business Emotions Icons Set
Vector Emotion Icons Set
55 Popo Emotions Icons Download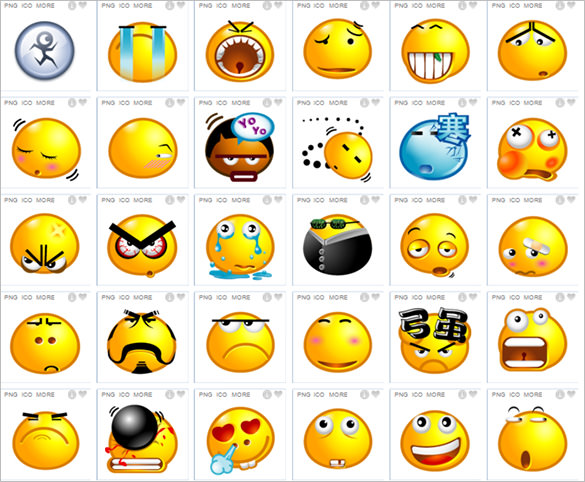 20 Manto Emotion Icons For Free
Astonishing Emotion Icons Free Download
Emotion Icons Set Vector Illustration
Simple Emotion Face Icons Download
You'd be happy to know that majority of the themes featured here are packed with great-looking smiley icons, emoticons. You will find happy faces, sad faces, embarrassed faces, angry faces, shocked faces, manipulative faces… the list is endless. Know what is the best part? You can download and use them for all kinds of websites!