Whatever software or web interface you happen to be designing, you're always going to find free icons useful. Not just because they are major time and cost savers, but because you need all the professional help you can get in developing your product's design. It is common sense by now that if you are developing software for people, they have to love the look of it before they can be convinced to buy or use it.
Icon sets for business are among the most prevalent kind of icons you will need, and going for the plain factory-default designs ceases to be viable options these days. Check out these icon packs for more marketable alternatives.
61+ Designer Templates in Word, Excel, PSD, Google Docs, InDesign, Apple Pages, HTML5, WordPress, Publisher, Apple Numbers, Illustrator - START DOWNLOADING
Flat Business Icons
Download
200 Business Icons Set
Download
1200 Business Icons Pack
Download
100 Business Icons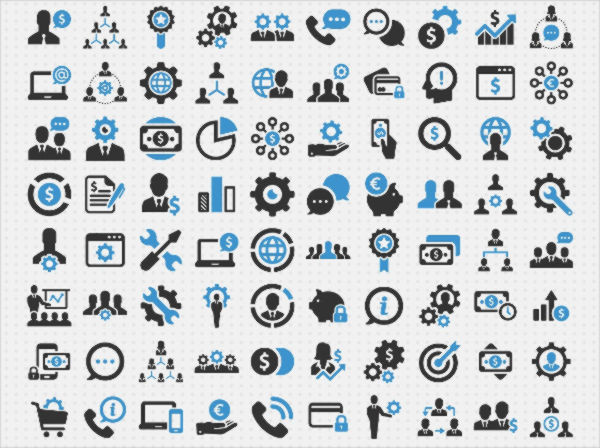 Download
Business Icons Illustration
Download
Why Use Icon Sets?
You are professional software developers who understand that elegant code is the cornerstone of your product's success. You know that icons are the graphics that denote function and feature and help communicate information or help the user to navigate your interface. The design of the icon is secondary to its function, right?
Not quite.
Look at this list of icon sets. They all represent the same functions most common in the niche of business and accounting icons:
e-mail clients
network connections
troubleshooting features
software development tools
navigation tools
personal information management tools
and so much more.
One look at each icon gives you an instant awareness of what it represents. And yet each set is designed differently with their individual color themes and shapes, and more likely than not, one type of design will appeal to you more than the others. If you were a paying customer, wouldn't this feature affect your choice of purchase?
All these icon sets are expertly designed to do what good icons do, and therefore they can represent very well any kind of software having the same functions and features.
All functions being equal, what will set your software apart, competitively, will be your choice of design.
Advertising Business Icons
Download
20 Finance Business Icons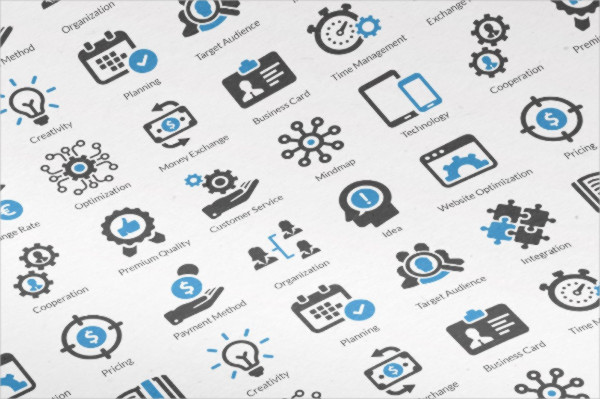 Download
16 Business and Finance Icons
Download
Rounded Business Line Icons
Download
Modern Business Icons
Download
Choosing and Developing Your Icon Sets
Short of being marketing icons, your icon sets for corporate and professional software will be part of your software's core value and marketability.
If you're not a graphic or web designer by profession, or if you are and you're looking for a competitive edge, these business icons will show you the best place to start.
A couple of the best features of this varied list:
Flat design. As a go-to standard for software design, these icons are laid out in the "flat" icon design trend, which basically means they are symbolic and streamlined with less detail. This helps integrate more cleanly into your interface and keep it running smooth and fast.
In-built color schemes. They are also carefully color-themed so that any number of these icons on the same page will look good together and bring out the distinct look of your software. This is not a superficiality but part of your appeal factor. Always consider the human element to your code. Good design makes a software easier and more fun to use, and therefore increases the chances that it will be used.
Study this list and other downloadable icon set collections we have here on Template.net. It may be one of your most important investments in your software.