Logo
9+ Cleaning Service Logos
Cleaning is a routine chore that we do to our surroundings time after time. If done frequently, then we will only be dealing with a manageable amount of mess. But if done in long frequencies, then the mess that we will have to deal with increases, making the cleaning process stressful and not fun at all.
Thankfully, we can always rely on cleaning companies to clean our house for us. And if you're managing a cleaning company, one way to make your company look stable and trustworthy is to present your business with a logo. Look around our website for our collection of Cleaning Logos that you can use for your business.
House Cleaning Service Logo
Download
Cleaning Services Business Logo
Download
Corporate Cleaning Service Logo
Professional Cleaning Service Logo
Cleaning Service Logo Vector
Download
Benefits of Keeping Your House Clean
Cleaning your house will protect you and your family from dust, germs, and bacteria that are hazardous to our health.
Some people are allergic to dusts, pet hair, and pollen, so cleaning your house protects them from these allergens.
Having a clean house may boost other people's confidence and respect for you. They will see you as someone who values your home, the people living in it, and they will also feel welcome in your house.
A clean house is conducive for living, and makes it easy for you to relax in it. Therefore, having a clean house can promote mental health.
When a house is clean, it also promotes safety for the people living in it. It makes it easier for the people, especially the children, to navigate through the house if it is tidy.
Pests spread germs and diseases if the house is dirty. However, if a house is kept clean, then pests and insects will be forced to move to other places conducive for them.
Check out our other collection of Cleaning Company Logos for even more templates to choose from.
Guidelines on How to Design an Effective Logo
Relevance of the design with the business. The design should go hand in hand with what the business is about and the services offered.
Keep it as simple as possible while also making it eye catching. Simplicity includes all elements of the logo—the design, colors, font, and size.
The logo should also work well without color. The color is only a secondary feature to the logo. Your logo should also be effective in black and white, or monochrome.
Vintage Cleaning Service Logo
Cleaning Service Logo for Company
Carpet Cleaning Service Logo
Lady Cleaning Service Logo
Download
Commercial Cleaning Service Logo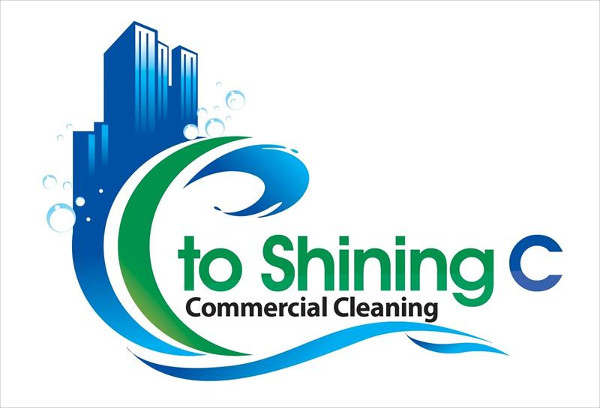 Download
How to Use These Logo Templates?
Making use of our logos only requires three simple steps:
Open our website and choose the logo template that you wish to use.
Download your chosen template by clicking on the green Download button below the image and saving it on your computer.
Open your template on a photo-editing software (we recommend you save it in PSD format if you are using Adobe Photoshop) and publish your finished product.
Why Choose These Templates on Our Website?
Our logo templates come in various formats, you may save it in PSD, AI, or Vector EPS format. These templates are also highly compatible with most photo-editing programs and are fully editable. And our templates can be downloaded for a reasonable price.
For those in the landscaping business, you may also check out our collection of Landscaping Logos. But for those templates that you weren't able to find on this page, scroll down and check out the links to other related content on our website.
More in Logo