Making a logo may seem easy but it actually requires thorough planning since they are intended to represent a business or organization. A good logo should be visually attractive and also related to the nature of the business which is why it really needs to be designed well. Thankfully, we've got logo templates below to help you out.
5 Steps to Make a Company Logo
Step 1: Familiarize the types of logos and choose one
There are various types of logos and for you to make one effectively, it would be best to be familiar with at least the most common ones. These types of logos include the wordmark, lettermark, brandmark, emblem, and the combination type. Read about them before proceeding to the next step.
Step 2: Know your company's branding personality
For your company to be distinguishable from the competition, it needs to build its own branding image and this should be consistent throughout the company. In terms of the logo design, it should take inspiration from the company's branding personality which is the reason why you should be mindful of it.
Step 3: Make an initial design to your company's logo
As mentioned in the introduction, making a logo requires careful and thorough planning, and one way of planning it is by making a sketch. When making the initial design, see to it that it has elements relating to the nature of the business. Aside from just sketching, you may be allowed to write down notes instead.
Step 4: Download and edit a company logo template
Check out our collection of company logo templates below, we've got over ten of them for you. Look for a template that closely resembles your initial design and then download it. And depending on the file format, edit it using the compatible editing tool—logo template in AI format should be edited using Illustrator.
Step 5: Evaluate the edited logo design
After editing the template, you should have it evaluated before making it final. You may either evaluate it yourself or with the help of another person, or you may also have it tested in front of an audience and gather comments from them. A good logo design should be eye-catching, relevant, and memorable.
10+ Company Logo Templates
1. Ice Cream Company Logo Design
Download
If you're planning to sell ice cream or ice cream-based goods, you've definitely found the perfect place especially if you haven't made a logo for yourself. Above is a template that'll help you create your ice cream shop's logo, you may download this logo template in PSD or in any of the five available formats.
2. Grand Hotel Company Logo Template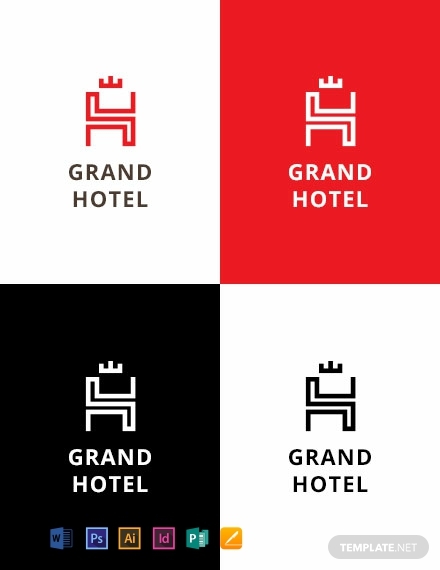 Download
Here's a minimal company logo template meant for those who own or are managing a hotel. This logo template comes in four different color schemes, all of which have colors that complement each other. Just like the previous template, this one comes in six different file formats including logo template in InDesign.
3. Serenity Spa Company Logo Sample
Download
People love going to the spa to get themselves pampered, which is probably what you need as well. To make it easier for you to design your company's logo, here is a straightforward template that you may want to download. Aside from being easy to design, this template is also very easy to explain and remember.
4. Elegant Travel Company Logo Example
Download
If you're interested in this travel agency logo template, then you might also want to check out our collection of travel brochure templates. Take note that this template comes in multiple file formats and when you download a brochure template, make sure that it's compatible with this one.
5. Creative Agency Company Logo Layout
Download
A creative agency is defined as an office that serves its clients by offering advertising strategies, designs, and technology-related matters. If you're managing this kind of office, we have a fully editable logo template above that you can easily download. Also, you might want to check out our creative agency flyer template.
6. Advertising Agency Company Logo Format
Download
An advertising agency is basically another term for a creative agency and here is an alternative logo template that you might want to download. Here's an advertising company logo template for you to download, and an advertising agency flyer template that you might also be interested in.
7. Medical Surgical Company Logo Layout
Download
The medical profession is one that's often taken for granted which is saddening since these professionals deal with people's lives either directly or indirectly. To make sure that your company or your staff won't get overlooked or neglected, we've got a logo template that's impressive enough, it's almost impossible to miss it.
8. Insurance Company Logo Example
Download
Here's a creative logo template that effectively describes the nature of the company in a rather symbolic manner. Since insurance companies work in securing their clients financially, the design above symbolizes that security with an image of an umbrella. Click on the link above to check out other file formats available.
9. Rustic Real Estate Company Logo
Download
Another common type of logo is the combination type which is basically a hybrid between the textual-based and graphic-based types. Here's a logo template that's a combination type. If you're planning to advertise through social media, you may also check out our real estate Instagram ad template.
10. Company Typographic Logo Format
Download
Two of the text-based types of logos are the wordmark type and the lettermark type. The wordmark consists of the company's name being written in a creative manner while the lettermark merely consists of letters. The company logo template above is an example of a text-based type and you're welcome to use it if you so desire.
11. Health Care Company Logo Sample
Download
Medicines and vitamins tend to do more harm than good if people misuse them which is why prescriptions are very important. But with herbal products, they are mostly natural which decreases those risks. If you wish to promote good health through herbal products, you might just want to use the stylish company logo above.
12. Trade Company Logo Template
Download
A trading company is defined as an entity that's responsible for working with various products, maintain stocks or shops, and sell those products to consumers. If you're managing this kind of company, then you've hit the jackpot with the logo template above. Download a template to start working on your company logo now.